The 25 Best Coasters Out There, No Matter Your Apartment's Vibe
Also known as: How to make even a late-night beer look classy.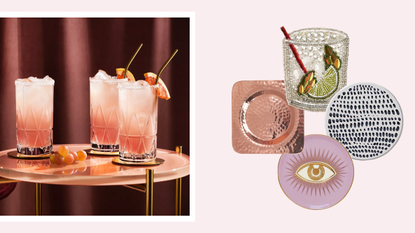 (Image credit: Morgan McMullen)
With all the thought and planning that goes into creating the perfect cocktail at home, equally important is what goes under it. It can be nearly devastating to lift up your glass and find a wet mark on your brand new coffee table. Adding a coaster can save you the trouble of having to fix the damage or replace the item all together. Plus, coasters can make you seem like you have your life in order, even if you don't. From stainless steel options to more artsy, woven designs, here are the best coasters on the market right now.
1/25
Jonathan Adler Adler Le Wink Coasters
Best Pop Art Pick
Adding color to a monochrome apartment doesn't have to be hard. Small details, like these pastel coasters, are the perfect way to spice things up.
2/25
One King's Lane S/4 Prado Coasters, Clear
Best Glass Pick
If you're after a coaster that will work with everything in your apartment, consider this glass square set. Plus, they come with their own stackable case so you won't lose one.
3/25
Foundry Select Coaster
Best Wooden Pick
These wooden coasters maintain a bit of polish, thanks to a metallic gold trim.
4/25
Uncommon Goods Custom Map Coaster Set
Best Customizable Pick
What better way to celebrate your neighborhood than with tiny customized details all around your apartment? This set will add a more personal touch to your space.
5/25
Jonathan Adler Master Clense Coaster Set
Best for The Recent Graduate
This fun set of four is guaranteed to be a conversation starter when you have guests over.
6/25
kate spade new york Silver Street Coasters, Set of 4
Best Silver Pick
7/25
Kim Seybert Cheers Coaster Set
Best for Parties
If your friends are all drinking something different, get them coasters to match.
8/25
Gray Malin Bondi Beach 4-Piece Coaster Set
Best if You Love The Beach
Like all good things, summer must come to an end. When it does, pick up a set of these coasters.
9/25
Gift Boutique Millifiori Coaster Set of 4
Best Floral Pick
These delicate coasters look fragile, but they're actually made out of iron so they won't break after a few uses. The bright pattern will add some color to even the smallest of apartments.
10/25
Mint Pantry Square Wine Bottle Coaster
Best Rose-Gold Pick
If you're obsessed with rose-gold right now, this set of four is the perfect addition to your new place. It's also big enough to hold your favorite candle, if that's more your speed.
11/25
MoMA History of Art Coaster (Set of 6)
Best for Art-Lovers
Not able to get to the Museum of Modern Art this season? Each of the coasters in this set features a sketch by an artist featured in the museum.
12/25
Rifle Paper Co Eight-Pack Cities Coaster Set
Best For Your Friend Who Loves to Travel.
You might have heard of collecting mugs or magnets from your travels, but these coasters are a lot more chic.
13/25
Fornasetti Set Of 8 Soli E Lune Porcelain Coasters
Best Gift To Give to Your Parents.
If you're not sure what to get your parents as a gift, consider buying them something that makes you look good, too. Plus, they're way less expensive than the actual Fornasetti plates.
14/25
Rose Victoria English Silver-Plate Wine Coasters,
Best for Wine Lovers
These were designed to hold a bottle of wine, so you don't have to worry about those staining your table, either. Plus, they're a unique vintage find that you won't see anywhere else.
15/25
Rosdorf Park Brilliant Mirror Coaster
Best For Gifting
A coaster set can be an unexpected — and much needed — gift. These cost less than $50 but look far more expensive.
16/25
Celina Mancurti Monogram Leather Coasters (Set of 4)
Best Leather Pick
17/25
ANNA New York Fuchsia Agate Coasters, Set of 4
Best if You Love Color
Agate coasters are everywhere right now, but this bright pink hue stands out.
18/25
Fruitsuper Design Brass Lift Coasters (Set of 4)
Best if you Love Something Quirky.
If you're looking for something elegant and subdued, this brass pick should do the trick. Their shape makes them so different from any other on the market, but they're still subdued.
19/25
Cathy's Concepts 'Home State' Glass Coasters
Best For If You've Just Moved.
Feeling some hometown pride if you're far away? These coasters come detailed with every one of the 50 states, so they're perfect the perfect reminder of where you came from.
20/25
Pandoza Absorbent Coasters For Drinks - Grey Lines On LARGE Ceramic Stone With Cork Backing, Drink spills Thirsty Coaster Set of 6 No Holder, OVERSIZE BETTER Protects Furniture From Damage
Best for Getting to You Quick
This quirky black and white set is under $20 and gets to you with the magic of Prime shipping, so you can't go wrong.
21/25
Joanna Buchanan Stripe Bee Coaster, Set of 4
Best Woven Option
Joanna Buchanan has become known for her homewares, from coasters to placemats to napkins. These adorable hand-woven bee coasters are no different.
22/25
Areaware Concrete Table Tiles
Best Geometric Pick
This set was practically designed for those people who love every single item to be in it's proper place. They look super cute joined together or on their own.
23/25
Mercer41 Quartz Coasters
Best Geode Pick