7 Best Coffee Grinders of 2020, According to Kitchen Pros
The best blade, burr, and manual coffee grinders you can buy.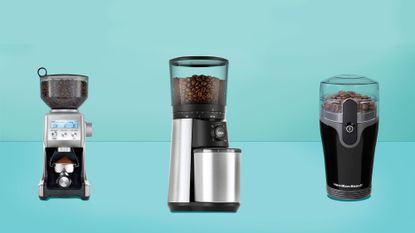 (Image credit: amazon)
Once you've had a great cup of coffee, it's hard to go back. Many factors contribute to taste, including how it's made and the temperature it's served at, but the freshness of the beans is among the most important. Most coffee is sold in a UV-blocking, vacuum-sealed container, but once you open it, the flavor starts to fade, especially if it's already ground. Grinding your own beans before each batch ensures the freshest flavor, and we've got a list of favorites to make sure it's always perfect.
Nicole runs the Good Housekeeping Kitchen Appliances Lab where she oversees the content and testing related to kitchen and cooking appliances, tools, and gear; she's an experienced product tester and developer, as well as recipe creator, trained in classic culinary arts and culinary nutrition. She has worked in test kitchens for small kitchen appliance brands and national magazines, including Family Circle and Ladies' Home Journal. Nicole loves to cook and eat, and won't stop talking about food or kitchen appliances if you prompt her. When she's not doing something related to food, she enjoys spinning, yoga, and lying on the beach—with an insulated tumbler of wine in hand.