Editors handpick every product that we feature. We may earn commission from the links on this page.
The 9 Best Cold Brew Coffee Makers to Level Up Your WFH Sitch
And no, it's not the same as iced coffee, tyvm!!!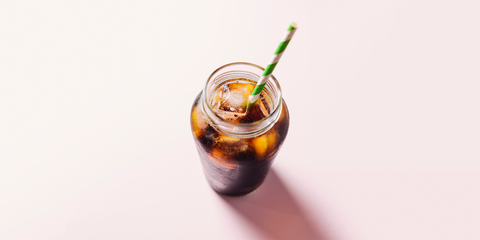 Not to be dramatic or anything, but in order for me to survive the day, I'll need my daily cup of coffee. (And by "cup," I mean approximately five cups or more.) You can call me your basic, coffee sippin' gal, but the power of a good cold brew just can't be beat. And now that we're all spending more time at home, being able to walk to my kitchen for my daily caffeine intake is a luxury that I must bestow upon the masses. Cold brew coffee makers. I'm talking about sharing with you the best cold brew coffee makers on the market.
1
if you want a top-rated one
Takeya Deluxe Cold Brew Coffee Maker
Nearly 30,000 Amazon users gave this deluxe guy 4.5 stars. Not only does it make amaze cold brew coffee, but it's also incredibly easy to use and—not to mention—cheap!
2
If you use fine coffee grounds
Primula Deluxe Cold Brew Iced Coffee Maker
Thanks to the mesh filter, you'll never have to worry about coffee grounds sneakin' up in your cup with this bb.
3
if you want easy access to your brew
Kitchen Aid Cold Brew Coffee Maker
Sure, the price tag is a little $$$, but think of all the money you'd be saving with this one. Not to mention, it's sleek, durable, and comes with a handy spigot that's perfect for grabbing a cup in a jiff.
4
if you want a fan-favorite
Toddy Cold Brew System
If you do a lil research on cold brew coffee makers, chances are you will stumble on the Toddy system. This cult-favorite earns an A+ for durability, simplicity, and pretty damn good cold brew.
5
if you're into nitro cold brew
GROWLERWERKS UKEG Nitro Cold Brew Coffee Maker
Nitro cold brew is a great option for those who like a smooth, rich, nutty taste. If that sounds right to you, go for this one. (Plus, it'll look great in any kitchen.)


6
If you want a space-saver
Bean Envy Cold Brew Coffee Maker
Shopping for something that won't take up much space? This coffee maker is simple and small enough to fit in your fridge without taking up too much room.
7
if you're in a rush
DASH Cold Brew Coffee Maker
Most cold brew options take at least 12 to 24 hours to make, but this one will do it in just five minutes. Um, sold.
8
If you live in your car
Oranlife Portable Cold Brew Coffee Maker
This portable option comes with an air-tight lid, so your cold brew is always fresh.
9
if you want a cute option
County Line Kitchen Cold Brew Mason Jar Coffee Maker
The mason jar trend is alive and well. And with this coffee brewing one, you can hop on that decor trend right quick.
This content is created and maintained by a third party, and imported onto this page to help users provide their email addresses. You may be able to find more information about this and similar content at piano.io