I Went on the "Gilmore Girls Diet"—and I Lost Two Pounds
A junk food-fueled journey I will never forget.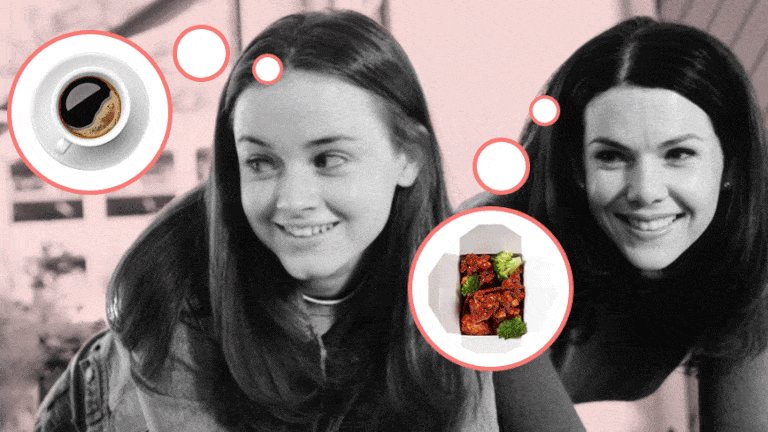 (Image credit: Design by Katja Cho)
A week into 2016, I had a Gilmore Girls-induced epiphany. Lorelai and Rory were scarfing down pepperoni pizza on the couch and making fun of Dean for ordering a salad because, dude, seriously? Heroes, I thought for the millionth time.
And then it occurred to me. Their complete and utter lack of hang-up about calories was the most refreshing thing I'd seen in a while—especially in the midst of all this talk about New Year's resolutions and diets and "getting in shape." Women inhaling junk food, take-out Chinese, and copious amounts of coffee—what a profound F U to those judgy, clean-eating freaks.
Don't get me wrong—I recognize that the Gilmore Girls "diet" doesn't exactly add up. Going on refined-sugar-and-trans-fat sprees should not result in crystal-clear complexions, trim figures, and the mental clarity to talk a mile a minute throwing Proust zingers around.
But still. What if I, a 20-something who loves coffee at all hours of the day and admittedly eats takeout for dinner every night, just said f**k it and gave it a go? I mean, it's not so far off from what I'm doing anyway.
And so I decided to embark on a seven-day journey eating all things Gilmore, which includes but is not limited to: tall stacks of pancakes, Chinese takeout (+ leftovers), Pop Tarts, burritos, pizza, Mallomars, and, yes, Friday night dinner. Oh, and did I mention coffee?
What follows is a peek into the day-to-day of blissfully ignoring nutrition facts while breaking out, weathering a snow storm, and not packing on the lbs.
Day 1
It was Martin Luther King Day and the last day of a weekend trip to Vermont for a girlfriend's birthday. Breakfast was black coffee and lots of it. Serendipitously, we stopped at The Birdseye Diner off the highway for lunch. A no-frills joint with malt shop classics on loop and friendly service, it was way more sprightly than Luke's Diner. I gorged on a plateful of fried chicken fingers with extra honey mustard dip while bothering the waiter incessantly for more coffee.
Seven, traffic-filled hours later, I was ravenous and craving greasy Chinese. So I ordered myself enough food for a family of four i.e. chicken with broccoli, pork lo mein, fried rice, vegetable dumplings, wonton soup, and spring rolls. Remember that time Rory and Paris nursed their broken hearts by ordering the entire menu? I was on their level, except riding solo.
I ate about half of it knowing that it was well within my Gilmore-given rights to save it for dinner another night. I was so full I wouldn't normally consider dessert, but to make sure I was getting off on the right foot, I opted for a few spoonfuls of Ben and Jerry's Chocolate Fudge Brownie straight outta the pint.
Day 2
I began my day with two frosted strawberry Pop Tarts, which tasted a lot better than I remembered. Maybe that's because during my childhood, coffee was missing from the equation.
On my way to work in the morning, I popped into Duane Reade and loaded up on all the junk food necessities: two bags of Lay's Potato chips, two boxes of Mallomars, one bag of gummy bears, and one bag of Cheetos Puffs. I spent the entire work day drinking black coffee and snacking on my new stash, which I shared with my coworkers. It was only a matter of time before they were channeling their inner G...
By the end of the day, I was starving for a real meal, but had to attend a work event. It was at one of those low-lit restaurants in Greenwich Village and upon entry I immediately and unapologetically walked up to the bar and order a martini à la Lorelai. I asked for it *dirty* in her pretty-please-Luke voice, because hey boys. Next, I zeroed in on the fancy hors d'oeuvres, which would have totally been up to snuff for one of Emily Gilmore's DAR meetings, except there were no lobster puffs. Unacceptable. Olive-heavy martini in hand, I prioritized stuffing as many canapes as I could in my mouth in favor of polite social behavior.
Considering that I'm well versed in the art of the New York dinner (a meal's worth of free hors d'oeuvres, mind you) that could've been it for the night. But of course I had to have a second-meal nightcap AKA diner takeout. Despite having a belly full of fried truffle balls, I finish most of a burger bathed in mozzarella cheese and sautéed mushrooms with a side of French fries. (And one lone onion ring, for good measure).
Day 3
I drank black coffee as soon as I woke up. But even after I got my normal-person caffeine fix, on the way to work I still picked up an XL espresso on ice with a blueberry muffin that was decidedly less-stale than I imagine those at Luke's to be. By noon, my heart was racing. Again, lunch was pretty much chugging coffee and picking at my office junk food stash/getting Cheetos dust all over my keyboard.
I had become very popular in the office. Or rather, notorious for having the answers to everyone's 4 p.m. cravings. The truth was that I wasn't just happy to share, I was eager to as I was starting to get processed-food fatigue. Plus, was feeling full-on queasy from the caffeine.
The good news was that I had plans to go ice-skating that evening, which, if you're a Gilmore Girl, is merely an excuse to drink all the hot chocolate. I spent not even 10 minutes on the ice in Bryant Park before going inside for some rink-side hot cocoa. Are there more marshmallows?, I inquired with Lorelai persistence.
When I got home, I ordered a chicken burrito with all the fixings and a large order of chips and guacamole. At first, I only finished one half of it, but eventually forced myself to eat the other. I went to bed bloated, but satisfied because damn, that burrito made me hate myself so magnificently, Louis C.K. would approve.
Day 4
I woke up with a triangle of small zits! Damn those Gilmores and their oil-wicking pores.
After the previous night's Mexican feast, Pop Tarts were literally the last thing on earth that I wanted to eat. I'm used to indulging when it comes to dinner, but typically I'll humor myself and pretend to be healthy with a healthier breakfast and lunch. On the Gilmore Girls diet, this is not an option. And so I proceeded to have one strawberry-frosted Pop Tart, chug coffee, and pick at junk food throughout the work day.
It was undeniable: I was growing tired of the monotonous stream of junk in tandem with drinking so much coffee and started to develop a midday headache. Antioxidants would have been reaaaally helpful.
To catch up on some work, I ended up staying late at the office. I knew that I still had those Chinese leftovers at home, but decided to throw two slices of pizza into the mix for a well-rounded Gilmore meal. The pizza was on point, but what really got me was just how magically microwaved, few-days-old Chinese good holds up. Lane and Sookie aside, it really is a Gilmore's best friend.
Day 5
Again, breakfast was the meal I struggled with most as a Gilmore and so I decided to lure my coworkers into eating Pop Tarts with me by busting out an entire plate of 'em and leaving them out in the open. I had two of them, then spent the entire day drinking black coffee. My hunger was basically non-existent because of the caffeine and anxieties of the day. But guess what? It was Friday, which not only meant the freakin' weekend, but Friday night dinner.
When I left work, I was reeling—not just because I had an excuse to eat vegetables, but because this was the Friday night before Storm Jonas was set to hit NYC.
And let's get one thing straight, no one loves snow more than Lorelai Gilmore.This was, without question, a serendipitous sign that this diet was meant to be.
Full disclosure: Emily and Richard Gilmore are my two favorite characters on the show and in a dream world, I'd have consumed this meal at their immaculate Connecticut household. (Friday night dinners, you guys.) In reality, I braved the bustling, pre-storm lines at Fairway and grabbed a rotisserie chicken and what was left of the vegetables and mashed potatoes from the hot food bar. In theory, this meal should have been a welcome change of pace, but still high on caffeine, I picked at my plate, nursed 3 glasses of red wine, and eventually had a few bites of Annie's mac and cheese.
Day 6
Storm Jonas was upon us. Thankfully my favorite little coffee shop was still open and I spent the morning and most of the afternoon sipping coffee, nibbling on a humongous donut, and watching the snow fall from the best seat in the house. It was gloriously Gilmore.
After I finally emerged back into the snowy abyss that was the Upper East Side, I gathered that ordering Seamless takeout for dinner probably wasn't going to be an option, so I hit the grocery store. While cooking something from scratch was tempting, I knew it wouldn't be the Gilmore way—so I headed straight to the frozen food aisle and nabbed Philly Steak and Cheese Hot Pockets (the only flavor they had left) for dinner later, and then more Annie's Mac and Cheese (Yummy Bunnies FTW to snack on).
While getting snowed-in was/is the perfect excuse to eat endless amounts of junk food, all I wanted was ramen, like REAL ramen, but aside from the fact that my go-to spot was 100% closed, there's definitely no authentic ramen in Star's Hollow. Not even at Big Al's Pancake world. So I scarfed down as much of the croissant-crusted Hot Pockets as I could stomach and drank more red wine.
Day 7
It stopped snowing, which was sad for my soul, but convenient for my breakfast plans.
One vital part of the Gilmore Girls diet I had yet to conquer was pancakes. And luckily, I knew just the place to get 'em. I scored the *perfect* seat at the bar at EJ's Luncheonette and ordered a coffee instantaneously. Now let me preface this next admission by reiterating that I am not a breakfast person. Pancakes are something that I typically have ZERO interest in, so when it came down to it, I had about one pancake (if that) of a super thick, chocolate-chip stack. For shame, I know!
My big mission for the day—and admittedly this diet—was to make dessert sushi as an ode to when Lorelai made Rory some to cheer her up after her and Logan's trip to Asia was cancelled. (P.S. I'm Team Logan, anybody else?!)
Alas, I did not have a silk kimono for the occasion. What I did have was two sushi aficionados, my boyfriend and his brother, in my corner to help me create the most gorgeous-looking, hand-rolled candy sushi spread I've ever seen, if I may so myself.
I had some Fruit Roll Up, Twizzlers (I couldn't find Red Vines anywhere!), and Sour Patch Kids during the process, but as far as the final product, it was just too damn beautiful to eat.
We spent the rest of the night watching the original Star Wars and ordering in nachos and pepperoni pizza. I had two slices, wondered if I was starting to get heart burn, and then went to bed.
In the end…
I may or may not have discovered the Gilmore Girls' secret to living off heart-attack-inviting foods because, by some inexplicable force of nature, I didn't gain any weight. In fact, according to the scale, I actually LOST two pounds. I swear on Emily Gilmore's life.
I have a couple of theories about how this is even possible:
1) My IRL diet is far more similar to that of the Gilmore Girls than I ever thought I'd willingly to admit to the internet.
2) The Gilmore Girls walk and talk a big game, but when it comes down to it, they never actually finish a meal. We just assume they polish off every thing in sight, when, dare I say it, their blue eyes are bigger than their flat stomachs.
3) Riffing off of the previous point, when you drink bottomless cups of coffee, you tend to stave off your appetite. And based on my experience, it's my personal belief that Luke's coffee is the best-kept diet secret of all time.
Follow Marie Claire on Instagram for the latest celeb news, pretty pics, funny stuff, and an insider POV.
Marie Claire email subscribers get intel on fashion and beauty trends, hot-off-the-press celebrity news, and more. Sign up here.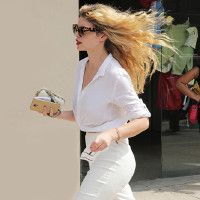 Lauren is the former beauty editor at Marie Claire. She love to while away the hours at coffee shops, hunt for vintage clothes, and bask in the rough-and-tumble beauty of NYC. She firmly believes that solitude can be a luxury if you've got the right soundtrack—that being the Rolling Stones, of course.