Meet LOOM, the Judgement-Free Wellness Hub for New Parents and Expecting Women
"There's so much pressure for perfect parenting and perfect motherhood and we're not trying to create space for that."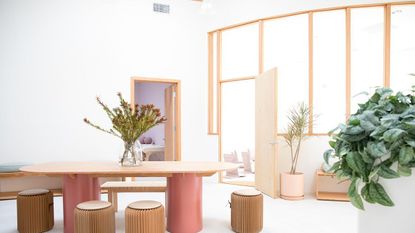 (Image credit: Morgan Pansin)
In a time where safe spaces for women are feeling fewer and farther between, and our access to reproductive health services especially in flux, women are taking matters into their own hands.

LOOM, a new pregnancy, parenting, and reproductive wellness center opened up its doors in L.A. last month and hopes to become a place where expecting mothers, first-time parents, and curious women can seek non-judgmental reproductive health education and community.
Emphasis on non-judgmental: LOOM's approach to all things is an open-mindedness that aims to meet people in the middle between more traditional approaches to parenting and wellness and a more spiritualistic, "woo-woo" viewpoint—without alienating anyone along the way. "We really focus on having language that's not shaming or polarizing so that people can feel like, 'Okay, I can come here and I still get to have an opinion,'" says LOOM co-founder Erica Chidi Cohen, a post-partum doula whose clients include Andy Samberg and Joanna Newsom.
Her business partner and LOOM co-founder Quinn Lundberg—vice president of non-profit Growing Voices—first met Cohen at a childbirth education series the doula was running in her garden, and they decided to join forces on setting LOOM into motion.
There are six different "pathways" people can take at LOOM, from services for new parents, to whole-body well being, to expecting and pregnant women, to reproductive wellness—including yoga, meditation, dance classes, and community events. Membership costs $200 per year, but only applies to LOOM's Expecting and Parenting pathways. Otherwise, individual classes and events usually require some form of payment.
"Gather and Grow," a class that's focused on preparing for motherhood is just one example of how LOOM is trying to think outside the box when it comes to education. Cohen says the class is not focused on childbirth education, per se, or the nuts and bolts, but will instead look at aspects of motherhood like "intuition building, body confidence, career transitions, sex and intimacy with your partner, and relationship consolation, especially if you're the first person in your group to get pregnant. Or maybe you're the last one."

To make classes more inclusive for everyone, Cohen says they looked to science and research that would guide their approach, and focused on developing "softer language" that shies away from super exclusive terms. Instead of a breastfeeding class, LOOM offers an "Infant Feeding Basics" class.
"Because at LOOM it doesn't matter how you do it—whether it's breast, bottle, or supplementation," says Cohen. "And just that decision alone is pretty revelatory because there's so much pressure on breast feeding for new moms. It can be really, really triggering and alienating. The constant rhetoric is 'Breast is best, and you need to do that,' but that doesn't lean into what the statistics are," she adds.
The space itself is meant to evoke a welcoming, warm hug: long glass windows that bathe the rooms in natural light, Instagrammable interiors in soothing pastel colors, curving walls, and natural greenery, inspired by Alvar Aalto's sanatoriums in Finland.
In other ways, the community will also be urged to take on this open-mindset. The LOOM team encourages its members to adhere to "The Yes List," a set of behavioral changes that include being curious about each other, not being judgmental, and not shaming themselves.
"It's okay for people to make mistakes and it's okay to have a bad day and to say that that's what's going on with you. There's so much pressure for perfect parenting and perfect motherhood and we're not trying to create space for that at LOOM. We're creating space for the darkness and the things that aren't working, too."
Kindness is another big tenet of The Yes List. "There's so much adherence to judgment and unkindness that can come through in early parenting because everyone's in survival mode. But if you encourage people to think about these things, then maybe we'll have a cultural shift within the community at LOOM."
Speaking of cultural shifts, Cohen believes that more for-profit educational spaces for women (that are out of the hands of the government, and won't be at risk for de-funding, like Planned Parenthood) might be just what women need in Trump's America.
"I think that the current political climate has created more of a necessity for spaces where women and family can get information on how to engage in informed consent and know what their reproductive options are," says Cohen. "Women having more information about their reproductive health or their menstrual cycle is a form of political activism because if you know how your body works you can advocate for yourself."
RELATED STORIES