New Study Says Social Media Is Making Teens Sad
Time to power down, people.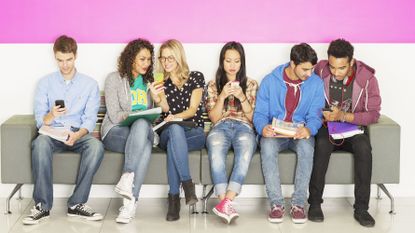 (Image credit: Archives)
If something isn't documented on Instagram, did it really happen? If you and your significant other aren't 'Facebook official', can you really be sure the relationship exists?
Very few of us can imagine a day without sharing some portion of our lives on at least one of the social media apps that dominate our iPhone screens. We post to show off our cool lives, our chic clothes, our sweet romances, our enviable squads. The resulting one-upmanship mentality is impossible to ignore, and the pressure to stay relevant and worth following can take its toll—especially with a younger, more impressionable set of users.
As if adolescence weren't enough of an emotional roller coaster, the increased prevalence of social media use in teens is making things even harder. According to a study published in the journal Cyberpsychology, Behavior, and Social Networking, the more frequently teens use social media, the bigger the negative impact on their mental health.
Researchers at Ottawa Public Health studied 750 students in grades seven through twelve, finding that those who spent as little as two hours a day on social media were more likely to report "poor self-rated mental health, psychological distress, suicidal ideation, or unmet need for mental health support."
While causality is indeterminate in the relationship between social media use and psychological issues, the data does suggests that youth with poor mental health are greater users of social networking sites.
"It could be that teens with mental health problems are seeking out interactions as they are feeling isolated and alone," Dr. Hugues Sampasa-Kanyinga, the study's lead author, told The Huffington Post. "Or they would like to satisfy unmet needs for face-to-face mental health support."
Either way, it's clear we could all stand to disconnect now and then.
I am an experienced editor, writer, and creative strategist, specializing in fashion, beauty, and lifestyle content for digital media outlets, as well as video and social platforms. While I currently operate as a freelance contributor/consultant, with such clients as The Zoe Report, my 10+-year background in the industry was cultivated at the dot-coms of elite publications, including Harper's BAZAAR, ELLE, and Marie Claire.