Gwyneth Paltrow Opens Up About Her Experience with Postpartum Depression
"I really went into a dark place."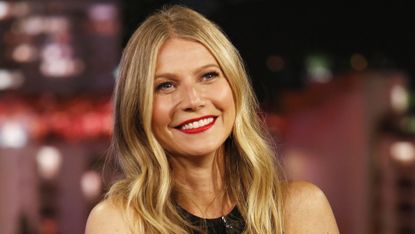 (Image credit: Getty Images)
During an episode of the Goop podcast, Gwyneth Paltrow candidly opened up about her experience with something that hits close to home for a lot of women: postnatal depression, also commonly referred to as postpartum depression.
RELATED STORIES
"I think [it] was really shocking to me because I never thought that I would be a person who got postnatal depression," Paltrow said.
Us Weekly reported that Paltrow and her mom, Blythe Danner, spoke in an episode titled, "Gwyneth x Blythe: On Mothers and Daughters," about Gwyneth's two very different experiences after giving birth.

"I was so euphoric when Apple was born, and I assumed it would happen with Mosey and it just…it took a while. I really went into a dark place," she continued.
Paltrow has two children Apple, 13, and Moses, 12, with her ex-husband, Chris Martin. The Coldplay singer was the first to suggest that Paltrow might be experiencing symptoms of postpartum depression which include a loss in pleasure of the things that you enjoy, racing thoughts, excessive irritability, and feeling guilty or worthless, among many others.
"I couldn't connect with my son the way that I had with my daughter and I couldn't understand why. I couldn't connect to anyone. I felt like a zombie. I felt very detached," Paltrow said during an episode of Lifetime's The Conversation With Amanda de Cadenet in 2016.
According to the American Psychology Association, one in seven women experience postpartum depression. Not all women experience the same kind of postnatal depression—in some cases, the symptoms are more severe, leading a woman to be hospitalized. Paltrow said this wasn't the case for her, and in 2015, she told Entertainment Weekly she wished people could not feel ashamed.
"It's a very debilitating thing, and I think there's so much shame around it and there shouldn't be," said Paltrow—and she's right about that.
RELATED STORIES
I'm currently working at Dotdash Meredith as the Celeb & Entertainment E-Commerce Lead contributing affiliate content for People.com and InStyle.com. I'm basically like your personal shopper, from writing about that cozy loungewear set you didn't know you needed to keeping tabs on the best sales and deals on the internet. I'm also a pro at finding affordable dupes for celebrity looks and I love to dig into the data to strategize content opportunities.