I Tried SoulCycle and Hated It
But then I loved it. Hear me out.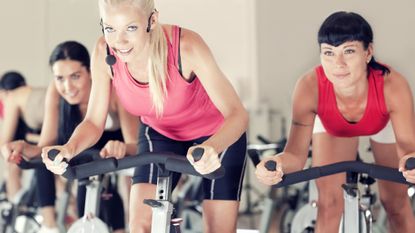 (Image credit: Getty Images)
"A young woman just found out she has terminal cancer–just to give you a little perspective!" screamed my SoulCycle instructor. And she continued to maniacally scream about sad stories and all the people dying of cancer who are much, much braver than anyone in the room.
I'm enduring this torture on a Saturday morning instead of laying in bed dreaming of eggs benedict and mimosas because I recently turned 30 and am trying to "change my life." I was pretty fit in my late teens and early 20s—I would think nothing of running a few miles a day—but by my mid-20s I'd lost all resolve or motivation to do anything healthy.
As I worked to launch my career in media, I was embracing a "work hard, play harder" mentality. Between spending 10 hours a day at my desk, rewarding myself for tasks completed with a trip to the office's snack cupboard, meeting friends after work for drinks, and telling myself I'd sleep when I was dead, I was burning the candle at both ends (and the middle, if that's possible). But when I found myself getting winded like a grandma going up a flight of stairs, I knew something had to give.
So I reluctantly accepted a friend's invitation to try SoulCycle. My only knowledge of SoulCycle came from the Unbreakable Kimmy Schmidt parody that went viral, where Jane Krakowski and Ellie Kemper play characters who lose their minds competing to get to the front of the class (meanwhile Nick Kroll stars as a cult-like instructor who plays mind-games with everyone). Was SoulCycle going to be like this in real life? I really hoped not.
My Saturday morning class was actually worse—it was a nightmare.
It just seems wildly inappropriate for an instructor to whip out the "what's your excuse" brand of fitspo. Using others people's illnesses and suffering as motivation to work on getting a perkier butt just feels icky.
If I actually knew how to unclip the shoes locking me into my bike (something that took me a few classes to figure out), I would have marched out. But instead, I pedaled ferociously, hoping she wouldn't notice that I wasn't turning up the resistance. Then she told us "this isn't optional"–and told the person beside us to dial up our resistance for us. Dammit! There's no escaping this agony of burning thighs and psychobabble!
As I left my class, everything sounded like I was underwater because I hadn't thought to grab the complimentary earplugs at the desk. My hearing was totally shot from the instructor's screaming and due to the fact that my bike was right under a speaker blasting club music the whole time.
I felt so conflicted—I'd intellectually hated my instructor's teaching methods, but my body felt pretty *damn* good. I felt alive, full of anger about the fact that someone just yelled ridiculous things at me for 45 minutes, and somehow also happy to have survived that class.
I must be a masochist, because I immediately went back.
I reasoned with myself: Maybe my instructor was just having a mental breakdown? Maybe she just had a bad day? There must be some reason SoulCycle is one of the most talked about workouts ever–attracting everyone ranging from Michelle Obama to Lady Gaga, who apparently toured with two SoulCycle bikes in tow.
This time, I chose a different instructor—and guess what? I wound up having more fun than I knew was possible on a Saturday morning without bottomless mimosas. I discovered that I can feel the same rush I used to get spending the night dancing at a club, only on a bike without the subsequent hangover.
I went back again. At another class, everyone wore glow sticks around their wrists while the instructor blasted hip hop and occasionally leaped off her bike to dance her heart out in the class. She's like the inverse of my last instructor. She radiates positive vibes.
As she tells us what strong, powerful women we all are, I feel the endorphins kick in and crank my own resistance up, unprompted. Looking around the room, I see nothing but smiles.
So I'm on a new health kick and am feeling pretty proud of myself for managing to get my ass out of bed.
What do I think is the secret to SoulCycle? Doing a little research to find an instructor whose teaching style works for you. Be sure to check out the bios of their many instructors. It's easy to narrow down who might be a good fit for you this way, since they share everything ranging from the goals of their class (I tend to avoid the ones that sound like they're going to be heavy therapy sessions, but you do you!) to the music they like to play. And you can check out sites like RateYourBurn which allow people to rate fitness instructors at studios in their city.
I was reluctant, I admit—but now I'm a convert. I can feel myself getting stronger from one class to the next.
And let's be honest: My butt is starting to look pretty great too.
Follow Marie Claire on Facebook for the latest celeb news, beauty tips, fascinating reads, livestream video, and more.
Celebrity news, beauty, fashion advice, and fascinating features, delivered straight to your inbox!
Lizzy Hill is a lifestyle and culture writer and editor, who you'll find stationed by the cheese bar at most of your events. Her big dream of the moment entails finding a way to make the wifi in her apartment reach her pool. Connect with her on Twitter @lizzyfhill