How Kate Spade Got Me Through My Mental Health Struggles
The bags, jackets, and planners she designed saved me.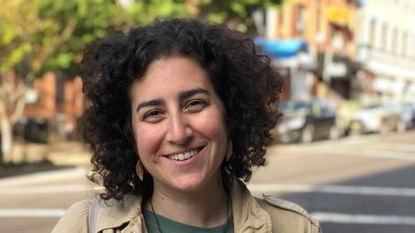 (Image credit: Julie Finkelstein)
Marie Claire Newsletter
Celebrity news, beauty, fashion advice, and fascinating features, delivered straight to your inbox!
Thank you for signing up to Marie Claire. You will receive a verification email shortly.
There was a problem. Please refresh the page and try again.
In the years that I struggled with an eating disorder, my Kate Spade bags helped me manage my negative body image. I used my black nylon purse like a shield to cover my stomach as I sat—debilitatingly ashamed of my body—in class. My mother gave me a Kate Spade jacket for high school graduation. I told my friends it made me feel like a million bucks. While I was struggling, the jacket made me feel alive.
For a lot of people my age who grew up in the '90s, a Kate Spade bag was a status symbol. Which is fine, of course — but that was never what drew me to her label.
For me, Kate Spade and her brand were bigger than status, bigger than New York, where I have lived for 11 years. For me, her products have been my talismans through my own journey to feel comfortable living in my body. I am heartbroken that Kate struggled to be in her own. It blows my mind, that paradox. That without Kate Spade, I don't know how well I could have emerged from several bouts of depression, a decade-long eating disorder, and multiple periods of suicidal ideation.
I was one of the first people at my public high school in the affluent Chicago suburbs to have a Kate Spade—a black nylon handbag with a single strap. I can still vividly remember the two other people I knew had one: my friend, and a tenth grader adjacent to our social crowd.
My mother gave me all of my Kate Spade gear. That first purse, the nylon paper planner, the jacket, and a massive black tote bag with checkered patterning inside. Yesterday, I asked her why she got me my first Kate Spade purse circa 1996 or 1997.
"I thought you should have a proper purse," my mom told me over the phone. "It was important to me that you started to have a respect for fine things and caring for them. They were age-appropriate and well made. No one needed to know what brand it was. Her brand was subtle…It was about learning to appreciate the finer things in life and be grateful you had them."
Grateful I was. I used those bags to shreds. I wore that jacket for 15 years until I thanked it and kissed it goodbye after reading Marie Kondo's The Life-Changing Magic of Tidying Up. It no longer brought me joy. I hoped it might for someone else, so I brought it to a resell shop.
Kate Spade taught me how to understand what was happening inside myself. Her eye for simple details brought me closer to understanding how to embrace the details both inside and outside of my body and brain. I spent most of 9th and 10th grade covering my stomach with a Kate Spade purse. I spent parts of 12th grade feeling like I could take on the world because of my Kate Spade jacket. And I have spent every day of my adult life and career—since high school—feeling like I knew how to manage and hold myself together because I take delicate care of my Kate Spade planner, which organizes the logistics of my all too often overwhelming and busy life.
Now, at 35, I take better care of my Kate Spade planner than almost anything else I own. One of my best friends texted yesterday to see if I was OK. "I just know she meant a lot to you and your routine," she wrote. When I make plans, schedule a meeting, or book a gig, I tell everyone I'll put it in "Kate." No Google Calendars. No syncing devices. My life is in Kate. Every year for two decades, getting a refill—and now the fresh new 18-month planner—is a ritual, as important as any annual holiday or birthday or event. Kate, my schedule, and me.
I do with my planner what my mother hoped I would do with my first Kate Spade bag: I take care of and respect it, and as a result, I know myself.
Last night, while listening to Kate and Andy Spade's NPR "How I Built This" episode from February 2017, I noticed my Ray-Ban sunglasses alone on the counter. I reached for my sunglass case in the canvas tote I'd used all day and noticed the label: Kate Spade. My stomach dropped.
If you had asked me what brand my case was, I wouldn't have known. I don't even know how I acquired said Kate Spade sunglasses case in the first place. My Kate Spade items have become such an intrinsic part of my life that I don't even notice it's there. It's seamlessly woven into the fabric of my every day routine.
And I suppose, if I extend the metaphor further, my various experiences around mental illness and health are part of me, too. I think about Virginia Woolf, who also died by suicide, and her essay "A Room of One's Own," about how women need access to their own space to write authentically and uninhibited. Perhaps that's what Kate Spade offered so many of us—a brand of one's own. Whether a gift from a loved one, or an aspirational gift for one's self, Kate Spade was the gateway. That's what I carry with me. It's so much bigger than that first black nylon purse.
If you or anyone you know is struggling or having thoughts of suicide, call the National Suicide Prevention Lifeline at 1-800-273-8255 (TALK).
Celebrity news, beauty, fashion advice, and fascinating features, delivered straight to your inbox!
Caroline Rothstein is a New York City-based internationally touring and award-winning writer, poet, performer, and educator. Her work has appeared in Marie Claire, Cosmopolitan, BuzzFeed, NYLON, Narratively, The Forward, and elsewhere. She has been featured widely including in The New Yorker, MTV News, Chicago Tribune, CBS Evening News, BuzzFeed News, Huffington Post, Mic, and Newsweek, and was called a "very inspiring woman" by Lady Gaga.