How to Actually Get Through Your To-Do List
Our resident psychiatrist unlocks the key to prioritizing.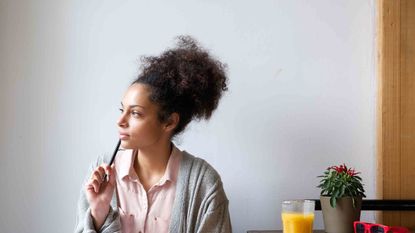 (Image credit: m-imagephotography)
Marie Claire Newsletter
Celebrity news, beauty, fashion advice, and fascinating features, delivered straight to your inbox!
Thank you for signing up to Marie Claire. You will receive a verification email shortly.
There was a problem. Please refresh the page and try again.
Q: I manage to get all the little things done but push the more important items—scheduling a mammogram and having a conversation with my boss about a raise—to the back of my mind. How can I better prioritize?
A new study published in the Journal of Consumer Research sheds some light on why seemingly urgent tasks all too often take precedence over more important ones. Researchers found that people typically choose to complete tasks that have short deadlines and repeatedly put off ones that don't have an expiration date. The more critical a task feels, the more attention we give it, even if the reward is minimal. These urgent tasks dominate our thoughts and consume our energy, which might explain why we rush to a store whose sale ends in hours but don't set aside time for that conversation with the boss. The limited time frame hijacks our attention and negatively impairs our ability to make good decisions. Moreover, this effect is even more pronounced in people who already feel super busy. So how can we make better choices?
Schedule what matters: Carve out specific periods of time to do what's important. Block off time each week to do things that are meaningful to you and that matter in the long run for your health, family, and friends.
Pause: Before tackling an item, ask yourself, "Is this really important?"
Look forward: Shift your attention away from deadlines and toward outcomes. Will this matter one year from now?
Set limits: Avoid spending too much time on unimportant stuff like email and social media.
Think big picture: Create a weekly work/life check-in to ensure that your daily choices reflect your priorities.
When you put your values front and center, you transform a full schedule into a fulfilled life.
Dr. Samantha Boardman is a clinical instructor in psychiatry and an assistant attending psychiatrist at Weil Cornell Medical College in New York and the the founder of positivepercription.com.
A version of this article originally appeared in the Holiday 2018 issue of Marie Claire.
RELATED STORY
Celebrity news, beauty, fashion advice, and fascinating features, delivered straight to your inbox!