Why Reading Is So Good For You
Our resident psychiatrist extols the unexpected benefits of vacation reading.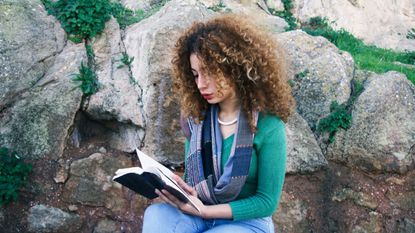 (Image credit: Photo by Hind Bouqartacha for Getty Images)
Marie Claire Newsletter
Celebrity news, beauty, fashion advice, and fascinating features, delivered straight to your inbox!
Thank you for signing up to Marie Claire. You will receive a verification email shortly.
There was a problem. Please refresh the page and try again.
Q: My attention span is short, and I haven't been able to get through a book in ages. Should I even bother packing one on vacation?
People increasingly tell me they have a hard time starting a book, let alone finishing one. Reading a book takes time and concentration—two rarities in our daily experience.
There are so many competing demands on our attention. In our busy lives, quick reads like news updates and snackable articles may be the only reading we have the energy and bandwidth for, but don't let this mind-set get between you and a book during vacation. A great book can make a holiday even more memorable. You will always remember where you were when you read it.
Reading opens us up to the experiences of others and provides an escape from the echo chamber of our own mind. Studies suggest it might even build empathy by awakening awareness, broadening perspectives, and expanding imagination. As author L.R. Knost observed, "Humanly speaking, there is no greater teacher, no greater therapist, no greater healer of the soul, than a well-stocked library."
A patient stopped reading fiction somewhere between her first and second child. Life got in the way. Scrolling replaced deep reading. She found her way back to novels after a friend insisted she take Anthony Doerr's All the Light We Cannot See on a trip to France. While sitting in a café, instead of picking up her phone, she would reach for her book. She said it enhanced her experience immeasurably and shielded her from tumbling down the rabbit hole of pointless scrolling, commenting, and liking. The vacation is long over, but the joy of reading lingers. After putting the kids to bed, instead of turning on the television, she makes a habit of reading. She has found that reading a few pages is the perfect vacation for a restless mind.
Dr. Samantha Boardman is a clinical instructor in psychiatry and an assistant attending psychiatrist at Weil Cornell Medical College in New York and the the founder of positivepercription.com.
A version of this article originally appeared in the August 2019 issue of Marie Claire.
RELATED STORIES
Celebrity news, beauty, fashion advice, and fascinating features, delivered straight to your inbox!