Pregnant Women Are Wondering: Should I Have a Home Birth?
The Covid-19 pandemic is causing additional panic for expectant mothers, who no longer know if a hospital is the best place for them.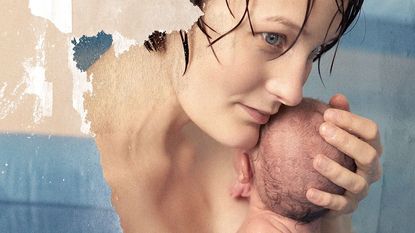 (Image credit: Getty / Morgan McMullen)
Marie Claire Newsletter
Celebrity news, beauty, fashion advice, and fascinating features, delivered straight to your inbox!
Thank you for signing up to Marie Claire. You will receive a verification email shortly.
There was a problem. Please refresh the page and try again.
"Until now, I had never imagined giving birth anywhere other than a hospital," says the 28-year-old, 25-week-pregnant Crystal Holstine. "But I have recently been considering looking into home birth options, so we aren't exposed to [Covid-19] as much and I know that my support system can be there for the process." As her pregnancy and the coronavirus crisis progress, Holstine is feeling increasingly uncertain about what labor and delivery will look like in the midst of a global pandemic that has strained an already flawed U.S. healthcare system.
"The virus has increased my anxiety about attending [prenatal] appointments, [because of] the risk of being exposed to the coronavirus, and putting me and my son in danger," says the Knoxville, Tennessee, resident. "I am afraid of catching the virus. I am afraid of passing it on to my baby. I am worried about what delivery might look like if the protocols haven't lifted. Like: Will my significant other be allowed in the room? Can our close family visit us? I am afraid of being separated from my baby after birth because of the virus."
Holstine is not alone. More and more pregnant women are considering at-home births in response to coronavirus-related changes in hospital visitor policies. In New York City, two leading hospital networks banned partners or support people from delivery rooms in order to mitigate the spread of Covid-19; after the directive received backlash from expectant parents, doulas, and midwives, Governor Andrew Cuomo issued an executive order requiring all hospitals to allow one support person in the labor and delivery room. (According to the World Health Organization, care is needed throughout and directly following childbirth, which includes having a companion of choice present during labor and delivery.) The order did not require hospitals to allow any additional support people, however, so if a laboring woman's partner is her one support person, a doula, friend, or other family member would not be allowed to attend the birth.
It is the prospect of potentially giving birth alone or without a desired support team, in addition to the fear of the virus itself—which may affect pregnant people in more severe ways and could be passed along to their babies—that has led to an increase in anxiety among pregnant women. Since there's a possibility that moms who test positive for coronavirus could be separated from their babies at birth, leading to potentially negative impacts for both mother and baby, those anxieties are only mounting.
"I have many patients who're feeling incredibly anxious and discombobulated because they're pregnant and they're navigating this incredibly uncertain time," Dr. Carly Snyder, a reproductive and perinatal psychiatrist practicing in New York City, tells Marie Claire. "Every single one of us is sitting at home, hopefully, socially distancing ourselves, and feeling very, very vulnerable. But the pregnant women amongst us have this additional layer of uncertainty that is just... it's a level that supersedes the rest of us, and for understandable reasons."
Like Snyder, I am a psychologist specializing in women's reproductive and maternal mental health and have also received an increase in the number of pregnant patients requesting emergency sessions to discuss their anxieties surrounding pregnancy and childbirth. Some are due to give birth in the immediate future, while others have months to prepare for delivery and the ways in which it could be potentially altered by this ongoing public health crisis. But how close or far away a person's due date is doesn't necessarily correspond to how anxious they are about the prospect of giving birth, or how they respond to that anxiety.

For Jeanie McDowell, 29, from Charlotte, North Carolina, staying up-to-date on her hospital's Covid-19 response policies is helping her remain grounded. "I'm lucky enough to not live in any of the areas hardest hit by Covid-19, so my hospital's restrictions aren't nearly as strict as they are in other parts of the country," she says. "As of today, we're allowed one support person and one partner, and my plan is to just have my husband come with me."
Many hospitals are not allowing visitors of any kind for any treatments or procedures, unless there are imminent end-of-life implications. According to New York-Presbyterian's website, visitors are not allowed in postpartum units, and only one visitor per pediatric patient is permitted in the NICU. "I hate that our families won't be able to meet our son in the hospital," says McDowell, "but I'm also looking forward to having some privacy and to being able to adjust to being a family of three."
Thirty-seven weeks pregnant with her first child, McDowell does feel somewhat cheated by the ramifications of the virus. "My hospital canceled all hospital tours, labor and delivery classes, and breastfeeding classes," she says. "As a first-time mom, it's definitely nerve-wracking. While I've done my best to research and get my information from friends, at my OB-GYN appointments, or online, I still feel like I'm not as prepared as I should be."
Still, she isn't changing her birth plan or deciding to birth at home—a decision that Nuranisa Rae, a certified nurse midwife and owner of Nur Midwifery in New York, considers wise. "To come to [home birth] at the end of the game, because there's this fear and now you want to know what your options are, doesn't necessarily make you a good candidate for home birth," she says.
In the aftermath of the initial directive banning partners from labor and delivery rooms, Rae was bombarded by soon-to-be moms hoping to have home births so they can be supported. ("Just today I received 15 emails, despite the fact that we're all posting on our social medias that we're not taking people.") But finding a certified nurse midwife to assist an at-home birth only a month or two out from your due date isn't feasible, she says, in part because a home birth requires months of mental, physical, emotional, and often spiritual preparation. Home births require a level of trust between the expectant mom and her midwife—trust that can take time to cultivate. "I don't discourage women from reaching out, but I think that they first need to educate themselves as to what they're getting themselves into."
Sakina O'Uhuru, executive director of Gentle Spirit Home Birth Midwifery Services in New York, who has been a midwife for 20 years, agrees. She is also receiving between 10 and 20 calls a day from expectant moms seeking to severely alter their birth plans. She is encouraging them to consider the feelings behind that desire.
"It is extremely important to explore the fear that is driving this decision, as well as the fear that led to the original decision for a hospital birth," she tells Marie Claire. If a soon-to-be mom goes into a home birth afraid or convinced she is not safe, O'Uhuru says, her mindset could have a negative impact on her overall labor and delivery experience. Her motto for parents thinking about changing their birth setting "is to understand that they must be able to commit to this decision 150 percent."
"If [a mom's] reason for wanting to have a hospital birth was because she wanted to have an epidural, for example, then she should remain connected to her original decision," says O'Uhuru.
Instead of preparing patients to drastically alter a birth plan so close to a due date, Snyder, the reproductive psychiatrist, is counseling them: talking through the reasons why these mandates are put in place; legitimizing their feelings of anger, fear, isolation, and resentment; and minimizing any other potential unknowns. Some practical actions—like utilizing FaceTime in the delivery room, making sure all the necessary chargers are in your hospital go-bag, and meeting every OB-GYN in the practice via FaceTime, if possible—can help create a new birth plan that gives you a sense of control.
"While it's unexpected and scary, you're still in the same scenario: You're still having a baby," Snyder says. "So I'm working to empower my patients to realize that they can rise to the occasion. That this is still their story. They're still about to have a baby, and that's a wonderful thing, right?" Snyder says that those who cannot be physically in attendance during the birth can still be virtually present, and the same goes for postpartum visitors—a new mom might not be able to show off her baby in person, but she can still show her baby off. "This does not have to be about a negative."
If a pregnant person can find a certified nurse midwife to assist them in a somewhat-immediate (i.e. in the next month or two) home birth, Rae says there are a few ways they can prepare. "If women are making this very sharp change in their plans and they found a midwife who's willing to help them, their whole self really has to be dedicated to this," she explains. "You really have to be pushing out the outside world, not watching all the Covid-19 updates. Instead, watch lots of documentaries about home birth, read positive birth stories, and have a strong understanding of how your body works and submitting to that."
And for those women who are in their first or second trimester, Snyder recommends they do not focus on a future that is impossible to predict and, instead, use this time to slow down. "We, as a society, as people, are incredibly rushed. We are hardwired to always be doing something; to be over-scheduled and overworked. And the only blessing of this unfathomable pandemic is that we're being forced not to be over-scheduled because we have to be home," she says. "Use this time as an opportunity to do things that you'd like to do, but that you always feel like you don't have the opportunity to do. Because in reality, once you have a baby, life really does change."
For more stories like this, including celebrity news, beauty and fashion advice, savvy political commentary, and fascinating features, sign up for the Marie Claire newsletter.
MORE ON PREGNANCY & CORONAVIRUS
Celebrity news, beauty, fashion advice, and fascinating features, delivered straight to your inbox!
Jessica Zucker is a Los Angeles-based psychologist specializing in reproductive and maternal mental health and the creator of the #IHadaMiscarriage campaign. Her first book is now available I HAD A MISCARRIAGE: A Memoir, a Movement (Feminist Press + Penguin Random House Audio).