COVID-19 Is Keeping Women From Having Kids
A new survey by SoFi and Modern Fertility finds that the virus has put family planning on pause.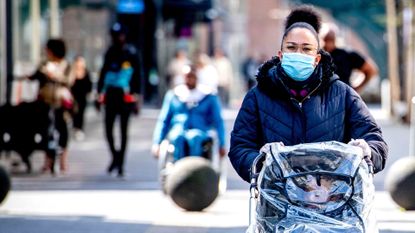 (Image credit: Barcroft Media)
Jokes that stay-at-home orders would deliver a generation of coronavirus babies nine months from now may, in fact, turn out to be laughable. It seems the COVID-19 pandemic is having the opposite effect on family planning. Though it's not yet clear how the virus impacts pregnancy and pregnant woman, a new survey shows that it is certainly impacting people's perspective on getting pregnant.
The results are remarkable: One-third of respondents said that COVID-19 has changed their fertility plans entirely. Nearly half said that they are delaying having children because they're anxious about access to prenatal care right now. Forty-one percent are delaying having kids for financial reasons related to the COVID-19 outbreak, including fears that one or both parents could be laid off or furloughed due to the virus' economic toll. And more than one in four respondents (27 percent) are avoiding pregnancy because they're worried about getting COVID-19 themselves.
The survey, conducted by SoFi, a personal finance company, in conjunction with Modern Fertility, a reproductive health company, was initially conducted in September and focused on the state of fertility and money. In light of the outbreak, researchers went back to respondents to ask how COVID-19 is influencing their plans to conceive; results were released yesterday, the start of National Infertility Awareness Week. The week is usually spent amplifying the conversation around infertility and erasing the stigma and taboo that surrounds it, but this year's NIAW has, like most other things, shifted focus. In the wake of COVID-19, NIAW is vowing to support those struggling to build a family even more than ever before.
NIAW couldn't come at a more uncertain, but necessary time. Sixty-one percent of women who took the SoFi/Modern Fertility survey said that, due to the coronavirus, they are more worried and anxious about their ability to have kids. This reported increase in stress might further impact fertility goals even after the virus wanes: Many prior studies have corroborated the link between infertility and stress. On average, women struggling with infertility report elevated levels of stress and anxiety
Financial concerns are one source of that stress. The survey found that the biggest delay in a couple's fertility timeline is often money. The hefty price tag of fertility treatments is a major setback for many. The average cost for egg freezing is $17,000; a single IVF cycle is about $23,000. With more than 22 million Americans filing for unemployment in the past four weeks, financial hurdles will surely become an even bigger issue many families will face.
Accessibility to care also plays a role. Of the respondents who said they're delaying fertility treatments or family planning decisions due to COVID-19, 18 percent listed fertility clinics pausing treatments—they are not deemed "essential" at the moment—as a major factor in that decision (or the factor forcing it).
COVID-19 is impacting the way we work, live our lives, and now, when (and if) we start family. For many couples, the virus has completely upended plans or treatments years in the making. But hope is on the horizon: Many facilities are increasing telehealth services, and the coronavirus curve seems to be flattening. With progress slowly but surely coming, the goal of staring a family, though delayed, feels a little bit closer than it did even a week ago.
For more stories like this, including celebrity news, beauty and fashion advice, savvy political commentary, and fascinating features, sign up for the Marie Claire newsletter.
Related Stories
Celebrity news, beauty, fashion advice, and fascinating features, delivered straight to your inbox!