It's Not Just Dry Skin: How Psoriasis Impacts Young Women's Professional Lives
Meet two women who share the way their skin condition affected their career paths. Plus, tips for juggling a chronic health condition and a busy work schedule.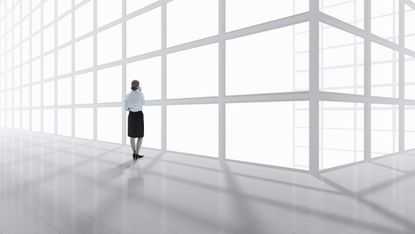 (Image credit: Yagi Studio)
For Nitika Chopra, 40, psoriasis will always be the thing that impacted her life most. Diagnosed with the chronic skin condition at age 10, Chopra spent many years with about 98 percent of her body covered with scaly red patches.
"When I was looking for jobs psoriasis made it very hard to put myself out there," says Chopra, who lives in New York City and is a content creator and founder of Chronicon, a community platform for people with chronic illnesses. "I would feel depressed, embarrassed, and totally isolated which made it difficult to follow my dreams and believe I was even worthy of the jobs and opportunities I so desperately wanted for myself."
Chopra isn't alone. In fact, moderate to severe plaque psoriasis has been shown to impact patients' career choices, abilities to perform work duties and work relationships and interactions, according to a study published in The Journal of Dermatological Treatment.
The fact is, one of the most impactful parts of psoriasis is the psychological strain stemming from how it can impact your job prospects, says Geeta Patel, MD, a dermatologist in Houston, Texas.
"This burden is exacerbated by the fact that psoriasis is visible on the skin and the condition itself is highly misunderstood," she says. "Many people with the condition are stigmatized because of their skin."
Ultimately, psoriasis can affect everything from the clothes you choose to wear, to how you interact with colleagues and your overall energy for your job, Dr. Patel adds. "Even if you're proactive about your treatments, this condition can take a very real toll on your day-to-day life," she says.
Such was the case for Reena Ruparelia, 40. When she was working in human resources early on in her career, she noticed that people would shy away from shaking her hands due to the scaly patches there (these patches are also visible on her lower legs, feet, and arms).
"The psoriasis on my hands is quite noticeable and I used my hands a lot in conversations and presentations," says Ruparelia, who lives in Toronto and was diagnosed when she was 14 years old. "This would cause me a lot of anxiety and worry as I didn't want anyone to see my skin problem or my hands. Other times it made me feel that others were deterred from working with me because they thought I was sick or contagious."
Additionally, Ruparelia, who now works as a mindfulness guide and wellness advocate specializing in supporting other women with psoriasis, was afraid of their judgment. "At times I had to wear plastic gloves to work when I flared really bad," she says. "This also made being at work really weird for me."
And then there were the days when she didn't feel well enough to go to the office at all. "When the anxiety and pain of my psoriasis were too much, I found myself missing work and turning down opportunities because of my skin," she says. "This really affected my future."
Ruparelia says that during much of her corporate career, she was really nervous about interacting with people, especially new staff members, vendors, and clients. "I also thought that having a visible condition might get in the way of me being promoted," she says. "But I never let my skin get in the way of me doing my work. I didn't want my manager or the higher ups to view me as less capable. Looking back I would tell myself it's okay to have sick days and be human but, at the time, I was really harsh with myself."
Steering your career path with psoriasis
The more you connect with your healthcare provider about current or new treatments, the more you may be able to keep psoriasis from becoming a career hindrance, says Dr. Patel. "There are great medical options for psoriasis patients depending on the severity," she says. "These range from topical medicines to biologic medications." These are all safe options that can be used even if you're breastfeeding or pregnant, Patel adds.
That being said, being able to squeeze in regular doctor's visits when you're working crazy hours can end up being a big challenge. "Psoriasis is a chronic condition so treatments and doctor's appointments often need to take place during work hours," says Hadley King, MD, a dermatologist in New York City. "These issues can lead to discrimination at work and a feeling of being restricted on the career choices you want to make."
Given these challenges, it may help to be open about your psoriasis and discuss it with your boss and colleagues if you feel comfortable sharing this information. "This may be helpful for building understanding and dispelling discomfort and bias," Dr. King says. "It may also make it easier if you have a flexible schedule to accommodate medical appointments without facing repercussions."
Ultimately, since work-related stress can contribute to psoriasis flares, it's important to find ways to manage your workload to minimize stress as much as possible, Dr. King says. In the end, if a conventional path with a demanding boss becomes too stressful, it may be time to pivot away from the corporate world, as Chopra did.
"Since psoriasis is an autoimmune disease it also brought with it a lot of exhaustion simply because my skin was so impacted," she says. "By building my own schedule I don't have to work on anyone else's timeline because my psoriasis can be really unpredictable in terms of my energy levels and when I will actually feel good."
As for Ruparelia, a new attitude about psoriasis—and a new career path—has made all the difference. "I think I once thought that my condition limited what was possible for me and I thought I didn't deserve to do certain types of work because of how I looked," she says. "I now see that my body is meant to do work where I can create my own hours."
In turn, she is no longer letting her skin get in the way of her professional plans which means she won't ever work at a job that requires long hours or too much travel as that leads her to overdo it and prompts flare-ups.
"I don't look at psoriasis as a barrier anymore," she says. "Instead, I look at it as an invitation to be more self-compassionate and choose work that best supports my health and my aspirations."
Marie Claire email subscribers get intel on fashion and beauty trends, hot-off-the-press celebrity news, and more. Sign up here.