Busy Body Workouts
For a midday jolt, duck out of the office and into one of these invigorating and efficient exercise options. Each takes less than an hour — so there's still time to grab lunch.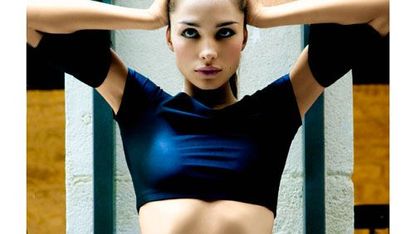 (Image credit: Guillaume Reynaud/Folio-ID.ocom)
THE CLASS:

ZenCore at Reebok Sports Club/NY and The Sports Club/LA

FOR LOCATIONS:thesportsclubla.com

THIS ONE'S FOR YOU IF: You want a yoga body without the meditation and chanting — or the 90-minute time commitment.

THE WORKOUT: A fast-paced series of yoga poses, strength movements, and cardio drills that works your whole body and targets the abs, glutes, and lower back. ZenCore's creator and instructor, Maryanne Blake, developed the class for type A's who'd never be caught in a yoga class. "Some people don't see yoga poses as the dynamic, strength-building moves they are — warrior pose as a lunge, chair pose as a squat, or plank as the beginning of a push-up. We'll go from plank to jumping the legs to the hands and back [like jumping jacks on the floor], or we'll flow from the muscle burn of holding a warrior pose, to moving into a lunge, then to a jumping lunge."

TIME: 30 minutes.
THE CLASS:

Mile High Club at Crunch

FOR LOCATIONS:crunch.com

THIS ONE'S FOR YOU IF: You want to burn maximum calories but can't bear doing your usual cardio routine again.

THE WORKOUT: Crunch instructor and class creator Marc Santa Maria relates to his students: "I love to eat, but I have a hard time motivating myself to run. This gets you on the treadmill but gives you the communal feeling of a class, with an instructor guiding you and encouraging you to set goals and stay on top of your miles." The session starts with a three- to four-minute warm-up at a high incline and a slower pace, then moves into interval training that plays with incline and speed. From there, it becomes more individual, with some participants power walking and some doing sprints with the supervision and support of the instructor. "I have people who are training for marathons, and some who just want a good, quick workout," adds Santa Maria.

TIME: 30 minutes.
THE CLASS:

ViPR at Equinox Fitness

FOR LOCATIONS:equinox.com

THIS ONE'S FOR YOU IF: You want a challenging, well-rounded workout that improves on balance and coordination.

THE WORKOUT: The ViPR (pronounced "viper," it's short for Vitality, Performance, and Reconditioning) is a training tool developed by kinesiologist and personal trainer Michol Dalcourt. It's basically a big hollow rubber cylinder with handles (it looks similar to a PVC pipe) that you lift, flip, hoist, carry, tilt, rotate, squat or lunge with, or push and pull in a dynamic series of exercises. "You may do a push-up while pushing the ViPR across the floor, or use it in a 'thread the needle' move, standing and taking the tube through your legs then over your head like a kettlebell exercise," explains Equinox's national creative group fitness manager, Lisa Wheeler.

TIME: 45 minutes.
THE CLASS:

ARMed & fAB in 30 at Physique 57

FOR LOCATIONS:physique57.com

THIS ONE'S FOR YOU IF: Your ideal is a toned, sculpted ballet dancer's bod, and you prefer Pilates to heart-pumping cardio. (Think Black Swan, not Step Up.)

THE WORKOUT: This ballet-barre workout, based on the famous Lotte Berk technique, uses dance-based moves and focuses on muscle toning (arms in particular), posture and alignment, and the all-important core. Says director of training and instructor Alicia Weihl, "We incorporate controlled isometric movements that are similar to Pilates and work the muscle to its fullest potential." (Translation: Plan to hold some really challenging poses.) The class uses free weights to tone the triceps and biceps, and resistance bands to work abs and arms simultaneously.

TIME: 30 minutes.
THE CLASS:

Spin at SoulCycle

FOR LOCATIONS:soul-cycle.com

THIS ONE'S FOR YOU IF: You need a workout buddy (or 30) for motivation, and you love to sweat.

THE WORKOUT: SoulCycle isn't just a Spin class, it's a cultlike movement. On Mondays, you sign up online for your weekly classes, which commits you to show up. (You have till 5 p.m. the night before to cancel.) "Your friends and instructors in class expect to see you there, so it's a positive motivating force," says master instructor Laurie Cole. Music is cranked, lights are dimmed, and candles are lit for focus and ambience. It's also a kick-ass, give-it-your-all, full-body workout. "We use 1- to 2-pound free weights during the upper-body section, and do push-ups and crunches on the bike. We're constantly moving, and you have to use your core, so it's not just leg conditioning."

TIME: 45 minutes.
THE CLASS:

Strength/Conditioning at InForm Fitness

FOR LOCATIONS:informfitness.com

THIS ONE'S FOR YOU IF: You want an effective way to strengthen your muscles and stay fit, minus the blaring house music. No nonsense and no dance moves — just a succinct, intense workout.

THE WORKOUT: You work one-on-one with a personal trainer to do six to seven exercises on custom-designed weight machines for 20 minutes. Sounds easy. It's not. "The goal is to work the muscle to the point of complete exhaustion by using high-intensity resistance and a focused, slow weight lifting technique — 10 seconds to lift the weight and 10 seconds to lower," explains InForm Fitness founder Adam Zickerman, author of Power of 10: The Once-a-Week Slow Motion Fitness Revolution. "Those 20 seconds are the longest of your life. You do a leg press or a squat; then a hip exercise; then a calf raise; then work the arms, chest, back, and abdominals. The right six exercises can hit the entire body in 20 minutes, and then you're spent."

TIME: 20 minutes.
TWO NO-EXCUSE, NON-GYM WORKOUTS

You don't have to belong to a gym to squeeze in a quick workout at lunch. In fact, you don't even have to leave the office. George Vafiades, trainer and cofounder of NYC's As One Fitness, offers a couple of options.

TAKE THE STAIRS. "We use the stairwell in our building as part of our classes, and 20 minutes offers a killer cardio and leg workout." Walk up the stairs at a brisk pace without using the handrail. "You can vary the speed, or add 20 squats at the top of the landing, or 20 push-ups when you come back down."

USE A DECK OF CARDS to customize another in-office workout. Each suit stands for a body-weight exercise. For instance, hearts equals a push-up, clubs a sit-up, diamonds a squat, and spades a burpee (jumping from a squat to a push-up and back to a squat). Shuffle the deck, then turn over a card to find out the exercise and number of reps to do (e.g., the king of hearts is 10 push-ups). "It takes 20 to 25 minutes to get through 52 cards, and shuffling the deck changes the workout each time."
Marie Claire email subscribers get intel on fashion and beauty trends, hot-off-the-press celebrity news, and more. Sign up here.