The Goods: 10 Gym Bag Essentials So You'll Never Skip a Workout
Sticking to your new year's resolution just got 1000x easier.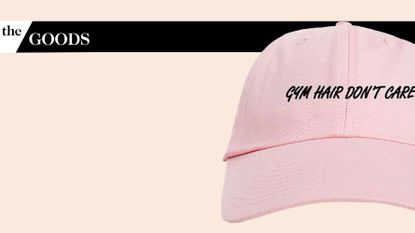 (Image credit: Courtesy/Travis McHenry)
Despite what cheeky workout shirts and yoga mats tell you, going to the gym is not fun–that's just a fact of life. And forgetting half the stuff you need for said workout? That's annoying AF. Save yourself the frustration by creating a go-bag with these 10 workout essentials so you'll never have a lame excuse to ditch the sweat sesh again.
1.
Brooks Running Levitate Women's Road Running Shoes, $150
Keep your favorite sneaks in your gym bag instead of your work bag so you'll never forget 'em—even if you secretly want to so you'll have an excuse to skip the sweat sesh.
2.
Simple Modern Summit Water Bottle, $17.95
Can we all make a pact to stop buying bottled water at the gym? Stash a reusable water bottle like this in your bag so you'll save money and you know, the Earth, at the same time. The bottle comes in 21 colors to match your vibe and is made of durable stainless steel, so there's no excuse to not have one.
3.
SENSO Bluetooth Headphones, $29.97
Once you've tried Bluetooth earphones, you'll seriously wonder why you didn't work out with them earlier. The wire-free design means you won't accidentally yank them out of your ears when you're on the treadmill or have to readjust when you're in between sets of lunges.
4.
Stance Uncommon Super Invisible Sock, $10
All it takes is a super-tiny annoyance like not having the right socks (or worse, not having socks at all) to throw you off your workout game. Keep a low-cut pair rolled up in your sneakers so you're always prepped.
5.
Clinique CliniqueFIT Post-Workout Face + Body Cleansing Swipes, $14
If you're not into communal showers or just don't have time, stash a pack of cleansing wipes so you can go from the gym to brunch. These large wipes are great for your face and body.
6.
Sphynx Portable Razor, $15
Somehow whenever you're working out, you realize how many spots along your legs or underarms you've missed while shaving. Take care of it after working up a sweat with a portable razor disguised as Hubba Bubba Bubble Tape.
7.
Nooni Deep-Cleanse Snowflake Stick Cleanser, $19
Your gym bag probably takes a beating, which means you risk that bottle of your face wash exploding. Avoid a leak with a solid facial cleansing stick like this. Just rub it over your wet face to create a lather and rinse.
8.
Gym Hair Don't Care Dad Hat Adjustable Baseball Cap, $14.99
If you're going to put in effort at the gym, you might as well make everyone see it.
9.
Lavanila Sport Luxe Deodorant, $9
A chic, subtly-scented deodorant to keep gym funk at bay.
10.
Lululemon The (Small) Towel, $18-$22
A small microfiber towel doesn't take up much space in your bag, and it's a lot cleaner than the ones you'd pick up at the gym anyway.
11.
Derek Lam 10 Crosby Rain Day Parfum Stick, $38
This solid perfume stick means it won't break when you accidentally drop your bag on the floor so you won't smell like the fragrance section at a department store.
Celebrity news, beauty, fashion advice, and fascinating features, delivered straight to your inbox!