The Best Running Apps for Beginners
If the only marathons you're interested in are Netflix ones.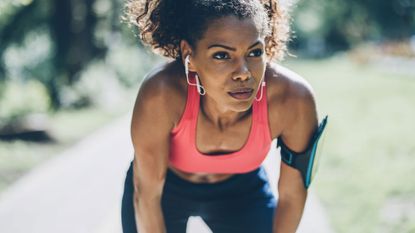 (Image credit: filadendron/Getty Images)
Becoming a runner isn't easy. These intuitive running apps for beginners (opens in new tab) make it simpler (and more motivating) to get your daily mileage in, even if the only mile you've ever run was in high school P.E. Basic features like distance, heart rate, and calorie tracking make your workout more tangible, so you can see how hard you've worked, and features like curated playlists and mindfulness runs allow you to customize how you want to run. Don't worry if you feel like you'd need a personal trainer to get you off the couch—some of these apps even have audio coaches that tell you exactly what to do while you're getting your sweat on.
1. Nike Run Club
If a guided run with a focus on mindfulness sounds intriguing, try Nike Run Club's "Run With Headspace" feature. The guided headspace workout has some similarities to meditation apps—the audio guide motivates runners to take in their surroundings and set intentions for each run. All the usual features of Nike Run Club can be used on the guided runs, including pace, distance, elevation mile split and heart rate tracking, plus access to custom Apple Music playlists. If a mindfulness-based guided run isn't your thing, you can choose from speed runs, distance runs, or audio guided runs with professional athletes and trainers, too.
download it (opens in new tab)
2. Runkeeper
This Asics-developed running app uses audio cues and tons of virtual challenges to motivate users. You can find running groups, both virtual and in-person, and conquer time and distance trials. The app uses your smartphone's GPS to track running distance and show stats like average pace and calories, plus it lets you compare your stats over the current month and the last month. You can also upgrade to premium for more insights on running progress and access to Ascics' training plans.
download it (opens in new tab)
3. Human
Human tracks your activity all day and inspires you to move more with cues to get you to a minimum 30-minute activity goal per day. Basically, it's great for beginner runners looking for motivation to start. You can see how your activity matches up with people around you in your city and all over the world, with real-time rankings in over 900 cities around the world. Get competitive with the the local leaderboard, or just use it as a benchmark for daily movement.
download it (opens in new tab)
4. MapMyRun
MapMyRun is one of the most popular and widely downloaded running apps, both for the number of running routes it offers in different cities and the community it boasts. It's easy to connect with friends through the app, where you can create and compete in challenges against each other (or participate in community challenges for chances to win prizes and running gear). Finding new running trails and routes is easy—there are options in every state and in 15 different countries. If you know where you want to go already, you can create your own course before you take off.
download it (opens in new tab)
5. Endomondo
Endomondo is an in-app running coach that provides emerging runners with run tracking and audio feedback. The app syncs up with its website, where you can find your full workout history and analyze your activity. The Endomondo community is all about positive reinforcement for success so that you can connect with your friends and build an uplifting community.
download it (opens in new tab)
6. Runcoach
Runcoach is the app that learns more about you the more you use it. First, you'll set a goal and input background information (including recent mileage times), and then you can let the adaptive algorithm customize to you more with each run. When you reach a new level of fitness or change up your goals, the app adapts your running program to match. Have questions? You can contact the USATF-certified coaches about anything regarding running, including about injuries or nutrition.
download it (opens in new tab)
7. Weav Run
Need some musical motivation? The Weav Run app adapts and remixes your music to match the rhythm of your pace, so you'll always be running on-beat. The beat/stride match-up optimizes steps per minute, which helps prevent joint pain, injuries and makes you run faster and more efficiently. Plus, the upbeat music is designed to flood your brain with endorphins, making you feel more motivated.
download it (opens in new tab)
8. C25K
Couch to 5k is designed specifically for first-time runners who prefer to spend most of their time on the couch. At first, you'll alternate walking and running until you build the strength and endurance to run without stopping. The eight-week plan features three workouts per week, and each session has an accompanying motivational audio coach that tells you when to walk or run.
download it (opens in new tab)
9. Charity Miles
If you need an incentive to start running, try Charity Miles, which donates to a nonprofit selected by you for every mile you move. Just download the free app, choose your charity from one of the 42 selected charities, and get running. Create teams with your friends to share goals and accomplishments, and get competitive with the leaderboard feature to see who's raised the most money.
download it (opens in new tab)
10. Peloton Digital
Get the motivation and excitement of instructor-led classes with Peloton Digital's monthly membership. It features running-focused classes for any type of workout, from a treadmill in the gym to outdoors on the trails. Choose from live or on-demand courses, and filter classes by type, instructor and length of run. Plus, with the monthly subscription, you get access to cycling classes, yoga, strength training and more—up to 20 different classes per day.
download it (opens in new tab)
11. Aaptiv
Looking for a cheap personal trainer? Try Aaptive, the personal audio trainer that guides your runs. Start with a short survey thats asks you about goals and your preferred workout time and type, and then customizes your workouts based on your answers. You can choose workouts based on time, trainer, and music type. The app has over 2,500 workouts, including guided runs.
download it (opens in new tab)
...
For more stories like this, including celebrity news, beauty and fashion advice, savvy political commentary, and fascinating features, sign up for the Marie Claire newsletter.
subscribe here (opens in new tab)
Jae Thomas is a contributor at Marie Claire Magazine. You can find her avoiding single-use plastic at all costs, cooking a new recipe every week and trying to visit all 61 National Parks.