Editors handpick every product that we feature. We may earn commission from the links on this page.
The 10 Best Workout Mats for Every Type of Exercise
Doing yoga or HIIT in your home gym just got so much better.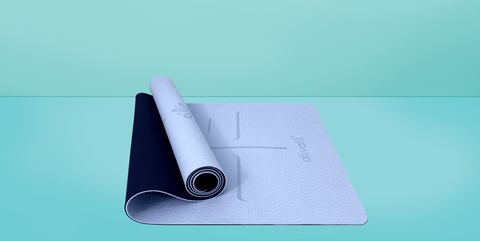 Designing the perfect home gym is more important now more than ever. Before you start shopping for equipment essentials like dumbbells and kettlebells, a top-quality workout mat is crucial and the foundation of your home fitness haven. We analyzed a variety of different exercise mats, zoning in on specs like thickness level, weight, cushioning, grip, and aesthetics. Then, we put them to the test through a series of workout movements ranging from low-impact exercises like pushups and squats to high-intensity interval workouts featuring burpees and skater lunges (we worked up a sweat!). Whether you're looking for a mat to get you through a pilates flow or to simply provide support during HIIT movements, we have top picks for all different types and levels of fitness.
1
Best Value Mat
Non Slip TPE Exercise & Workout Mat with Carrying Strap
Many top-quality exercise mats can be quite heavy, but this lightweight option only weighs a little over two pounds and has helpful alignment markers to guide positioning and form during your workout. Made from a padded foam material, this mat had great cushion and a non-slip grip. It performed well with pilates and floor exercises, and we like that it comes in a variety of colors.
2
Best Outdoor Mat
BalanceFrom Anti-Tear Exercise Yoga Mat with Strap
This Amazon favorite has over 38,000 global ratings and an overall 4.4/5 stars. Reviewers note that it's ultra thick, easy to carry, and also easy to roll up after a workout. Extra thick mats like this are ideal for floor exercises including core work, planks, and pilates. It's prime for outdoor workouts where you need some cushion from the rough grass or pavement.
3
Best Folding Mat
ProsourceFit Tri-Fold Folding Exercise Mat
A thin workout mat just won't cut it for those outdoor workouts, but this folding exercise mat from ProsourceFit provides a solution. With over 3,700 ratings on Amazon and an overall 4.7/5 stars, this mat scores high with reviewers for its portability and tri-fold feature that makes it compact for storage. Reviewers say it's ideal for floor exercises and corework.
4
Best Yoga Mat
Liforme Original Yoga Mat
Experts in the Good Housekeeping Textiles Lab rated this pick from Liforme as best overall in their yoga mat tests. Their product testers gave it perfect ratings for both the grip on hands and feet and the traction on the floor. But this mat isn't just for yoga; we found it performed well in all different types of exercises, from resistance band work to HIIT movements. The alignment markers came in handy for lunges and sumo squat foot placement. It stays put on hardwood floors but moves around a bit during HIIT exercise moves on carpet.
5
Most Versatile Indoor Mat
Yoga Design Lab The Infinity Mat
We love the beautiful print on this high-quality mat that was a top performer in our tests. The mat had great cushion even on hardwood floors, and stayed put during high-intensity exercises like burpees (even when we used it on carpet). The print also has a bit of a texture to it, and we found the grip ideal as well. Functionality and aesthetics get top marks, making this an excellent vibrant addition to any home gym whether for use on carpet or hardwood floors.
6
Best Ultra Thick Mat
BalanceFrom Puzzle Exercise Mat with EVA Foam Interlocking Tiles
Looking to step up your home gym game? Interlocking exercise mat tiles like these from Balance Form may be just what you need to protect your flooring and also amplify your workout. With an overall 4.6/5 star rating on Amazon and over 4,100 reviews, customers say that these mat tiles are durable and good quality. They are 1/2 inch thick and provide cushioning for all types of workout movements. We like that the set includes end borders so the corners of the mat look polished in your home gym.
7
Best Cork Mat
Gurus Cork Yoga Mat with Natural Rubber Bottom
For those that work up an insane sweat, cork yoga mats may be the solution for you due to their antimicrobial nature and ability to actually grip better as you get sweatier. When dry, cork mats can be too smooth and have poor grip, but this pick from Gurus had a better grip than other cork mats we tested (even when it was dry). It also had decent floor traction and is 5mm thick.
8
Best Large Mat
Gxmmat 6'x4' Exercise Mat
Looking for something bigger than a standard mat but don't want to commit to interlocking mat tiles? This oversized, ultra-thick exercise mat is available on Amazon and has an overall 4.7/5 star rating. Reviewers note that it stays in place and is great for aerobics and HIIT workouts. It's even designed for activities like jump roping.
9
Best Non-Slip Mat
ATIVAFIT Non Slip TPE Exercise Mat
Ativafit mats are made of SGS-certified TPE material, making this non-slip mat an eco-friendly and recyclable favorite.
10
Best Mat for HIIT
Yoga Hustle The Mat
This pick had good grip for movements like planks and pushups, and it stayed put during HIIT exercises like skater lunges. It's also 72 inches long, which allows for ample room for movements like broad jumps and lunges. If you're aiming for a pristine home gym aesthetic, we like that this mat is offered in a variety of bright solid colors for a clean and polished look.
This content is created and maintained by a third party, and imported onto this page to help users provide their email addresses. You may be able to find more information about this and similar content at piano.io