The Life-Threatening Disease Women Aren't Supposed to Get
One minute she was a fashion publicist, the next she was diagnosed with ALS, a rare and terrifying illness that's more common in men.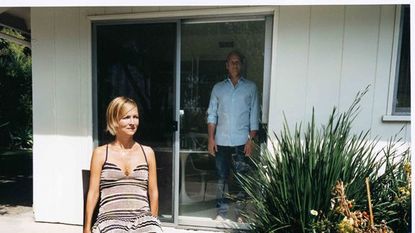 (Image credit: Tierney Gearon)
By the time Sarah Geary, then 43, arrived for yet another battery of tests at a medical clinic near New York's Union Square, in the fall of 2009, she had been through the ringer. She was in the middle of a months-long job search; a casualty of downsizing in the fashion industry, she'd lost her job as a public relations executive for the luxury leather goods company Mulberry at the end of 2008. And in May 2009, she'd started having trouble dressing for her interviews. Noticing mysterious tingling and numbness in her left hand, she'd wondered if she had a trapped nerve or maybe a herniated disc. She'd been all over the city — chasing specialists, getting diagnostic X-rays and MRIs, receiving cortisone shots, and even doing painful and intense physical therapy. Nothing seemed to be working. By June, she'd started experiencing stiffness in her legs, and at this point, doctors suspected she might have neurological Lyme disease. Sarah shared a small country house in upstate New York with her husband, Tim, a novelist and club manager, and their children, Lola, 9, and Luke, 7, so the diagnosis made sense. (Lyme is transmitted by deer ticks.) But after a five-week course of powerful antibiotics, Sarah was more exhausted than ever, and her symptoms were worsening. The Gearys were still convinced it was Lyme, but their neurologist was becoming increasingly concerned.
"He ran his finger up the sole of my foot," Sarah says, struggling to make her weakened voice heard. "I had a 'brisk reflex.'" When she kicked her leg hard at the doctor's touch, he recommended she have another brain imaging MRI — immediately. He also suggested she get a new test, something called an EMG, at a Beth Israel clinic near Union Square. She arrived there desperate for answers.
"He stuck needles with electrodes on them in my arm," Sarah says of the Beth Israel doctor, who administered the painful test without warning her what it would feel like. When he was finished, she could tell the results were serious. He asked her to have a seat. She waited, still in her hospital gown, in the examination room.
"I wanted to call Tim. He was just a few blocks away," she says, beginning to cry.
"But the doctor said, 'No, I don't have time. You have ALS,'" continues her old friend Jane Buckingham, who has stopped by the cheery, ranch-style house in Beverly Hills that Sarah now rents with her family. As Sarah's difficulty speaking grows worse throughout our conversation, Jane steps in and takes up the story for her. "He said, 'Your arms will stop working. Your legs will stop working. Your chest will stop working, and then you'll die.'"
There was, he added, nothing he could do, so he introduced her to some social workers. They gave her information about support groups and said they'd help her to find a wheelchair. And that was that.
"I called Sarah to find out what had happened," says Tim. "She didn't want to tell me because I was about to leave for a big meeting at the Toronto film festival." He pressed her for answers, then rushed to the clinic, where she gave him her diagnosis. That afternoon, the babysitter picked up Lola and Luke from school while Tim and Sarah talked. "There were a lot of tears," says Tim. "We just thought it couldn't be. It was too extreme, too rare. But we weren't going to give up."
Amyotrophic lateral sclerosis, or ALS, is a rare, untreatable "progressive neurodegenerative disease that affects nerve cells in the brain and the spinal cord," according to the ALS Association's website. It's more common in men — three men receive an ALS diagnosis for every two women who do, although that ratio evens out with age, says Sharon Matland, vice president of patient services at the ALS Association. While the disease is usually discovered in middle age, the period with which we most commonly associate it, patients can fall ill as early as their 20s and 30s. Statistics on the incidence of ALS are hard to find because doctors aren't obliged to report it to any central authority. But the ALS Registry Act, signed into law by President Bush in 2008, is intended to create a national patient directory, managed through the Centers for Disease Control and Prevention. That database will give doctors a better sense of patient demographics, along with the tools to better understand who gets ALS, when, and maybe even why.
In the year since her diagnosis, Sarah has gradually lost the use of her arms and legs. Breathing is becoming harder, and she's losing her ability to speak. Less than half of the people who learn they have ALS — about 5,600 each year — survive longer than three years.
Pre-diagnosis, the Gearys had a charmed life, living in the same walk-up apartment on Stuyvesant Street in Manhattan that Tim had occupied for 20 years. Both British, they met while Tim was on a book tour in London. "Later that night, I called my best friend and said, 'I just met the girl I'm going to marry,'" he recalls. A year and a half later, Sarah joined him in New York. "We never made a lot of money, but we lived a full life," Tim says. They took turns working from home and walking the kids to school. Then, at the end of 2008, Sarah lost her job. The diagnosis came as her disability insurance and unemployment benefits were ending.
Jane and her husband, Marcus, had invited the family to stay with them in Los Angeles earlier that fall. After Sarah's diagnosis, they extended the invitation for the winter.
"We had a guest house with two bedrooms," says Jane. "They could skip the cold New York winter, and Sarah wouldn't have to manage the stairs." The Gearys accepted, going West before Christmas, and within nine months, they'd found a place of their own and a school the kids loved, settling into life in Los Angeles seamlessly. "Sarah really likes the L.A. optimism," Jane continues. "And although Tim hates it here — he thinks L.A. is hollow and materialistic — he loves Sarah more."
Within the past two to three years, researchers have identified several new genes associated with ALS, says Matland, but no one knows how long it might take to find a cure. For a time, the Gearys made regular trips to Seattle to see an integrative doctor, who prescribed a mixture of herbs in an effort to slow the disease's progress. And the couple celebrated their 12th anniversary on a plane to Stuttgart, Germany, where Sarah got an experimental stem cell treatment. She may enter a new clinical trial at UCLA. But as the body deteriorates, so the cost escalates. In-home therapy, a full-time aide, a special bed to make sleeping more comfortable, a motorized wheelchair, and now a van, for transportation, don't come cheap.
So one hot, dry autumn afternoon, friends rallied to support Sarah with a fundraiser at the Soho House, a London-based club in West Hollywood where Tim works. Sarah wore a striped sundress that showed off her slim shoulders, and old friends milled around, chatting with family, including Sarah's sister, Claire, who was visiting from London to help out. Brooke Shields stopped by for a hug, and photographer Tierney Gearon sang Sarah's praises. Despite having been in Los Angeles only a year, the Gearys have found a devoted community here, and except for the fact that Sarah can't move, the afternoon had the happy, emotional feel of a casual wedding celebration.
Tim shuttles between the irregular, late hours at the Soho House and the reality of life at home. "The children are amazing — so strong and happy," he says. "They bring so much life to the house. And Sarah is forging her own path."
After our interview, she sends me this message by e-mail:
"During quiet moments, I think about my family and the people I love. Every night when I go to sleep, I make myself think of one good thing that happened that day. I feel lucky, having so many amazing people around me, and in these moments I allow myself to imagine a life where I get to see my children grow up. When they read this story, I want them to remember how much I love them and that I am always with them. A mother's love never ends. And I'm fighting as hard as I can to be here for every moment possible."
To find out more, visit FriendsOfSarahGeary.com (opens in new tab). Or, to make a donation to ALS research, visit alsa.org (opens in new tab). You can become an "ALS Advocate" to raise awareness among government representatives.