Portion Control
The most potent weapon in your antiaging arsenal may be scaling back at mealtime.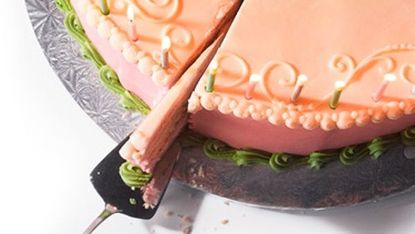 (Image credit: Marie Claire)
The most potent weapon in your antiaging arsenal may be scaling back at mealtime.
IT CAN HAPPEN AT ANY AGE: One day you're eating what you want with no consequences. The next day, one stray cookie and your jeans don't zip. Elisabetta Politi, nutritional director at the Duke Diet & Fitness Center in Durham, North Carolina, notes that each year your resting metabolism burns approximately 10 fewer calories — 100 fewer per decade — meaning you can slide up into the next dress size all too easily if you don't gradually adjust your diet over time. Plus, as you age, "your old techniques don't work anymore," says Heather Bauer, a New York City-based registered dietician and coauthor of Bread Is the Devil. "You can't binge and starve your way to a healthy weight." Research suggests that even exercise can't counteract the evils of age-related weight gain. Recent studies indicate that metabolism is less responsive to exercise than we had thought. New York-based fitness instructor and holistic health coach Craig Smith believes that the food you eat accounts for a full 85 percent of your body's appearance, while a gym routine dictates only the remaining 15. "No workout will give you the results you want unless you change your diet," he says. We polled the country's top nutritionists and doctors and a swath of svelte professional women to find the best body strategies for every age.
20s
THE SCIENTIFIC SCOOP: Most women's basal metabolic rate — a key determinant of metabolism speed — can drop by 5 to 10 percent between their mid-teens and early 20s, due to a rise in reproductive hormones, says Dr. Jeffrey Morrison, a family doctor and nutritionist based in New York City. "As a woman enters prime childbearing years, estrogen — which increases body fat — rises," he explains. At a cellular level, mitochondria, which convert glucose into energy, become less efficient, impairing the body's ability to burn fat and sugar, says Oz Garcia, a New York City-based wellness and aging expert whose clients include Hilary Swank and Heidi Klum. "As kids, our mitochondria work at full blast," he says, but they slow with age.
THE EATING STRATEGY: Aim to get a full third of your diet from protein, suggests Morrison, who says he's seen patients become vegetarians only to find it harder to shed weight when they consume inadequate amounts of protein, which is necessary to maintain muscle mass and optimize metabolic function. Case in point? Jewelry designer Suzanne Somersall, 29, lost 5 pounds from cutting back on calorie- and carb-dense Nature Valley granola bars and eating more lean protein like chicken, salmon, and hummus. In addition, New York nutritionist Joy Bauer suggests swapping sugar- and calorie-heavy coffee drinks, the domain of college all-nighters, for skim-milk lattes. Milk provides calcium (women need 1,200 milligrams daily to help build bones before menopause) and protein. And add vegetables like spinach to get folic acid, which is important for women who want kids.
THE EXERCISE PLAN: Experts agree that establishing a consistent fitness routine, say 30 minutes of cardio three to four times a week to establish muscle tone and drive metabolism, is a must. Good habits now will pay dividends later.
30s
THE SCIENTIFIC SCOOP: Research done at the Cleveland Clinic shows that while portions of the human skeleton continue growing through the mid-20s, by her 30s, a woman's vertical growth has stopped and the hormones responsible for boosting muscle and bone strength fall off dramatically. Experts say those growth hormones also help prevent glucose absorption in fat cells, and when there is a deficiency, it's hard to lose weight. On top of that, pregnancy and breast-feeding mean many women temporarily increase their nutritional intake, and stress — brought on by full-fledged careers and family life — can cause overeating and trigger the release of cortisol, a hormone that signals to the body to store fat around the midsection.
THE EATING STRATEGY: "In your 30s, every day can be a frantic whirlwind," says Bauer. To stabilize blood sugar and maximize energy, she suggests starting the morning with a breakfast of Greek yogurt, which has lots of calcium and twice the protein of regular yogurt, and making a peanut butter sandwich on whole-wheat bread for a mid-morning snack. (The slow-burning carbs help you feel fuller longer, as does the fat in the peanut butter.) Elisa Dahan, a 33-year-old mother of two and the Montreal-based co-creative director of outerwear line Mackage, eats Nutella on whole-wheat toast every morning, saying it satisfies her sweet tooth and gives her something to look forward to the night before. For dinner, in lieu of bread or pasta, Dahan has a salad and barbecued salmon. One habit busy women should avoid, experts agree, is unintentionally sabotaging a diet by casually polishing off high-calorie foods (like uneaten French fries) from your child's or partner's plate. "You have to create controlled moments when you can eat," advises Bauer. So steam a big plate of spinach to snack on while your kids have dinner, or order a side of grilled asparagus at restaurants.
THE EXERCISE PLAN: Full-body conditioning, like in a cardio class with weights, will torch calories and build muscle simultaneously, making it a time-efficient way to get in shape during your 30s, says Smith.
40s, 50s & BEYOND
THE SCIENTIFIC SCOOP: As metabolism function drops further, daily calorie requirements dip, too. In addition, women approaching menopause have less estrogen, meaning fat goes straight to the abdomen, not hips or thighs.
THE EATING STRATEGY: After 40, overall health becomes as much a consideration as weight. Experts highlight the need for heart-healthy fats like coconut oil, which contain a cholesterol-lowering triglyceride that's easily converted into energy; and antioxidant-packed and anti-inflammatory foods like red bell peppers, which can reduce the effects of chronic oxidative stress and excessive inflammation, both of which are linked to higher cancer risks. Meanwhile, Dr. Michael Moreno, a San Diego-based family practitioner whose latest book, The 17 Day Plan to Stop Aging, was published in September, tells patients this age to eat Brazil nuts, loaded with omega-3 fatty acids that can help fight depression. Ji Baek, 42, founder of Rescue Beauty Lounge, an upscale line of nail products, has her own approach: She eats just one meal a day. Throughout the morning and afternoon, Baek snacks on an apple or a few cashews and drinks tea in anticipation of a 6 p.m. dinner date with her husband or friends, which often includes wine, stuffed pasta shells, and steak. "I'm not a farmer. I don't need to eat three times a day," she says, adding that the diet allows her to enjoy the foods she loves while staying lean. "I choose quality over quantity."
Jewelry designer Ann Dexter-Jones, in her late 50s, took the opposite approach, eating more, not less, when she realized that being too thin was adding years to her appearance. "I needed a few carbs to fill out my face," says Dexter-Jones, who now has oatmeal for breakfast, a meal she used to skip; vegetable- and fish-filled lunches and dinners (Dover sole and sea bass are favorites); and vodka sodas instead of wine, which she says has too much sugar. Savory snacks, like Gorgonzola and Emmentaler cheese, salami, and pickles, round out the day.
THE EXERCISE PLAN: Add resistance training to your fitness program to mitigate the effects of sarcopenia, the age-related loss of skeletal muscle mass, says Dr. Caroline Apovian, director of the Nutrition and Weight Management Center at Boston Medical Center.
THE NEW PRESCRIPTIONS
Last summer, the FDA approved its first two diet medications in more than a decade, Belviq and Qsymia. (Another, Contrave, was rejected in 2011 but is expected to be reviewed again in two years.) Die-hard dieters are rejoicing, but experts like Dr. Gerard Mullin, the director of Integrative Gastroenterology Nutrition Services at Johns Hopkins Hospital, question the drugs' long-term efficacy. Even those who celebrate the addition of new tools to help patients, like Dr. Caroline Apovian, say the drugs are intended for clinically obese patients with diseases like type 2 diabetes or hypertension. "This is not for someone who wants to lose 5 pounds to fit into a wedding dress," she says.
NAME: BELVIQ
TIMELINE: Approved by the FDA in June 2012; available by prescription soon.
CLAIM TO FAME: This appetite suppressant activates a serotonin receptor in the brain, so smaller portion sizes trigger greater satiety. In clinical trials, almost half of the nondiabetic patients who used Belviq lost 5 percent or more of their starting weight (an average of 12 pounds) in a year. Possible side effects include headaches and dizziness.
NAME: QSYMIA
TIMELINE: Approved by the FDA in July 2011; available by prescription soon.
CLAIM TO FAME: This drug combines phentermine, an appetite suppressant, with topiramate, an epilepsy and migraine medication often prescribed off-label to help people feel fuller. Dieters on a high dose lost slightly more than 10 percent of their starting weight, but possible side effects include elevated heart rates, a decline in cognitive function, and birth defects in babies of pregnant patients.
NAME: CONTRAVE
TIMELINE: Rejected by the FDA in 2011; may be reviewed again in two years.
CLAIM TO FAME: Contrave, a combination of the antidepressant buproprion (marketed as Wellbutrin) and naltrexone, a medication for drug and alcohol addiction, suppresses food cravings. The FDA has asked for more research on its effect on cardiovascular health.
Marie Claire email subscribers get intel on fashion and beauty trends, hot-off-the-press celebrity news, and more. Sign up here.