I Have a Crush on ... Workout Skirts
I Have a Crush on Workout Skirts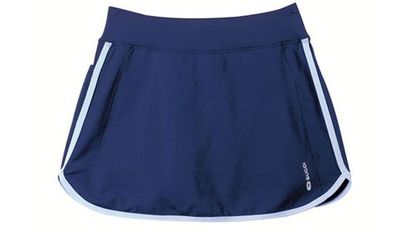 (Image credit: Ben Goldstein/ Studio D)
They're so cute (in a sporty way, not an I-sit-on-the-sidelines way) that women stop me in Central Park and ask where I get them. But the real reason I wear them is function: I don't like the way shorts chafe and bunch when I work out, and bike shorts look so 90s (unless I'm actually on my bike). In addition to one of my new favorites (see the Sugoi Stamina Skirt, $65, pictured above), you owe it to yourself to check out these additional skirts:
Basciano skirts by Ellesse
These look as great on a power walk as they do on the tennis court; and they turn a workout into a fashion event. The white and pink layers come separately and zip together. Supply your own shorts/undies underneath. $70 each, ellesse.com.
GymGirl skirt by SkirtSports
Designed and produced by female triathlete Nicole DeBoom, these skirts are not only comfy; they really perform. Now, there's also a BikeGirl model with padding sewn into the shorties at the right place. Plus, the company has just created a marathon dress (but you need to supply your own underthings for that.) GymGirl, $58, BikeGirl, $80, Marathon Dress, $60, skirtsports.com. These people make you look great.
Athletic Skirt Running Skort
I spotted this on a runner the other day and had to ask where she got it. Armed with the info I needed, I blazed past her (only because she was standing still) to get home and order my own. $58, runningskirts.com.
Have a favorite? Tell me about it at askmarty@marieclaire.com.
Marie Claire email subscribers get intel on fashion and beauty trends, hot-off-the-press celebrity news, and more. Sign up here.