Designer Homes to Escape to in Your Quarantine Dreams
Eye candy.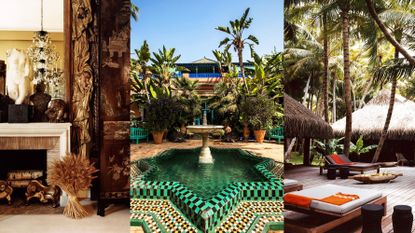 (Image credit: Courtesy)
For many fashion designers, their homes are just as fabulous as the collections they send down the runway. Taste is transferable: How you dress yourself and how you dress your home are not all that different. And that includes architectural style, furnishings, landscaping, even tchotchkes in the nooks and crannies. Subtle details—a set of pillows, a heady candle, a colorful vase—all influence the feel of a room. For the below designers, no matter how magnificent their homes are, they never overlook anything seemingly trivial. Francois Nars had Thai and African wood shipped to him because he wanted a particular dark shade. Gabrielle Chanel kept her curtains drawn during the day because she preferred the way her chandeliers looked without natural light. Ahead, we've round up some of our favorite designers and fashion insiders otherworldly homes—estates, resorts, castles—that can provide not only inspiration for making your own space feel special, but also an escape from the ordinary.
1/28
Coco Chanel's Apartment in Paris
Gabrielle Chanel's illustrious home and salon still stands adjacent to her namesake store in Paris. Upon entering, you'll find the famed mirrored staircase. Full of many lavish and personal touches, the apartment is nothing short of exquisite. Coromandel lacquered screens line the walls, opulent chandeliers hang about, and books are aplenty: from Shakespeare to La Rochefoucauld. Her third floor design studio was where the designer spent most of her time, crafting her vision for the brand and dressing stars in her signature tweed jackets. She'd work late into the night, then go to sleep at the Ritz Paris (the apartment doesn't even have a bedroom). Her fellow Parisian elites—Picasso, Dali, Marlene Dietrich, Elizabeth Taylor—passed through the doors regularly. Yet, the dining room table had a mere eight chairs. Dinner was reserved for only her closest friends.
2/28
Coco Chanel's Apartment
3/28
Coco Chanel's Apartment
4/28
Coco Chanel's Apartment
5/28
Coco Chanel's Apartment
6/28
Francois Nars' Resort on Motu Tane
Makeup mogul Francois Nars began working on his estate on the island of Motu Tane in French Polynesia in June 2000. The gorgeous, remote island is only accessible by boat and essentially deserted except for the 20 people who may be staying at the resort. Nars worked with two highly acclaimed designers: Christian Liaigre, the famed French interior designer and Pascal Cribier, the brilliant landscaper at Versailles. For the home, Liaigre stuck with a dark color scheme using Thai and African wood. He wanted the deep shade of the wood to contrast the bright colors of the sea and greenery. Cribier got to work on the landscaping, planting coconut palms in any barren areas. He even had palms delivered to the island by barge. The end result? Divine.
7/28
Francois Nars's Resort on Motu Tane
8/28
Francois Nars's Resort on Motu Tane
9/28
Francois Nars's Resort on Motu Tane
10/28
Il Borro, the Ferragamo Estate in Tuscany
Ferruccio Ferragamo, President and Chairman of the Ferragamo brand, fell in love with Il Borro—an 11th century castle—so much so that he purchased it in 1993. Ferragamo and his son, Salvatore, then began to renovate it and bring the sprawling estate (2,700 acres in the basin of the Upper Valdarno in Tuscany) back to life. Although the family keeps a residence on the property, they turned the castle into a resort, complete with a spa and restaurants. Most impressive however, is the working farm: Not only does the garden have an olive grove that produces oil from 8,000 trees, the estate also has 200 live chickens for fresh free-range eggs and 30 hives of bees to help with the ecosystem and for organic production of honey. Additionally, there is a vineyard and a line of organic wine for sale. That's about as fresh as it gets.
11/28
Il Borro, the Ferragamo Estate in Tuscany
12/28
Il Borro, the Ferragamo Estate in Tuscany
13/28
Il Borro, the Ferragamo Estate in Tuscany
14/28
Il Borro, the Ferragamo Estate in Tuscany
15/28
Il Borro, the Ferragamo Estate in Tuscany
16/28
Giorgio Armani's Pantelleria Villa
Each summer, Mr. Armani indulges with a six-week vacation. It starts on his yacht, cruising the Mediterranean islands with friends, and ends with a three-week stay at his secluded villa in Pantelleria, an island in the Strait of Sicily. The 32-mile island has a population of about 8,000 and, given its lack of sand beaches and non-existent nightlife, it isn't exactly tourist friendly. Yet, both the island and Mr. Armani's property are a testament to the peaceful powers of minimalism. The home is furnished in pieces from his sleek line, Armani Casa. With an outdoor pool, terraces, and a staff of 12, we're sure Mr. Armani enjoys his time off.
17/28
Giorgio Armani's Pantelleria Villa
18/28
Giorgio Armani's Pantelleria Villa
19/28
Giorgio Armani's Pantelleria Villa
20/28
Giorgio Armani's Pantelleria Villa
21/28
Brunello Cucinelli's Village in Solomeo, Italy
Brunello Cucinelli bought a 12th century castle in 1985 and also renovated the surrounding abandoned ancient village. Then, in 1987, he moved his namesake brand's headquarters to the area. After complete restoration, the castle is composed of eight houses, one main building, a church, and a villa. In 2015, Cucinelli began another phase of the rennovation, "Project for Beauty," adding three sprawling parks complete with gardens, vineyards, and olive groves. With all that gorgeous property, what's Mr. Cucinelli's favorite part of his estate? A toss up between the monument "Tribute to Human Dignity" and the theater is inspired by both classical art and the Renaissance. We'll meet you at the theater, guys.
22/28
Tory Burch's Southampton, NY, Home
This circa-1929 Georgian mansion is home to the one-and-only Tory Burch. The estate is set on more than seven acres and, at 15,000 square feet, is one of the largest homes in Southampton, the tony summer escape for New Yorkers. The American designer teamed up with Daniel Romualdez (the designer behind 200 of her stores) for the interiors. Given the overwhelming size of the home, they worked on it in piecemeal, keeping the furnishings from the former owner until they found a piece that inspired them. Burch also looked to landscape architect Perry Guillot to construct to the boundless gardens. The result is true to Burch's aesthetic: preppy, polished, and always pleasant.
23/28
Tory Burch's Southampton, NY, Home
24/28
Tory Burch's Southampton, NY, Home
25/28
Tory Burch's Southampton, NY, Home
26/28
Yves Saint Laurent and Pierre Bergé's Marrakech Home
In 1980, Pierre Bergé and Yves Saint Laurent acquired this Moroccan villa that once belonged to painter Jacques Majorelle. When the pair began to renovate, they called upon American architect Bill Willis and French decorator Jacques Grange. They made many changes to the two-story home and implemented Moroccan design elements: zouaké wood, zellige tiles, cedar beams, Moroccan ceilings, and re-did the foyer to resemble a covered riad. The walls were painted bright shades of red, yellow, green, and blue and citrus trees were planted to line the long driveway. The house also has a garden that includes everything from oranges and bananas to palms and cacti, plus geraniums and bougainvilleas.
27/28
Yves Saint Laurent and Pierre Bergé's Marrakech Home
28/28
Yves Saint Laurent and Pierre Bergé's Marrakech Home

•••
For more stories like this, including celebrity news, beauty and fashion advice, savvy political commentary, and fascinating features, sign up for the Marie Claire newsletter.
Celebrity news, beauty, fashion advice, and fascinating features, delivered straight to your inbox!
Katie Attardo is the Accessories Editor at Marie Claire, covering all things fashion and jewelry-related.