How to Nail the Debate on the Campaign Trail
These four rules will have you dominating the stage.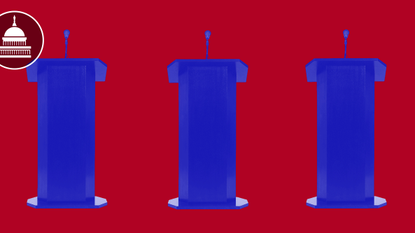 (Image credit: Design by Bridget Burns)
Karen Dunn (opens in new tab) is a debate pro. The partner at Boies Schiller Flexner Law Firm has had clients ranging from President Obama to Democratic presidential nominee Hillary Clinton. (Yes, even they need help too). If you find yourself worrying about how to win those crucial arguments, ahead Dunn shares her rules for taking the stage.
Rule #1: Be realistic.
"When you're practicing, sitting at the table reading from notes is not going to be as effective as standing up behind a podium with another person behind a podium, feeling what that's like and developing your instincts. Video yourself practicing. It can feel very painful, because you have to confront all the things that you're not doing well, but this exercise helps enormously."
Rule #2: Pick your opponent.
"Find a surrogate opponent who will do as much as possible during practice. They need to be able to make the exact arguments that the candidate is going to hear."
RELATED STORY
Rule #3: Bring a pen.
"When you first take the stage, write down three points or things to do that you want to remember. And don't be afraid to take notes: It's a sign of respect for the process, and that you're listening to the other person and getting ready to respond."
Rule #4: Go for it.
"You can't hold back. Because if you're not punching, you're getting punched. You've got to play to win."
This article is part of our "Women Running for Office" series, which originally appeared in Marie Claire's November 2017 issue, on newsstands October 17. To view the full package, click here (opens in new tab).

As deputy editor, Jen oversees Cosmopolitan's daily digital editorial operations, editing and writing features, essays, news, and other content, in addition to editing the magazine's cover stories, astrology pages, and more. Previously, Jen was a senior editor at Marie Claire. Before that, she worked at GQ.