Who Should Replace All the Men Accused of Sexual Misconduct? These Women
It's time to rebuild.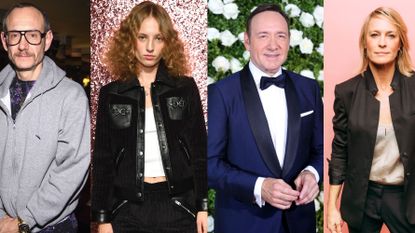 (Image credit: ARCHIVES)
Over the past few weeks, the careers of many established actors, directors, producers, journalists, and politicians have been, rightfully, obliterated. Allegations of sexual harassment and assault have tarnished their existing bodies of work, and you can forget about their legacies.
Other than an aggressively sour taste in our mouths and an overall distrust in men, another thing these perpetrators have left us with is potential job openings. Who will replace them as the heads of movie studios, restaurants, and newsrooms? And more importantly, how can we avoid history repeating itself?
The answer is simple: hire women. For every man who's left a void in his field, there is a women of equal (or let's be real, greater) genius who can fill it. Here's our wish list.
Weinstein was the first domino to fall in a seemingly endless string of sexual abuse allegations. The movie producer—responsible for hits like Pulp Fiction, Shakespeare in Love, and Goodwill Hunting—has been accused of sexual assault and harassment by dozens of women, including actresses Lupita Nyong'o, Rose McGowan, and Cara Delevingne. He's since been ousted by his own production company.
Why Emma Thomas Should Replace Him: Thomas started as a coordinator for Polygram Filmed Entertainment, and in 2005 she co-founded Syncopy Films with her husband, director Christopher Nolan. She has produced all of Nolan's films including hits like Inception, The Dark Knight trilogy, Man of Steel, Interstellar and Dunkirk. She's more than qualified to be Hollywood's next mega-producer.
Writer/director James Tobak has also been accused of sexual harassment by over 200 women. Many claimed that, much like Harvey Weinstein, he would invite them to "meetings" that quickly became inappropriate. Others said he even acted inappropriately in public settings.

Why Diablo Cody Should Replace Him: As the winner of the Oscar for Best Original Screenplay for her writing in the now cult-classic movie Juno, and as the creator, writer and producer of United States of Tara, Cody is the indie scene's saving grace. She deserves, and is capable of, becoming of powerhouse director.
The President of the United States has been accused of sexual assault or misconduct by multiple women. Let that one sink in. For example in 2016, The Apprentice contestant Summer Zervos accused Trump of sexual misconduct. Team Trump, of course, called it fake news.
Why Kirsten Gillibrand Should Replace Him: Gillibrand is a Democratic Senator from New York who, among other things, advocates for same sex marriage and abortion rights, and even created offthesidelines.org—which, according to their website, helps raise money for the campaigns of female political candidates. Gillibrand is also a strong believer in government transparency—we can't exactly say the same about our current POTUS.
Halperin, a journalist, editor and contributing political analyst for MSNBC, was recently suspended by the network pending an investigation into claims of sexual harassment against his co-workers while he was at ABC News.
Why Joy-Ann Reid Should Replace Him: Reid is a national correspondent at MSNBC, and is also a regular political commentator for The Daily Beast. She's the host of AM Joy, a weekend morning radio show on MSNBC, and she wrote a book in 2015 on the recent history of the Democratic party. She's prolifically talented.
The man in charge of all of Amazon's original movies and television shows was suspended by the company, and then quit his job after allegations of sexual harassment. He was responsible for titles including Transparent, The Man in the High Castle, and Mozart in the Jungle.
Why Ava DuVernay Should Replace Him: This director, producer, and writer put herself on the map with Middle of Nowhere, which she both wrote and directed. She also directed Selma, and passed on Marvel's The Black Panther movie to do Disney's A Wrinkle in Time. DuVernay is the first black woman to win Best Director at Sundance (Middle of Nowhere), the first black female director to be nominated for a Golden Globe, and the first black female director to be nominated for an Academy Award for Best Picture (both Selma). She's known in the industry for her inclusive casts and crews, and one of her most recent projects, the TV show Queen Sugar (co-created with Oprah), only hires female directors. In other words, she is completely amazing.
Oscar winning actor Kevin Spacey was accused of sexual harassment, and attempted assault. In a highly criticized move to deflect the initial allegations against him, Spacey decided to come out as gay—drawing a false and dangerous parallel between pedophilia and homosexuality. Netflix has suspended House of Cards, and have cancelled the actor's upcoming Gore Vidal biopic.
Why Robin Wright Should Replace Him: Wright is House of Cards' leading (underpaid) lady. In the season five finale (spoiler alert!), she finally kicked Spacey's Frank Underwood out of the White House and claimed her rightful place as POTUS. She's already won a Golden Globe for this role, and we're ready for President Claire Underwood.
Celebrity chef and co-owner of Besh Restaurant Group (BRG), John Besh was recently accused of sexual harassment by 25 of his current and former employees. Fellow chef Anthony Bourdain (whose girlfriend, Asia Argento, recently came out as one of Harvey Weinstein's victims) tweeted an image of the complaint against Besh and called it "the beginning of the end of institutionalized Meathead Culture in the restaurant business."
Why Angela Dimayuga Should Replace Him: Dimayuga made headlines last April when she refused to be featured as a "strong female entrepreneur" on Ivanka Trump's blog. She posted her answer to social media, which had an overwhelmingly positive response. "As a queer person of color and daughter of immigrant parents I am not interested in being profiled as an aspirational figure for those that support a brand and a President that slyly disparages female empowerment," she wrote. "Sharing my story with a brand and family that silences our same voices is futile."
Rising to culinary fame at Vinegar Hill House, Dimayuga is best known for being the executive chef at Mission Chinese, for which she earned a James Beard nomination for excellence in cuisine. She announced her resignation from the popular restaurant on October 23rd, so perhaps she's available for a new gig.
At least six women have come forward accusing Hollywood filmmaker and producer Brett Ratner of sexual misconduct. He is known for directing movies including X-Men, and music videos for pop stars like Madonna, Mariah Carey, and Miley Cyrus. He's also produced dozen of shows and films including Prison Break, The Revenant, War Dogs, and Wonder Woman. Ellen Page, who starred in X-Men: The Last Stand, wrote a long post detailing Ratner's misconduct and homophobia on set.
Why Reed Morano Should Replace Him: Reed Morano is the epitome of cool, and her latest work, The Handmaid's Tale, is one of the best shows on TV (er, Hulu) right now. Morano's been around for a while, splitting her time between indie films and music videos, and working with all kinds of artists, from Edward Sharpe and the Magnetic Zeros to Beyoncé (ever heard of the little known title called Lemonade?). She's worked on movies such as Kill Your Darlings and Skeleton Twins, as well as the new Netflix documentary Joan Didion: The Center Will Not Hold.
The R&B singer has faced multiple accusations of sexual acts with minors, and famously (illegally) married Aaliyah when she was only 15. He's also been indicted (and acquitted) in a child pornography case. The list of allegations, lawsuits, settlements, and of course, nondisclosure agreements, goes on.
Why SZA Should Replace Him: SZA's debut studio album Ctrl, released last June, features Travis Scott and Kendrick Lamar, and was number three on the US Billboard Top 200. Rolling Stone included it in the 50 Best Albums of 2017 So Far. Clearly, she is everything.
Brands like Bulgari and Valentino have recently announced that they'll no longer be working with Richardson, who's best known for his racy photographs of celebrities and models (and was the director of Miley Cyrus' "Wrecking Ball" video). Although rumors and speculation alleging sexually inappropriate behavior span decades, the industry only took action after the landslide Weinstein allegations. His spokeswoman released a statement to The Telegraph, saying "Many of his professional interactions with subjects were sexual and explicit in nature but all of the subjects of his work participated consensually."
Why Petra Collins should replace him: Already well established in her field, her work highlights diversity and femininity, from photographs of her best friends hanging out to editorial spreads featuring Kim Kardashian. The 24-year old already has three books under her belt, Discharge, Babe, and Coming of Age. She also directed the music video for Selena Gomez's single "Fetish," and has become both the face and the photographer behind some of Gucci's latest campaigns.
If you combine the Affleck brothers' awards in Hollywood, they add up to three Oscars, three BAFTA's, and four Golden Globes. However, those don't mean much now that the brothers are haunted by several accusations of sexual harassment. Ben was accused of groping actress Hilarie Burton on TRL in 2003, while Casey was sued for sexual harassment by two women in 2010 (he settled out of court).
Why Elle and Dakota Fanning Should Replace Him: The Fanning sisters are two of young Hollywood's trailblazers. Dakota has been on screen since she was just five year's old, and her sister Elle followed in her footsteps at age three. Dakota has starred in movies like I Am Sam, Uptown Girls, Man on Fire, and even the Twilight Saga, graduating from NYU in 2014 with a degree in Women's Studies focused on the portrayal of women in film and culture. Elle's filmography includes Super 8, Maleficent, Trumbo, and Sofia Coppola's Somewhere. Coppola has named Elle one of her two muses (the other is Kirsten Dunst).
NPR's Vice President of News quit after several women came forward saying he harassed them throughout his career. Soon after, Oreske addressed the allegations: "I am deeply sorry to the people I hurt. My behavior was wrong and inexcusable, and I accept full responsibility."
Why Lauren Wolfe Should Replace Him: Lauren Wolfe is an investigative journalist who's worked for The New York Times, The Atlantic, The Guardian and Foreign Policy. She's been an editor at the Committee to Protect Journalists and she's currently the director of Women Under Siege, a project investigating and documenting sexualized violence in conflict areas. She's also testified before the House of Lords in the UK and in the UN regarding her findings on rape in Syria. What did you do today?
This Republican Senate candidate and former Alabama State judge has been accused of sexual misconduct by multiple women, all of whom were teenagers at the time. Moore is also the co-founder and president of the Foundation for Moral Law, a conservative and christian group, and he was suspended as Chief Justice in 2016 when he refused to uphold the laws on same-sex marriage.
Why Danica Roem should fill his shoes: In a highly satisfying case of karma, Roem, the first openly transgender person ever elected to any state house, defeated Robert Marshall, the legislator of Virginia's controversial "bathroom bill." Roem is an award-winning journalist and is even the singer of a metal band called Cab Ride Home.
At least five women have come forward accusing comedian Louis C.K. of sexual harassment in a bombshell New York Times report released on November 9th. He quickly issued an apology. "The power I had over these women is that they admired me," he wrote. "And I wielded that power irresponsibly. I have been remorseful of my actions. And I've tried to learn from them. And run from them. Now I'm aware of the extent of the impact of my actions."
HBO has since cut the Emmy and Grammy award winner out of the Night of Too Many Stars benefit concert, and has removed all of his material from its On Demand services. His latest movie I Love You, Daddy, which features a relationship between a 68-year old man and an underage girl, was dropped by international distributors.
Why Samantha Bee should fill his shoes: Samantha Bee's Full Frontal has been holding the powerful accountable since 2015. She's the first woman to host a late-night comedy show, and was a correspondent for over a decade on Jon Stewart's The Daily Show.
RELATED STORY
Celebrity news, beauty, fashion advice, and fascinating features, delivered straight to your inbox!