Chelsea Clinton: The Trump Administration Is Fast-Tracking Elephants' Extinction
In an exclusive essay for MarieClaire.com, the conservationist lays out the horrors of Trump's announcement that the U.S. will allow importation of elephant trophies.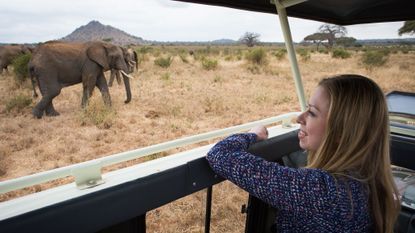 (Image credit: Barbara Kinney / Clinton Foundation)
Update March 5, 2018: Last week the Fish and Wildlife Service announced that the department has lifted the all-out ban on importing ivory trophies and will instead "grant or deny permits to import a sport-hunted trophy on a case-by-case basis."
Update November 18, 2017: After publication, the President decided to put the "big game trophy decision" on hold. The announcement came in a tweet Friday night.
In recent years, the world has made important progress in the global fight to save elephants from extinction. Governments, businesses, conservation organizations, activist organizations, and citizens have come together to stop the killing of elephants, interrupt the trafficking of ivory, and reduce ivory demand. We've brought poaching rates down and elephant birth rates have gone up. This would not have been possible without strong U.S. leadership.
The decision this week to reverse an Obama-era regulation and allow hunters to bring home barbaric "elephant trophies" from Zimbabwe and Zambia is a deeply alarming step backward. Because of the U.S. Endangered Species Act, the U.S. government is required to protect elephants in other countries—but instead of protecting them, the Trump administration is signaling it will be complicit in accelerating their extinction.
Let's be clear: the decision to reverse course on trophy hunting was not made because elephant populations are suddenly stable and thriving. According to the Great Elephant Census of 2016, Zimbabwe's elephant population has declined six percent since 2001, while Zambia's has dropped from 200,000 elephants in 1972 to just over 21,000 in 2016. So, while we have made progress in some places in recent years, that progress is fragile and not equally shared across countries.

These aren't alternative facts—elephants are still dying at alarming rates, and our government just gave the green-light to hunt them and bring their body parts home. If our country is willing to permit this, what else are we willing to let slide?
Not only are elephants beautiful in their own right, their existence is vital for the ecosystems and biodiversity of the areas they inhabit—their eating habits promote plant regeneration, spread seeds, and improve soil conditions—and their presence is critical for responsible local tourism industries that many people depend on for their livelihoods.
Protecting this species should be intuitive. That's why in 2013 my mother and I launched the Clinton Global Initiative Elephants Action Network (EAN) with a simple, straightforward goal: to save Africa's elephants. The EAN coordinates a diverse network of public, private, and nonprofit organizations active in elephant conservation around three pillars of action: stopping the killing of elephants, stopping the trafficking in ivory, and stopping the demand for ivory.
Since its founding, EAN members have made 24 commitments to action in 52 nations to address the poaching, trafficking, and demand aspects of the ivory trade—including educating consumers, better equipping park rangers, deploying new technologies to track elephant populations, and training customs officers to spot illegal wildlife parts, to name a few.
We know that in order to satisfy ivory demand, traffickers increasingly are relying on aggressive poaching tactics—and poaching and trafficking have largely become the province of sophisticated, militarized networks of organized crime. These include terrorist organizations like the Lord's Resistance Army, who are using the sale of illegal ivory to support their heinous activities. There's a reason why Interpol, the FBI, and various parts of the U.S. military have all been engaged in anti-poaching efforts—they understand how connected elephant poaching is to national security and terrorism.

While new technologies have shown great promise in helping us more effectively combat poaching and convict poachers once they are caught, it's clear that one of the simplest things we can do to stop the killing of elephants is to reduce consumer demand for ivory by stigmatizing its purchase and possession.

In recent years—in large part because of U.S.-led efforts—we've seen the tide starting to turn on this issue. Even major markets for ivory, like China and Singapore, have banned its trade. But Trump's reversal of the trophy ban could be a signal to some to roll back other far-reaching Obama-era protections. With almost 100 elephants killed for their tusks each day, we can't let this happen. We need to be working toward an ivory ban—not working to make ivory more socially acceptable.
There's a lot of work to be done to secure the safety and wellbeing of these majestic animal for future generations—and one of the easiest places to start is by not giving our blessing to kill them for sport. We can all do something to combat the elephant poaching crisis. A few to consider are: Never buy ivory (most of the ivory in the illegal trade today comes from elephants killed less than three years ago); push for a holistic ivory ban in the United States; support organizations doing great work on the ground such as Save the Elephants, Wildlife Conservation Society, International Fund for Animal Welfare, African Wildlife Foundation, World Wildlife Fund, the David Sheldrick Wildlife Trust, and The Nature Conservancy.

It's disgraceful that in a time when elephants could become extinct within 20 years if we don't do more, our government seems intent to do less—and even to fast-track, rather than reverse, that outcome. I want my children to grow up in a world where elephants exist, and I want our country's leadership to meet their obligation to preserve the Earth's creatures today and for future generations. Once they are gone, we can't bring them back.
Chelsea Clinton is an advocate, author, teacher, and vice chair of the Clinton Foundation.