Emmanuelle Chriqui Deserves an Entourage
Emmanuelle Chriqui Deserves an Entourage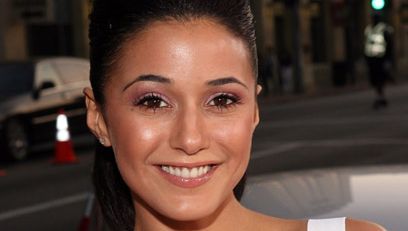 (Image credit: Jesse Grant/WireImage.com)
WHY SHE'S ON OUR RADAR: Chriqui plays a volatile Palestinian salon owner opposite Israeli counterterrorist–turned–NYC hairdresser Adam Sandler in the foot-soldier-out-of-water comedy You Don't Mess With the Zohan.
HER SHTICK: The sleek, sophisticated girlfriend who never breaks a sweat.
AS SEEN IN: After Sex, Adam and Eve, Entourage (as E's girlfriend, Sloan)
A REAL SCREAM: "I think Sloan can maneuver herself well in a room, and so can I - I'm a charmer," Chriqui (pronounced shrieky) laughs conspiratorially. "But her cool factor is abnormal. I don't know any woman that cool! She never freaks out, and that isn't me - I scream, I cry."
LOOKING FIERCE: "I'm Moroccan, so Dalia, my character in Zohan, has a temperament that is more familiar to me. I got to tap into some of my grandmother's qualities - that fierceness. Moroccan women are very emotional. They don't really talk; they tend to yell."
BOYS DON'T CRY: "I'm very comfortable in a room full of men. I'm a daddy's girl, so it's been a recurring theme in my life. There's no 'I can't believe she said that to me' when you hang out with guys."
GIRL POWER: "Don't get me wrong. I love a room packed with goddesses, too. I lost my mom when I was 16, and now when I have a heart-to-heart with a woman, there's nothing better."
COMIC RELIEF: "I tell the most horrible jokes. I appreciate humor so much, but I'm actually not a funny girl. I support the funny people. When I think about it, this is such a fluke: Here I am starring with Adam Sandler! What a ride."