Videos: School Walkouts Are Happening All Over the Country to Protest Gun Violence
Students are demanding stricter gun control, following last month's tragic shooting at Marjory Stoneman Douglas High in Parkland, Florida.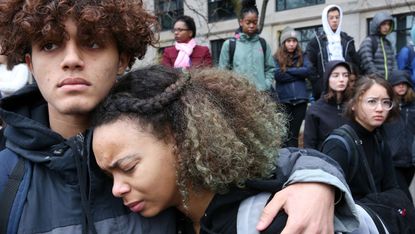 (Image credit: Getty Images)
RELATED STORY
Students all over the country are staging walkouts to protest for stricter gun control. Following the tragic shooting at Marjory Stoneman Douglas High in Parkland, Florida on February 14, 2018, people around America are demanding legislation changes regarding the access to guns.
Organized by Women's March Youth Empowerment, over 2,800 protests are taking place today, with students leaving their classrooms to protest gun violence.
Here, videos from walkouts around America, and beyond:
Marjory Stoneman Douglas High School, Parkland, Florida
Burlington High School, Vermont
Students at Burlington high school walk out of class to focus on gun safety in schools and to honor the 17 students that were killed by a shooter at a Florida high school pic.twitter.com/d3AwFk5H1HMarch 14, 2018
See more
Smith High School
Smith High School Walkout Against Gun Violence https://t.co/28FzpSDWwvMarch 14, 2018
See more
Walden School, Louisville
#Enough walkout at Walden School in Louisville pic.twitter.com/sZYqNs5aLJMarch 14, 2018
See more
North Central, Indianapolis, Indiana
For safety purposes North Central students coordinated walkout with school administration. @WTHRcom Photo Credit:Isaac Herzog pic.twitter.com/huX1Abr6CoMarch 14, 2018
See more
Andrew Jackson High, Lancaster County, South Carolina
Right now. Students walk out at Andrew Jackson high school to honor those 17 killed in Parkland Florida. pic.twitter.com/0U2RYb9hmKMarch 14, 2018
See more
Oxon Hill High School, Maryland
#NOW: Students at Oxon Hill High School file into the auditorium for the National School Walkout. They opted for an assembly and discussion. 600 signed up to participate. pic.twitter.com/j2WBgOaZ73March 14, 2018
See more
Young Women's Leadership School, Bronx, New York
Students at the Young Women's Leadership School in the Bronx walk out in support of gun control, holding photos of those killed in the Parkland, Florida school shooting pic.twitter.com/bKbf5zWVO0March 14, 2018
See more
Elias Howe Elementary School, New York
Albemarle County High School walkout pic.twitter.com/OXkHdMxVyOMarch 14, 2018
See more
Albemarle County High School, Charlottesville
Newport HS joins schools across the country as students walk out to remember school shooting victims. #Parkland @WCPO pic.twitter.com/BjS5Hm8b8JMarch 14, 2018
See more
Newport High School, Kentucky
Snow did not deter the students of Hawken School. #hawkenwalks #walkout @hankgreen pic.twitter.com/gSokomnEhrMarch 14, 2018
See more
Apex Friendship High, North Carolina
We stand with Stoneman Douglas High #SchoolWalkout #HudsonTough #NeverAgain #StonemanDouglasStrong 💞💞💞 @hhscobras @pascoschools pic.twitter.com/09UnJSHIs7March 14, 2018
See more
Hawken High School, Ohio
Thetford Academy's school walkout. #NationalWalkoutDay #StudentsStandUp #NeverAgain pic.twitter.com/sPzcrMMg3BMarch 14, 2018
See more
East Lansing High, Michigan
East Lansing High School Student speaking out at the National School Walkout. #EastLansingHigh #MSU #NationalSchoolWalkout #NeverAgain #Enough #ReClaimMSU pic.twitter.com/6HDa5vKHSQMarch 14, 2018
See more
Celebrity news, beauty, fashion advice, and fascinating features, delivered straight to your inbox!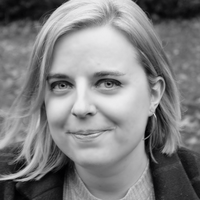 Amy Mackelden is a freelance writer, editor, and disability activist. Her bylines include Harper's BAZAAR, Nicki Swift, Cosmopolitan, Marie Claire, ELLE, The Independent, Bustle, Healthline, and HelloGiggles. She co-edited The Emma Press Anthology of Illness, and previously spent all of her money on Kylie Cosmetics.