Emma González Continues to Be the Voice Our Generation Needs
"Why would we ask them to change their ways when we can just change the politicians?"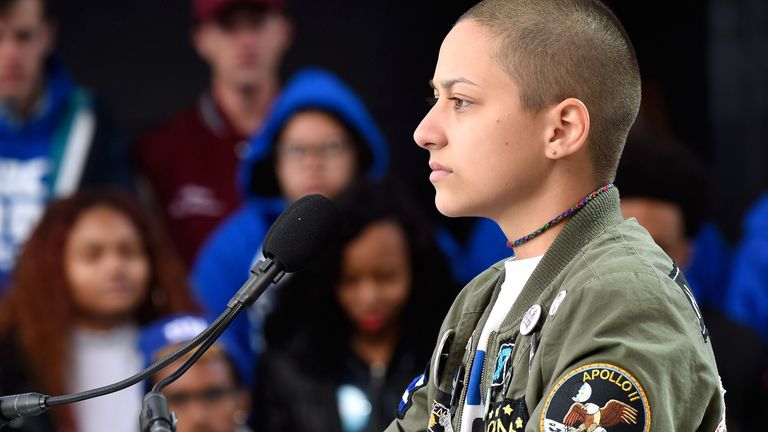 (Image credit: Getty Images)
Since the tragic shooting at Marjory Stoneman Douglas High School on February 14, student Emma González has become a leading figure of the #NeverAgain movement. Her powerful speech at the March for Our Lives in Washington, D.C. had thousands in tears (at one point in her speech she stood in silence for six minutes and 20 seconds—the amount of time it took to kill 17 students and faculty), and the 18-year-old continues to speak out about gun violence and encourage others to promote common-sense gun reform.
RELATED STORIES
Yesterday, in a "TED: Backstage Pass" special for Facebook Watch, Emma and her AP World History teacher, Diane Wolk-Rogers, had a candid conversation about how their relationship has evolved since the traumatic event. Despite their difference in age, they're working together to bring to reality the change this generation of teens is spearheading.
In addition to explaining how she's handling the spotlight, González also reflects on how she stayed grounded while speaking to the crowd of nearly 800,000 protesters in D.C. "I zeroed in on a mountain with my eyes and I just stood there. We have creative writing at Douglas, and I was a part of it for four years. It helped me understand and comprehend and control my emotions. You have to embrace your emotions. Otherwise, you'll fall to pieces. I've been there. It's not healthy. You have to communicate with yourself about what you're feeling."
Get inspired and watch the full 30-minute conversation below:
Find out here what you can do to help enact change in your community.
RELATED STORIES