Karamo Brown Is More Than Just a Culture Expert
In an exclusive interview with MarieClaire.com, the 'Queer Eye' star gets real about America's gun control debate, his favorite moments of season one, and what viewers may be surprised to learn about the Fab Five.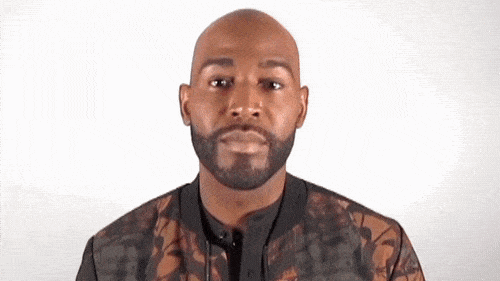 (Image credit: Tumblr)
"My son is with me and wants to learn how to interview, so I'm doing a little work and parenting at the same time," Karamo Brown says to me as soon as our phone interview begins. The 37-year-old immediately makes you feel like you're his best friend picking up right where you left off—which is exactly how you imagine he would be as you simultaneously laugh/bawl your eyes out watching him on Netflix's Queer Eye.
The eight-episode reality show, a reboot of the original Bravo series Queer Eye for the Straight Guy that aired from '03-'07, made its debut in February. (Unsurprisingly, it's already been renewed for a second season.) The premise is five gay guys giving men in Atlanta makeovers, but the show is so much more than that—it effortlessly intertwines important conversations about race, politics, and self-identity, and encourages participants to make lifestyle changes that begin internally.
That's where Brown comes in. The resident "Culture" expert taps into subjects' emotions to understand them at their core. "Talking to them and understanding why they're fearful is key," he says. "It helps them get past their challenges so they can have lasting change."
I felt Brown's natural ability to connect with the show's participants and its viewers when I discovered we had a personal connection of our own—as alumni of Marjory Stoneman Douglas High School. Here, the reality star-slash-activist opens up about his ties to Parkland, season one highlights, and what the Fab Five are like off-air.
---
Marie Claire: What was your life like before Queer Eye?
Karamo Brown: I was a social worker most of my life while raising my two boys. I quit about three-and-a-half years ago to become a television host. In my first job, I was hired by Oprah Winfrey and worked as a segment producer for her network, which was amazing. My favorite job, and definitely the one that means the most to me, is Queer Eye.
MC: Over 10 years ago you made your reality television debut on The Real World: Philadelphia. How did it feel to be one of the first openly-gay Black men on reality TV?
KB: I was 15 years old when I came out. This was my first reality TV experience. If I'm being honest, at the time it didn't mean anything to me. I was 22, and Real World was cool. I'd get drunk and have fun. It was after the fact, having thousands of people say to me, "You were the first time I ever saw myself and made me feel comfortable in who I was. You saved me from suicide." Those are the things that humble me and make me feel so proud that I had that experience. It's funny, when you think about Queer Eye, my first reality show and my first hosting job are kind of a combination of what I'm doing on the show.
MC: Your speech with the Human Rights Campaign about gun violence—in which you revealed that you're a Marjory Stoneman Douglas High School alum—was so moving and powerful. How did it feel to be at the student-led March for Our Lives?
KB: I was a student at Stoneman Douglas from '95 to 99. That was home. I grew up right on the edge of Coral Springs and Parkland—I could have walked to school. The March was so moving and inspiring, but also reaffirming. The school that you and I both went to really did what it was supposed to do. I keep reminding people that our school was named after an activist, so it's no surprise that a lot of people coming out of there have learned how to use their voice to fight for what's right. These kids, in the midst of this tragedy, are like no, I'm going to fight.
.@KaramoBrown, one of the hosts of @QueerEye and a graduate of Marjory Stoneman Douglas High School in Parkland, Florida, shared the story of his friend Aaron Feis, one of the 17 lives taken in Parkland ahead of the #MarchForOurLives today. pic.twitter.com/WbVcdnL0UCMarch 25, 2018
See more
MC: Did this school and community shape you as an activist?
KB: One-hundred percent. I was involved in student government there and I remember there was a math teacher who used to say to me, "Save this speech for when you're running for office," because I was always so passionate about fighting for what I believed in. It was engrained in me to speak up for what I wanted.
MC: In the third episode, you had an incredible conversation with the police officer about Black Lives Matter, which has become so entwined with the #NeverAgain movement.
KB: A lot of people have forgotten what the Black Lives Matter movement was about. African Americans are saying, "Enough of shooting us." We live in a society that has a long history of not valuing people of color or women. So when this happened in a middle-class, affluent neighborhood, that shocked a lot of people. I try not to be too divisive and be like, "Oh, now people want to talk about it." I'm just happy people are talking about it. Now, we can combine forces with the Black Lives Matter movement. People who have been doing the work can join up with the new people and say, "Let's get together and make a change."
We can all learn something from each other. Listen and grow 🌱 pic.twitter.com/D21SKbPt8WMarch 7, 2018
See more
MC: What did that scene mean to you?
KB: It was one of the most important scenes in my television career thus far. I'm tired of us not seeing how much we're alike, and feeling like we're so different and we have to fight. When I met that cop, of course I was turned off by his support for Trump and other things. Then I was so inspired by the fact that he loves his daughters and he loves his wife and that him being a cop is a way that he thought he could give back. These are things that I could relate to and I was like, let me put the labels aside and see you for who you are. Now we're close friends. It was such a big moment, and it resonated worldwide with people. I'm so proud of it.
MC: Tell me about your relationship with Bobby, Tan, Antoni, and Jonathan off-camera.
KB: Oh my gosh, have you seen us on social media? We hate each other. Like, literally, I cannot stand...No, we are ridiculously close. Probably a little too close for just meeting a year ago. Someone asked me recently, "Is Netflix forcing you all to do this?" and I'm like, "No, we just really like each other." It's kind of ridiculous, but I think that's why we all got the job. Because they saw five guys really love and support each other from the beginning, and it just grew. We're all brothers.
I'm the oldest, so everyone's like "he's the father" cause I'm always like, "We should do this." "Be safe." "How are you feeling?" "Did everyone eat this morning?" Bobby's the mom. We call Jonathan our little baby. Tan is the big brother and Antoni is the sweet middle child that will get away with anything he wants and we all love it cause he's a cutie. He could do no wrong.
MC: What's your favorite thing about each of the Fab Five?
KB: Jonathan is one of the most intelligent people I know. A lot of the time people see how funny and sensitive he is, and those become the characteristics that they always pin on him. People don't realize that he's a walking Wikipedia. You ask him anything, and he knows it in detail with facts to back it up.
What I love most about Antoni is everyone sees the caring side, but what they also don't know is that he has sort of a childlike playfulness about him. It's like a fun prankster that we're always laughing with.
Tan is the biggest problem solver you could ever imagine. If there was ever an argument between someone on the crew (not the five of us, we never argued), people would always assume that I would be the one to handle it. I did a lot of times, but Tan was also the one that was like, "I can solve this. I have a British accent and everyone's going to understand what I'm saying and it's going to get solved immediately."
Bobby is one of the most talented people I've ever known. He can sing. He can dance. He is so artistic. People don't get to see that because you just see this amazing designer. Once he starts going you're just like, "C'mon Mariah Carey."
I love all the guys, but my Bobby Berk has the hardest job ever. I tried to paint my house and it took me seven days—here he is designing brand new lofts in five days. If someone told me I had five days to redesign a house, I would say get out of here. Like, literally, I quit.
MC: What advice can you give to people who are struggling in similar ways to the Queer Eye participants, but can't be on the show?
KB: First of all, acknowledge what you want. A lot of people never say out loud, "I want to grow." Then you have to be clear about what area of your life you want to grow in. Do you want to grow emotionally? In your career? Through your fears? Through your pain? Be very clear about that. State it. I say to my son all the time, "Plan. Do. And ask for help if needed."
Now that you've acknowledged that you can grow through something, make a plan. What can you do, or what people can you be around to help you to grow? Then once you make that plan, start doing it slowly. It doesn't have to be all at once. It can be small things every day. Small steps will still get you to the finish line. If you feel lost along the way, ask for help because there are so many people that want to help.
This story has been updated.
Rachel Epstein is a writer, editor, and content strategist based in New York City. Most recently, she was the Managing Editor at Coveteur, where she oversaw the site's day-to-day editorial operations. Previously, she was an editor at Marie Claire, where she wrote and edited culture, politics, and lifestyle stories ranging from op-eds to profiles to ambitious packages. She also launched and managed the site's virtual book club, #ReadWithMC. Offline, she's likely watching a Heat game or finding a new coffee shop.