Lena Headey on Her Life-Changing Journey to Greece, and the Heartbreak That Awaited Her There
The Game of Thrones star writes a powerful essay about the refugees who so desperately need help.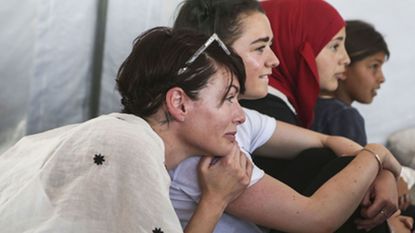 (Image credit: Tara Todras-Whitehill/IRC)
Marie Claire Newsletter
Celebrity news, beauty, fashion advice, and fascinating features, delivered straight to your inbox!
Thank you for signing up to Marie Claire. You will receive a verification email shortly.
There was a problem. Please refresh the page and try again.
Earlier this month, actress Lena Headey traveled to Greece with the International Rescue Committee and her co-stars, Maisie Williams and Liam Cunningham, to meet with refugees fleeing from Syria. She heard their stories of searching for a better life—and now, here, is her own.
There is so much to talk about. So much to say about all that is happening in the world.
Clearly I'm not a politician. I don't retain the names of all the places/groups/regimes easily, perhaps because what speaks to me most are the people. And these are smart, hardworking people who want to go home.
These people aren't "them"—they're us. They're daughters, sons, mothers, brothers, fathers, sisters, and grandparents who just want to return to their culture and to their neighborhoods. They want their children to continue their educations. They want to continue their university studies. And they're STUCK. They're stuck. They are sad and frustrated and tired, understandably so.
On a recent trip organized by the International Rescue Committee, I was able to spend some time at the Kara Tepe refugee camp on the island of Lesbos with Marwa, an incredible young woman who has three young daughters.
Her story is heartbreaking. Her journey, to reach her cancer-stricken husband in Germany, has so far taken three months—it took her one whole month just to reach one of the dinghies we so often see in the news.
Marwa was forced at gunpoint, along with her daughters and 75 other people, onto a boat only made to carry 25. As is often the case, they had no gas in the engine, and the boat drifted from 10 p.m. to 3 a.m. in complete darkness.
She believed what most people fleeing their homelands to escape death believe: What awaits them at the end of this perilous journey is a new life, a peaceful new beginning.
It doesn't. Not yet anyway. Things need improving. They need improving beyond comprehension. Hearts need to open. Humanity needs to be reborn. Fear needs to be erased.
Marwa wanted me to be her voice.
Marwa asked that I let the world know that all she wants is to go home. That she's not a terrorist. That she is scared she'll be forgotten. That she won't get to see her husband before he dies. That she wants information and help. For life to make sense. That her heart has turned to stone and she has lost hope but that she will keep going for her children.
As I sit with her it's clear her heart has not turned to stone, she just needs recognition, to be heard. I left Marwa feeling like I am her and she is me. It's her country at war; next time it could be mine.
The truth is, any of us could be separated from the ones we love—and have the people we turn to shun us and write us off. Think about that as we close our ears and our doors.
The people of Lesbos don't have much. But they are warm and welcoming and they make great food. The island is beautiful. We need to bring them tourism. Lots of it. The mayor is a humanitarian example to behold. Against the backdrop of losing a lot of tourism due to fear, he persists, declaring Lesbos "a beacon of hope for all."
And as he's right. There are some incredible people constantly cranking out hope here in Greece. But Syria, Sudan, Lebanon—they need help too.
We are all human. We belong to each other. It's time we act like it.
To learn more and to help, go to www.rescue.org.
Celebrity news, beauty, fashion advice, and fascinating features, delivered straight to your inbox!