Prime Minister Jacinda Ardern Is the First World Leader to Take Maternity Leave
The New Zealand PM announced the birth of her baby girl on Thursday.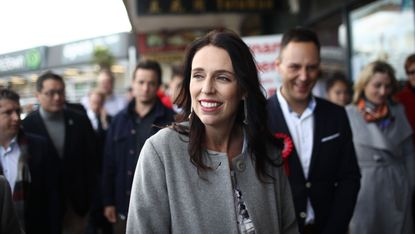 (Image credit: Phil Walter)
On Thursday, New Zealand Prime Minister Jacinda Ardern safely delivered a baby girl at Auckland City Hospital, she announced in an Instagram post. That makes her just the second world leader to give birth while in office, and the first in 30 years.
Ardern, who was elected in October of last year, has already set a few records. At 37, she's also the younger prime minister New Zealand has had since 1856, and she's the first world leader to take maternity leave. She'll take six weeks at home while Deputy Prime Minister Winston Peters takes over PM duties, though she'll still be consulted on big issues and read cabinet papers while she's away. When she returns to her seat, her partner, Clarke Gayford, will be a stay-at-home dad.
Ardern announced her pregnancy a few months after taking office, and has said the news was a very happy surprise for the couple. Earlier this year, she talked to Radio New Zealand about preparing for a pregnancy while also running a country, and especially how she would respond to sexist remarks that it couldn't be done:
"I definitely tried to look at it really dispassionately...To think: what would someone who doesn't know me at all, who may have a slightly different view towards my leadership, how are they going to take this news? I really tried to think about it from that perspective. I think probably they're looking for certainty. And the best way I can provide that is by providing a plan. And so that's what I really thought through: how can I really demonstrate that, yes, amid all this happy news, I have a plan."
The only other world leader to have a child while in office was Benazir Bhutto, the prime minister of Pakistan, who gave birth to a girl in 1990. Bhutto's daughter, Benwar, even tweeted out congratulations to Ardern.
Congratulations to Prime Minister @jacindaardern on the wonderful news 🤗January 19, 2018
See more
This is a huge step in fighting the stigma that a person can't give birth and be effective in her job—a pointedly misogynistic argument that gets thrown around as the downside of electing women to run countries. Ardern now has the change to shut down that argument for good.
Congratulations to her and Mr. Gayford!
Cady Drell is a writer, editor, researcher and pet enthusiast from Brooklyn.