If Brett Kavanaugh Is Confirmed, These 5 Scary Things Could Easily Happen
It's not just 'Roe' you should worry about.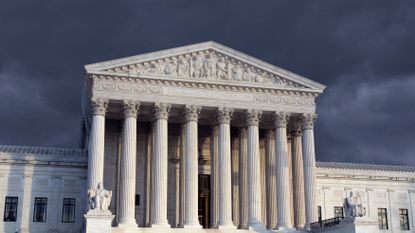 (Image credit: trekandshoot/Getty Images)
Marie Claire Newsletter
Celebrity news, beauty, fashion advice, and fascinating features, delivered straight to your inbox!
Thank you for signing up to Marie Claire. You will receive a verification email shortly.
There was a problem. Please refresh the page and try again.
When U.S. Supreme Court Justice Anthony Kennedy submitted his resignation to President Donald Trump in late June, court watchers and reproductive rights activists alike sounded the alarm about what the news meant for the future of Roe v. Wade, the 1973 landmark decision that legalized abortion. "Abortion will be illegal in twenty states in 18 months," tweeted New Yorker staff writer Jeffrey Toobin minutes after the news broke.
On the campaign trail, Trump promised to appoint justices who oppose Roe, and his nominee, Brett Kavanaugh, who serves on the Court of Appeals for the District of Columbia Circuit, was chosen from a list of judges vetted by conservative, anti-choice groups. So little doubt remains that the court will soon have a critical fifth conservative vote. But when it comes to exactly how Roe will be diminished or overturned, and how women's health will be impacted generally, nothing is certain.
To get to the bottom of which of the reproductive rights-focused cases currently working their way through lower courts are most likely to be heard before the nation's highest bench, I talked to Danielle Wells, Planned Parenthood's associate director of state advocacy media.
"There are a number of cases that are one step away from the Supreme Court that would have big impacts for women's access to safe, legal abortion, contraception, and to preventative care," Wells tells me. "Any one of these cases is an opportunity for the court to look again at the barriers on women's access to abortion and to consider what they deem constitutional."
Here are the cases to keep an eye on.
Planned Parenthood of Arkansas v. Jegley
In 2015, the Arkansas Legislature passed Act 577, which requires doctors providing medication abortion to contract with a second doctor who has admitting privileges at a nearby hospital. The law would mean only one of the state's three abortion clinics would be able to continue to offer the procedure, as two of them only offer medication abortion, not surgical.
If the law sounds familiar, it's because it's nearly identical to a Texas law that shuttered all but 10 abortion clinics in the state by requiring doctors who perform the procedures—both medication and surgical—to have hospital admitting privileges. That law was struck down in a 2016 Supreme Court decision known as Whole Woman's Health v. Hellerstedt.
Arkansas' version of the law, which impacts medication abortions only, was supposed to take effect on January 1, 2016, but it was blocked by U.S. District Judge Kristine Baker after Planned Parenthood, which operates the two clinics that would no longer be able to provide abortions, filed a lawsuit. In her decision, Baker said the law was burdensome and did nothing to protect women's health.
The Eighth Circuit Court of Appeals overturned that ruling in July 2017, and it headed to the Supreme Court, which declined to hear the case on May 29, allowing the law to take effect. The consequences were felt immediately.
"We had women who had planned to have procedures calling us trying to figure out where they could go and what they could do," Wells says.
The best option was to tell the women to drive 380-miles from Fayetteville, where the clinics that could no longer provide abortions are based, to a clinic in Little Rock. "Which, you can imagine, for many women that's not an option once you factor in the cost of travel, whether you have a car or a ride, if you can take time off work, if you have child care," Wells says. "For many women, we know this law effectively is a ban on abortion."
Because of that, Planned Parenthood filed for emergency relief, which Judge Baker granted, temporarily barring the law again and allowing more time for the health centers to find doctors to contract with. Arkansas' attorney general plans to repeal the ruling, and the case could once again make its way to SCOTUS.
Whole Woman's Health Alliance v. Hill
Before he was vice president, Mike Pence signed a law as governor of Indiana that prohibits abortion because of the gender, race, or disability of the fetus, such as Down Syndrome or a fetal abnormality.
The law was prevented from taking effect by lower courts, and this summer the state's Attorney General Curtis Hill is weighing whether to appeal to SCOTUS. Similar legislation in Ohio is also working its way through the courts.
Whole Women's Health v. Paxton
In June 2017, Texas Governor Gregg Abbott signed a law banning the most common method of ending a pregnancy in the second trimester, known as dilation and evacuation, during which the fetus is removed from the uterus. The law does not include exceptions for rape or incest.
It was immediately challenged by The Center for Reproductive Rights and Planned Parenthood on behalf of clinics in the state, who would essentially be unable to perform abortions after 14 weeks when other methods, like the abortion pill, can no longer be used.
A federal judge ruling stopped the law from being enacted; similar laws in Alabama, Kansas, Louisiana, and Oklahoma have also been challenged in the courts.
Gee v. Planned Parenthood of Gulf Coast, Inc.
After the Center for Medical Progress released doctored videos in 2015 purporting to show Planned Parenthood employees selling fetal tissue, then-Louisiana Governor Bobby Jindal moved to block the organization's Medicaid funding. (The antiabortion activists behind the videos were charged with 15 felonies; Planned Parenthood was cleared of any wrongdoing.)
Planned Parenthood uses the Medicaid funding it receives to provide affordable birth control, cancer screenings, STI testing and treatment to the some 5,000 low-income patients treated at its locations in Baton Rouge and New Orleans each year. "For instance, in one parish in Baton Rouge, 70 percent of women who rely on publicly-funded clinics for contraception rely on Planned Parenthood—that's just one parish," Wells says. "Many of those women would have nowhere else to go."
Planned Parenthood challenged Jindal's move in federal court, which ruled in the organizations favor and allowed clinics to continue receiving Medicaid funds. SCOTUS is currently deciding whether or not it hear the case.
Three cases regarding the Trump Administration's rules allowing employers to deny insurance coverage for birth control
Last October, the Trump Administration rolled back the Affordable Care Act's birth control mandate, which allowed 62 million women to access contraception without an insurance copayment. The new rules allow any employer that objects to covering birth control on "the basis of sincerely held religious beliefs or moral convictions" to deny coverage for its employees.
Several State Attorneys General, including AGs in California, Massachusetts, Washington, and Pennsylvania, filed lawsuits against the new rules saying they will deny access to contraception for millions of women. Federal judges in California and Pennsylvania have prevented the rules from taking effect, but the cases to continue to work their way through the courts.
If one of the cases makes it to the Supreme Court and Kavanaugh is on the bench, we already know how he would likely rule. When the ACA's birth control benefit was challenged in his court back in 2015, Kavanaugh wrote in a dissenting opinion that employers have the right to deny employees insurance coverage for birth control. "Kavanaugh's record speaks volumes about his position," Wells says. "It's clear he would cause irreparable damage to women's healthcare."
Celebrity news, beauty, fashion advice, and fascinating features, delivered straight to your inbox!
Kayla Webley Adler is the Deputy Editor of ELLE magazine. She edits cover stories, profiles, and narrative features on politics, culture, crime, and social trends. Previously, she worked as the Features Director at Marie Claire magazine and as a Staff Writer at TIME magazine.