United We Stand
Marie Claire editor-in-chief Anne Fulenwider commits the September issue to immigration.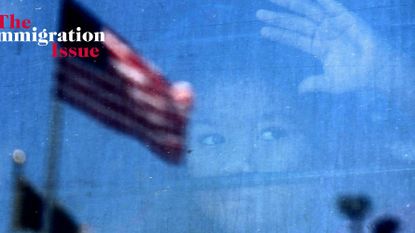 (Image credit: Getty Images)
Marie Claire Newsletter
Celebrity news, beauty, fashion advice, and fascinating features, delivered straight to your inbox!
Thank you for signing up to Marie Claire. You will receive a verification email shortly.
There was a problem. Please refresh the page and try again.
Did you know that Madeleine Albright, Liz Claiborne, Oscar de la Renta, Albert Einstein, and Joseph Pulitzer were all immigrants to the United States? So are cofounders of YouTube, Yahoo, and Google. Starting in elementary school, children learn about the legions of people who have come here to forge a better life; that dream is part of our national identity.

When Claudia Romo Edelman, founder of the We Are All Human Foundation, came to see me in May, we hatched a plan to devote an issue of Marie Claire to immigration. We had no idea that President Donald Trump would force the issue into headlines just four weeks later, and we were astounded to learn the U.S. government was separating nearly 3,000 minors from their families at the Texas–Mexico border, detaining children in cages.
So we made a long list of accomplished women, either immigrants themselves or the daughters of immigrants, and asked them for their stories. Model and activist Christy Turlington Burns wrote about her mother's arrival from El Salvador in 1948. Actress Priyanka Chopra told us about leaving India at 12 to attend school in Cedar Rapids, Iowa. Nigerian-born author Chimamanda Ngozi Adichie came to the U.S. at 19 to pursue higher education. Even federal judge Dolly Gee, who rejected the Trump administration's request to detain migrant children long-term, is the daughter of immigrants from China. Their stories of hope, struggle, and triumph are all powerful, and they remind us of what makes America great. One of the most moving is the most recent. A 16-year-old girl from El Salvador tells of her time in a Texas detention facility in June, caring for a toddler who was on her own. For ways to help families immigrating to the U.S., visit marieclaire.com/border-crisis-help.
This September, at its General Assembly, the United Nations will consider a global agreement on migration that calls for safe, orderly, and regular migration, with the hope that it will be ratified by member states in December. We believe there is more that unites than divides us and that America, whose strength comes from difference and diversity, should be a country of open arms instead of closed borders.

Lead photo by Spencer Platt for Getty Images.

A version of this article appears in the September 2018 issue of Marie Claire.
MORE FROM THE IMMIGRATION ISSUE
Celebrity news, beauty, fashion advice, and fascinating features, delivered straight to your inbox!