How Immigration Shaped These Female Founders and CEOs
They tell their stories of creating success out of sheer will.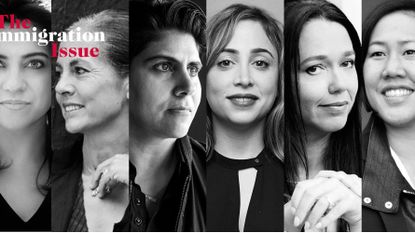 (Image credit: Design by Morgan McMullen)
For Marie Claire's special immigration report, we're celebrating the talents and contributions of women with roots in foreign lands.
Adi Tatarko
COFOUNDER and CEO of Houzz.
BEST KNOWN FOR: Her home-design website, which, at $4 billion, is the most highly valued private U.S. company run by a female founder.
BIRTHPLACE: Tel Aviv.
CURRENT RESIDENCE: Palo Alto, California.
HER ROOTS: Tatarko's business partner is also her husband, Alon Cohen, with whom she has three sons. The couple originally met on a bus while traveling through Thailand—Tatarko was working toward a degree in international studies at the Hebrew University of Jerusalem—and they later married, moved to the U.S. in 2000, and eventually put down roots in Silicon Valley, where they ran into logistical problems remodeling their own home—and launched Houzz from their kitchen table.
HOME PRIDE: People often ask Tatarko, 45, how growing up in Israel shaped who she is today. "The last time somebody asked me, I just said, 'Look, we grew up in a country that embraced women in general. We have Golda Meir,'" she said at the 2017 Israeli American Council National Conference. "We still don't have that in the U.S., but we will one day."

HONORING HER HISTORY: Tatarko comes from a family of self-made women, including her mother, who ran her own real estate business, and grandmother, who survived four concentration camps before becoming a successful fashion designer in Israel. "I never thought I would follow in their footsteps," Tatarko says, "yet I was inspired by how they grew their careers while managing their families, and I learned that having both a career and children was possible."
WHAT I MISS ABOUT ISRAEL IS: "The people. Of course, I wouldn't mind spending more time at the beautiful beaches of the Mediterranean Sea and eating the delicious food!"
FOUNDER'S MENTALITY: Before launching Houzz, Tatarko helped start a Hebrew language school to bring together children of Israeli origin living in Palo Alto.
Reshma Saujani
FOUNDER and CEO of Girls Who Code.

BEST KNOWN FOR: Founding her tech organization in 2012 with the goal of teaching 1 million girls to code by 2020.
FAMILY ORIGIN: India.
BIRTHPLACE: Berwyn, Illinois.
CURRENT RESIDENCE: New York City.
HER ROOTS: In 1973, Saujani's parents found asylum in the U.S. after dictator Idi Amin threatened to expel or execute Indians and others of Asian descent from Uganda. "My mom and my dad had a big family there, so everybody was scrambling to get out," says Saujani, whose parents were engineers. They had 90 days to leave or risk being "shot on the spot," she adds. They chose Illinois by throwing a dart on a map; it landed on Chicago.
HER MISSION: "I have so much love and gratitude for this country because it saved my parents' lives," Saujani, 42, says, "and I'm so angry when I hear the administration's rhetoric about asylum seekers as criminals because every immigrant I know has so much gratitude and love for America. All we want to do is give back."
HER YOUTH: Growing up in the suburb of Schaumburg, Illinois, she felt like an odd girl out. "I didn't have a lot of people who looked like me, and for a long time I felt like I wanted to be white; I wanted my name to be Rebecca; I wanted to fit in and belong," she says. "I denied so much of who I was." Though her parents spoke Swahili mixed with Gujarati, they never taught her their language. "There was a sense that you had to look American, sound American, eat American. And that wasn't wearing a sari or speaking Gujarati or eating roti," she says. "I think that they were trying to make us fit in so we didn't get bullied or get discriminated against."
HER TURNING POINT: On the last day of eighth grade, Saujani got into a fight that "changed the structure of my life because it made me own my identity," she says. Two girls called her a hajji, meant to be a racist slur, and challenged her to a face-off. "I basically got the shit kicked out of me, and when I went home with a big black eye, my parents didn't even call the school. That's very much being immigrants, right? My mom was mad at me for not getting on the bus and going home."
TO ME, AMERICA MEANS: "The land of opportunity. The country where I've always been able to dream big and fail even bigger. It's where I left my job working in finance to run for Congress because I wanted to make a difference and help make people's lives better. When I failed, it's the place where I put hundreds of thousands of girls closer to ending the gender gap."

ON THE U.S. BORDER CRISIS: "When I was a deputy public advocate, I started the first scholarship fund for undocumented students," says Saujani, who now has a 3-year-old son. "I can't believe it's 2018 and we're erecting tent cities across the country. If my parents were to fight for asylum today in Trump's America, they would be denied. I think what we are seeing right now, it's cold. It's heartless. It's shameful. I'm embarrassed as an American. I am heartbroken as a parent. I never thought that I would see the day when we didn't have a consensus that separating children from their parents is wrong."
Maria Cornejo
FOUNDER and FASHION DESIGNER of Zero + Maria Cornejo.
BEST KNOWN FOR: Clothing power-women including Michelle Obama, Tilda Swinton, and Cindy Sherman.
BIRTHPLACE: Santiago, Chile.
CURRENT RESIDENCE: New York City.
HER ROOTS: On September 11, 1973, bombs fell on Santiago as part of a military coup to bring down socialist president Salvador Allende amid the Cold War. "I remember going to school and hearing the bombs everywhere," recalls Cornejo, who was then 11. Her father fled to Peru, and Cornejo and her mother soon followed. It was a narrow escape: Her mother, a socialist, was tried for treason and got off only thanks to an old family connection. In Peru, the family lived in a church: "Every Sunday, we had to clear the mattresses so they could have service." After her father applied for political asylum, they eventually settled in England, where she attended fashion school and launched her first label before decamping to New York in 1996.
HOW BEING A REFUGEE SHAPED HER: Cornejo, 55, dislikes vintage clothing because after her family arrived in London, "we used to have to go to another house that was really moldy—it was part of the Salvation Army—and pick bedding, pick clothing," she says. "I don't want somebody else's things on my back. I don't want someone else's sheets on my bed." When the family relocated to Manchester, Cornejo was bullied. "Kids were pretty racist toward me. They thought I was Indian; they used to call me all sorts of names. All I wanted to do was disappear and look like one of them."
SOMETHING MOST PEOPLE DON'T KNOW ABOUT CHILE: "It has pretty much every climate. It goes from the antarctic all the way to the desert."
ONE CHANGE I WANT TO SEE IS: "More empathy and less suspicion. My mother was an art director; in England, she ended up cleaning rooms in hotels to make a living. The problem is a lot of the skills that you have are not recognized in another country. You might have a doctor from Africa sleeping in the streets. There is a great misconception that everyone wants to come here, but a lot of people would rather have stayed in their own country—if they didn't feel in danger, if they had been safe, if they had the possibility of education. I saw what it did to my parents. It destroyed them. For people to leave their own country, when they don't really have a choice, it's heartbreaking. A lot of them can't go back, and they lose half their families."
BEING AN IMMIGRANT TODAY IS: "Harder and harder. It makes me think how lucky I was at the time to be accepted, to be allowed."

ON THE U.S. BORDER CRISIS: "It's inhuman. It's not a way to treat children and families." As refugees in England, her own family was "treated with respect; we lived in rooms in a house, not in a prison."
WHAT SHE'S DOING TO HELP: To celebrate its 20th anniversary, Cornejo's brand has made a limited-edition T-shirt, proceeds from which will go to human-rights organizations including the ACLU and RAICES.
I BECAME A CITIZEN IN 2012 BECAUSE: "I wanted to vote for Obama. I felt like my roots were here. My son was born here. I have a business here. I feel like I have a country, you know? I belong somewhere. I've been able to reclaim my Chilean citizenship as well, but I've spent most of my life here now. I am an American."
Amy Chang
ENTREPRENEUR and SVP of Collaboration Technology Group, Cisco.
BEST KNOWN FOR: Cofounding Accompany, an app that provides users with mini dossiers on contacts in their email and social networks, which was acquired by Cisco for $270 million in May.
FAMILY ORIGIN: China.
BIRTHPLACE: Austin, Texas.
CURRENT RESIDENCE: Bay Area, California.
HER MOTHER'S STORY: Chang's mother came to the U.S. "with a couple hundred dollars in her pocket" and a scholarship to a university in the Deep South. She was accepted to UCLA but didn't get a scholarship; she headed there anyway by bus. "Now, she's this tiny five-foot-tall Chinese woman. Teeny tiny," Chang says. "She gets on the bus, and there's an immigration officer checking passports. He takes her passport and tells her he has to check and see if it is valid and real. She is trying to ask him, 'When can I have it back?' He just ignores her and takes the passport and walks away." She eventually made it to California, where she got fired from seven waitressing jobs "because her English is not great and she's small, so she can't hold that many plates." One day, scared and alone, she passed by a UCLA computer lab that was looking for punch-card workers; she applied for and got the job. "She ended up getting her grad degree in computer science at UCLA. She met my father there, and they started a life together," Chang says. "Instead of letting fear overtake her, she made a decision, ran with it, and course-corrected as she went. The story was part of what gave me the courage to start my own company."
A STORY ABOUT SELF-RELIANCE: Chang's parents fled to Taiwan from China during World War II. "Both of their families left everything and started over. And then they came here with nothing," she says. Knowing that history "makes you aware that your security—especially your financial security—is not a given," Chang says. "I grew up knowing I was going to have to bring it. Every single day. There's no free lunch. No free rides. No free anything, just sheer effort and persistence." She relates a story about the time she forgot her homework in the third grade and called her mom to ask her to bring it to school: "She said, 'Whose homework is it?' And I said, 'Mine.' And she said, 'Don't call me about this again.' And hung up. She was not going to bail me out. She taught me that you have to be responsible for not only you but also anything that has to do with you, or something that you want. You better be proactive and go get it."
TO ME, AMERICA MEANS: "Freedom, diversity, and a strong drive for original innovation."
ON DIVERSITY IN THE WORKPLACE: "At Accompany, we were over 50 percent women, and we didn't even have to try. We found the right people for the right job," says Chang, 41, who made it a priority for her company to research removing gender and ethnicity bias from the recruiting process.
AS A COUNTRY, WE NEED TO REMEMBER: "That 99.999 percent of us immigrated here. And when we did, we were welcomed...or we would have liked to be welcomed. I would like us to remember what it literally says on our own Statue of Liberty. This country can only continue to be the superpower that it is, the brain trust that it is, if we take talent from all over the world to continue to innovate and improve our products, our services...our everything. We need all the ideas. We cannot survive and continue to thrive without them."
Ayah Bdeir
FOUNDER and CEO of LittleBits.
BEST KNOWN FOR: After President Donald Trump issued the travel ban in 2017, the company displayed a message in English and Arabic on a Times Square billboard: "We Invent the World We Want to Live In."
FAMILY ORIGIN: Syria.
BIRTHPLACE: Montreal.
CURRENT RESIDENCE: New York.
HER ROOTS: Her parents moved from Syria to Lebanon as children, then to Canada, where Bdeir was born. The family returned to Beirut, but in 2006, war between Israel and Lebanon forced Bdeir, then 24, to escape to Jordan with one sister, leaving their mother and two other sisters behind. (Their father had been traveling at the time.) Bdeir eventually made it to New York City, but "I felt guilty because I had the means to get out and other people didn't," she says. "I felt guilty because my mom and my other sisters stayed. I even felt guilty for leaving people who wanted to stay. I felt like a sellout, you know? This is your country; you don't want to defend your country?"
EARLY INSPIRATION: Bdeir's father owned a company importing and exporting timber, and he took great interest in his daughters' intellectual pursuits. "For me, it was programming, electronics," she says. "He infused in us this idea that there are no girl hobbies and boy hobbies. He would get us electricity sets and chemistry kits." Bdeir earned computer engineering and sociology undergraduate degrees at American University of Beirut and a master's in computing culture at MIT Media Lab before founding LittleBits, which makes kits to teach electronics to children, in 2011.
ON DIVERSITY IN THE WORKPLACE: "It's definitely a very conscious thought. We have 40 percent women; we have more than 20 languages spoken in the office. It's part of the fabric of who we are."
I CONSIDER MY IDENTITY TO BE: "Lebanese by culture, but I really consider myself a citizen of the world. I don't believe in borders."

I STILL BELIEVE: "The American dream right now is being tested, and people should not take for granted that it can survive. It's not okay to become apathetic; that's how countries descend into despot behavior. Yes, I believe in the American dream, but it is incumbent on all of us to not let it slip because it can very quickly be undone."
CHANGING HEARTS AND MINDS: "If you raise open-minded kids, I believe it's difficult for their minds to close afterward. If kids have friends of different ethnicities and are exposed to different opinions, then it's hard for them to hate a race; they have a friend from that race. The younger you start, the better."

SOMETHING MOST PEOPLE DON'T KNOW ABOUT LEBANON: "It has taken in the most Syrian refugees of any other country in the world."
FAVORITE WORD IN ARABIC: "Kazdoura. It means taking a walk or a drive. But it implies a deep connection with someone, or a place or a level of serenity and presentness or mischief."

MY IDEA OF HOME IS: "A view of the sea, a salad with lots of lemon in it, and a very cold beer. That's Lebanon. My family is still there. I go back twice a year. I consider New York home too."
Moj Mahdara
CEO of beauty brand Beautycon.
BEST KNOWN FOR: Beautycon's annual conventions in New York, L.A.,and London, must-attend events in the beauty industry.
FAMILY ORIGIN: Iran.
BIRTHPLACE: Lexington,Kentucky.
CURRENT RESIDENCE: L.A.
HER ROOTS: The oldest of three daughters of Iranian immigrants who came to the U.S. in the '60s to study math and science at the University of Kentucky, Mahdara grew up in the Bluegrass State, Pennsylvania, and California. "Raising a daughter in this country...they just didn't understand how to do it," she says of her father and mother, who settled into careers in chemical engineering and real estate, respectively. But they shared and shaped her enthusiasm for business. "They're both really entrepreneurial," she says. "I worked for both of them growing up. I also ended up leaving home at 17 because I think they thought that my gayness and purple hair were something they could punish out of me. They originally said that I should leave the house as a dare, and I took the dare and didn't come back."
OUTSIDE VS. INSIDE: "It was about family first, in a very big way," says Mahdara, 40. "I shared a room with my grandmother until I was 12. We had cousins and uncles living with us. Imagine you're like, 'Oh, Becky is going to the movies with Julie. Everyone's going!' and they're like, 'Yeah, no, we are having dinner with your Uncle Hamid.' The whole concept that I had a different identity outside of them was shocking. I was constantly trying to be more American, and they were constantly trying to keep me more Iranian. They'd say, 'OK, well, what goes on outside this house is American, but inside this house you live in Iran.'"
HER YOUTH: "I've basically been dressing like Kanye since I was 5 years old, and I never wanted to wear a dress. Growing up, kids would call me a raccoon, because my eyes were deeper set. They'd call me a 'sand N-word.' That was a regular [slur], especially when this country was in the Persian Gulf War."
FUN FACT: Her paternal grandmother, Afat, was "one of the most famous Iranian singers of her time," Mahdara says, "the Lana Del Rey of Iran."
FAVORITE WORD IN FARSI: "Eshgh. Persians are so dramatic and passionate, it's hilarious. Eshgh is like an extreme version of joy. I have a 6-month-old son [with wife Roya Rastegar], and when he throws his head back and laughs, you can see a little fat roll under his chin. It's like that feeling. You feel it in the back of your eyes, it's so yummy."
ON THE U.S. BORDER CRISIS: "People are traveling a thousand miles on foot to get to this country. What are they running from? We have to imagine it's really fucking bad. I feel like the word patriotism has been stolen from us. This whole idea that you're only a patriot if you support the military, if you love guns, or if you love the flag or someone in your family was lost in combat—why can't I be a patriot because I love the First Amendment? Because I believe in 'Give me your tired, your poor?'"
A version of this article originally appeared in the September 2018 issue of Marie Claire.
Celebrity news, beauty, fashion advice, and fascinating features, delivered straight to your inbox!