Puerto Rico's Carmen Yulín Cruz Soto Is Still Mad
After Hurricane Maria, the mayor went head-to-head with Trump. She's not backing down now.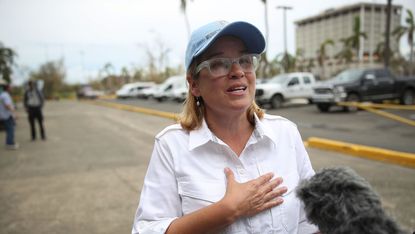 (Image credit: Joe Raedle)
Even if you didn't know who Carmen Yulín Cruz Soto was before last fall, there's no way you wouldn't recognize those square-shaped glasses, that shakily emotional voice, or the black t-shirt—the one emblazoned with the word NASTY in large white letters—today. The mayor of San Juan, Puerto Rico's capital city, became the face of Hurricane Maria as she waded through waist-deep waters, pleaded for aid on cable news programs, and fired back at President Donald Trump who attacked her on Twitter for asking for help.
As the one-year mark since the storm nears—and the island's governor ups the official death toll from 64 to 2,975 people—Marie Claire spoke to Mayor Cruz about the devastation, the Puerto Rican people, and her political future.
Marie Claire: Let's start with the number: 4,645. According to a Harvard University study, that's the estimated number of deaths in Puerto Rico linked to Hurricane Maria. What was your reaction to the findings?
Mayor Carmen Yulín Cruz Soto: A couple of weeks after Hurricane Maria hit, I yelled to the world: "We are dying here! And they are killing us with their bureaucracy and their inefficiency!" It was evident when you walked the streets, when you tended to the sick, the neglect that followed: The Trump administration's way of handling the Puerto Rican humanitarian crisis, the lack of a sense of urgency, the lack of respect for human dignity.
So when I hear "4,645," the first thing that comes to my mind is a deep and profound sorrow. You can kill people with a bomb and you can kill them with neglect, and what happened in Puerto Rico is that people were left to die because the government was unable to look at reality, admit what was taking place, and take a different route to make this turn out a different way. The second thing that went through my mind was a profound rage, because these deaths—we'll never know how many of them—were preventable.
MC: Why was the Puerto Rican government hesitant to revise the considerably lower "official" death toll? It took nearly a year for the official death toll to be revised from 64 to 2,975, making Maria the deadliest hurricane to hit the United States since 1900.
CYCS: Very early, the governor jumped onto that bandwagon of, "Yes, Mr. President, thank you very much for everything you have done," when it was evident that the Trump administration wasn't doing what it was supposed to. I'll give you a very simple example—and it's almost embarrassing that we have to look at a president from this standpoint—but President Donald Trump has not tweeted about Puerto Rico since October 2017. Upon hearing of these 4,645 souls that will never again see the light of day, he hasn't even said, "I mourn for the people of Puerto Rico." It's just a tweet—he didn't have to acknowledge the number of deaths. He could have said, "No matter how many, one life is too many." That's it. The President is not involved; our lives are not on the radar for him.
In revising the death toll], the Puerto Rican government would have to admit we didn't ask for everything needed, they didn't raise hell when they were supposed to, they didn't have the dignity and the lives of the Puerto Rican people at the forefront, and they were thinking politically, as the governor wants to become a state of the United States. And he continues to refuse to tell the world that this ended up being—willing or unwillingly—a massive cleansing of the Puerto Rican people. When I said, "If this continues, the amount of deaths is going to be such that it will be something similar to genocide." I was heavily criticized, and look, I wish I had been wrong. I would give many things to be wrong. I don't think the governor is a bad person; I think he's a bad governor because he does not put the good of the people above the political.
MC: You've described the American government's response—or, rather, lack of—as a violation of human rights.
CYCS: Yes. If you go to the front page of one of the largest newspapers in Puerto Rico today, there is a map of the deaths. You can see how the pockets of poverty were the ones where more lives were taken.
MC: It's now yet another hurricane season. How prepared is the island for future storms?
CYCS: We're not prepared, that's for sure. But we've never said we are. In San Juan we have taken on the motto, "Looking for permanent solutions to recurring problems." We are working with communities to develop what we call CCTs, Centers for Community Transformation. Because our communities have to ensure that they are the first responders, that they are the ones that have to have, for example, a small building where you have solar panels where people can charge their cell phones and have refrigeration in order for people to put their insulin there, and where we can very quickly deploy medical staff.
We are also ensuring that our health system continues to work during and after the storm. Our hospitals now have not one but two generation systems. In San Juan, we have medication and surgical equipment for one month stashed, not only for hurricanes, but for any type of other situation that comes our way.
MC: How has the island—its people, their spirit—changed?
CYCS: The one-year anniversary is coming. We're still in many ways in survival mode. But I think people have realized one thing, it's that strength comes from within ourselves. Many expected the Trump Administration to help when times got tough, but it was not up to the occasion. They did not want to get the job done. It's not that they could not, it's that they did not want to get the job done. People are starting to understand that it is from within the community that the answers need to come.
MC: And how have you—between the gravity of the situation and the intensity of the work, all while being propelled onto the national stage with attacks from the president—personally changed?
CYCS: I am a different person than I was on September 20. I now see the eradication of colonialism and poverty as a priority for the people of Puerto Rico. We need to change the relationship with the United States and find a process of self-determination with non-colonial alternatives that will allow the dignity and the tools to transform our economic system.
But I think we also have to face some real difficult facts about ourselves. I don't give a shit about political posturing anymore. I use every platform that comes my way to continue to have the Puerto Rican agenda in the national conversation and on the world stage. I will continue to do that and I will devout the rest of my life to ending poverty, to strengthening public education, to ending colonialism, and to look for a dignified relationship with the United States. I have realized, you have to create a sort of shell. Because those that oppose the truth will go to great lengths to fight those of us that speak the truth. I will always speak my mind. I will always speak the truth. I will wear the consequences as a badge of honor because this is not about me. This is about the neglect that continues to put the people of Puerto Rico and their dignity and their livelihood in very difficult circumstances.
But in the midst of all that darkness, I have found new light in the open heart of the American people, in the helping hands of the Puerto Rican Diaspora. The love of so many people have lifted me up and I'm so honored and privileged for not having lost the capability of feeling that love.

MC: What do you see for yourself, politically, in the future?
CYCS: I am considering running for governor of Puerto Rico. On a platform of five simple things: We must end poverty. We must change the political relationship with Puerto Rico and the U.S. We must make Puerto Rico a destination for technology. Education has to be at the forefront of our fight against poverty. Municipalities and cities have to lead the way.
I hate to give her any power for anything good, but Maria put the biggest problem in front of our eyes: We can no longer hide our inequality, inefficiency, discrimination, and poverty behind palm trees and piña coladas. The majority of our people don't run around in perfectly tanned bodies into the sunset. The elimination of poverty needs to be at the forefront.
RELATED STORY
Marie Claire email subscribers get intel on fashion and beauty trends, hot-off-the-press celebrity news, and more. Sign up here.
As deputy editor, Jen oversees Cosmopolitan's daily digital editorial operations, editing and writing features, essays, news, and other content, in addition to editing the magazine's cover stories, astrology pages, and more. Previously, Jen was a senior editor at Marie Claire. Before that, she worked at GQ.