Why People All Over the Country Are Staging a Walkout Today
It's a symbolic gesture for survivors everywhere.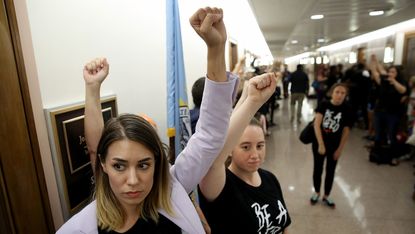 (Image credit: Getty Images)
There are a thousand reasons someone might not report a sexual assault. The fear of retribution. The knowledge that, most of the time, justice won't be served. The risk of being blamed for what they were wearing, what they were drinking, and how they did or didn't behave. Too often, we don't believe survivors when they speak out—but when they don't, we use that as another reason to distrust their account. This lose-lose situation for survivors is the impetus behind Monday's #BelieveSurvivors walkout.
On Monday, individuals all over the country will walk out of their schools and workplaces in support of survivors, and specifically in support of Christine Blasey Ford and Deborah Ramirez, who have accused Supreme Court nominee Brett Kavanaugh of sexual assault (which Kavanaugh adamantly denies) and have faced the full weight of a system stacked against allegations like theirs.
At 1 p.m. EST, allies and survivors will wear black, walk out, and, if they're comfortable, post to social media with the hashtag #BelieveSurvivors. The walkout, subtitled "Moment of Solidarity," is a symbol—that even if survivors feel alone when dealing with a faulty system, they are not. "You are not alone," goes the walkout's official message.
The walkout, initially planned around the relentless targeting of Dr. Ford, has expanded to note its support of Deborah Ramirez, who came forward to accuse Kavanaugh of an alleged assault in a New Yorker piece published Sunday night by Jane Mayer and Ronan Farrow. It will register its support of both women, but also serve as a message for the survivors who have dealt with a painful and triggering news cycle of late: You are not alone.
Women's groups and progressive nonprofits have thrown their full weight behind the walkout, including Planned Parenthood, EMILY's List, TIME's Up, the Women's March, and many others (the number of groups total more than 80). It comes at a watershed moment for the handling of sexual assault accusations in the wake of #MeToo—and, crucially, whether a powerful man like Kavanaugh can be felled by the women who have made such claims against him. Whether anything has truly changed since Anita Hill went head-to-head against Clarence Thomas.
Two things are at play here: The very real and terrifying question of whether we, as a society, will allow a man twice accused of sexual assault to be appointed to the highest court in the land, to make decisions on behalf of millions of women—and the equally real but more symbolic question of how we treat allegations of sexual assault. Whether it matters when it happened, how it came about, or whether the victim reported it to authorities. Many Republicans and commentators have already picked a side, and this march is designed to showcase the other one: We believe you. You are not alone.
If you'd like to join allies and survivors in the walkout today, you don't have to be wearing black. All you have to do is walk outside (if you're able to do so), and post your support to social media via the hashtag #BelieveSurvivors. With a staggering proportion of Americans victims of sexual violence, it's likely that your message will reach somebody who needs to hear it: You are not alone.
RELATED STORIES
Marie Claire email subscribers get intel on fashion and beauty trends, hot-off-the-press celebrity news, and more. Sign up here.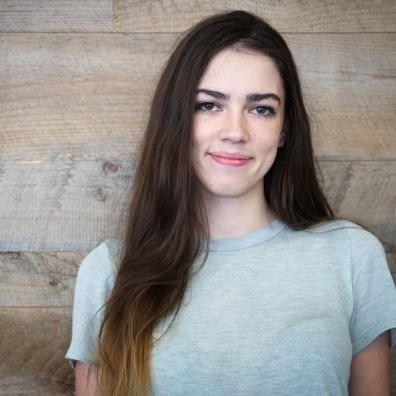 Jenny is the Digital Director at Marie Claire. Originally from London, she moved to New York in 2012 to attend the Columbia Graduate School of Journalism and never left. Prior to Marie Claire, she spent five years at Bustle building out its news and politics coverage. She loves, in order: her dog, goldfish crackers, and arguing about why umbrellas are fundamentally useless. Her first novel, EVERYONE WHO CAN FORGIVE ME IS DEAD, will be published by Minotaur Books on February 6, 2024.