Stacey Abrams on Why Survivors Don't Report—And Why We Must Believe Them Anyway
The woman at the heart of Georgia's explosive gubernatorial race has strong words on the subject.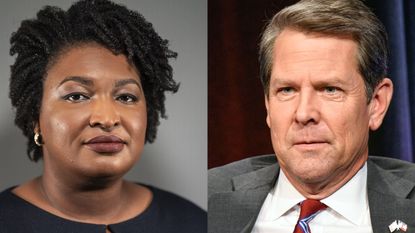 (Image credit: Shutterstock/Getty Images)
One year after #MeToo, we're once again talking about whether we must believe women—and whether our representatives must, too. For a handful of politicians hoping for glory in the midterm elections, the allegations of sexual assault against Supreme Court nominee Brett Kavanaugh have forced them to take a side on a thorny issue. The ensuing political divide is starkly on show in Georgia, where gubernatorial candidate Stacey Abrams—a lifelong progressive and social justice advocate, who wrote on Twitter yesterday that she chooses to believe survivors—is up against Brian Kemp, an anti-choice conservative who pointed a gun at his teenage daughter's suitor in a campaign ad, and has thus far refrained from retracting his endorsement of Kavanaugh.
Speaking to MarieClaire.com in New York's The Wing co-working space Monday, Abrams clarified her position, noting that she was aware of the myriad reasons that a survivor may not report their sexual assault. "Even today, structural and cultural barriers have created stigma that prevents survivors of sexual assault from coming forward," she said. "It is incumbent upon our leaders to treat sexual assault prevention and building a culture of consent as a public health issue, and to ensure that survivors who wish to come forward can do so safely, and be believed."
A breakout star in national politics this year, Abrams has been endorsed by Hillary Clinton, Barack Obama, and Joe Biden, and even her critics are beginning to wonder if she can turn Georgia blue. Abrams' platform is stuffed with feminist undercurrents—improved abortion access, criminal justice reform, an intersectional approach to treating income inequality. If elected, she would be the first black female governor in the United States.
It's perhaps the distinction between Abrams and Kemp that has given this statewide race national relevance. Kemp is in the mold of President Trump—brash, unafraid of controversy, viciously far-right on immigration (he once threatened to round up illegal immigrants in Georgia with his bare hands and "take them home"). Abrams, meanwhile, has collected close to a dozen awards over the years for her progressive work, and has worked quietly since 2007 to decriminalize marijuana, stop tax increases, and tighten gun restrictions.
And when it comes to how we treat the individuals, particularly powerful men, who are accused of sexual assault, Abrams and Kemp also fall on opposite sides of the spectrum. "Survivors of sexual assault deserve respect," Abrams tweeted Monday. "The way Dr. Blasey Ford has been treated is unacceptable." (Dr. Ford has received death threats after coming forward with her account of sexual assault at the hands of Brett Kavanaugh, which Kavanaugh adamantly denies.) "I will be participating in a national moment of solidarity at 1PM today because I #BelieveSurvivors. Will you join me?"
Kemp, meanwhile, has not tweeted about Kavanaugh since the allegations surfaced, and has thus far held back from taking back his endorsement. In an August letter, Kemp had written:
"I write to urge your confirmation of ... Judge Brett Kavanaugh to the Supreme Court of the United States. Judge Kavanaugh's nomination continues President Trump's track record of appointing excellent judges who will interpret the law as it is written ... Kavanaugh shows that he has a clear understanding of the proper role of a judge."
Kemp has been urged to retract his words of support in light of the allegations. As of press time, he has not.
The showdown between Kemp and Abrams is one of the strongest indicators that the 2018 midterms will help determine whether the country continues to be controlled by Trump (who endorsed Kemp earlier this year) and Republicans—or if woman-led resistance to the conservative forces currently trying to push Kavanaugh's nomination through will prevail.
You can find out how to double-check you're registered to vote here.
From explainers to essays, cheat sheets to candidate analysis, we're breaking down exactly what you need to know about this year's midterms. Visit Marie Claire's Midterms Guide for more.
RELATED STORIES
Director of Content Strategy
Jenny is the Director of Content Strategy at Marie Claire. Originally from London, she moved to New York in 2012 to attend the Columbia Graduate School of Journalism and never left. Prior to Marie Claire, she spent five years at Bustle building out its news and politics coverage. She loves, in order: her dog, goldfish crackers, and arguing about why umbrellas are fundamentally useless. Her first novel, EVERYONE WHO CAN FORGIVE ME IS DEAD, will be published by Minotaur Books in 2024.