The Midterm Elections Can Be Confusing—Here's What You Need to Know About Them
With a handful of historic elections set to happen across the country, your vote matters now more than ever.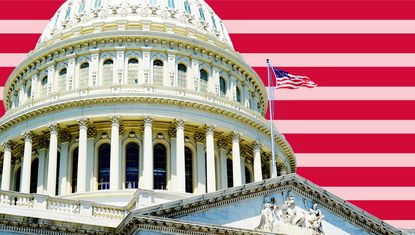 (Image credit: Design by Morgan McMullen)
Marie Claire Newsletter
Celebrity news, beauty, fashion advice, and fascinating features, delivered straight to your inbox!
Thank you for signing up to Marie Claire. You will receive a verification email shortly.
There was a problem. Please refresh the page and try again.
When 17 people were killed at Marjory Stoneman Douglas High School on February 14, common-sense gun reform activists Emma González, Jaclyn Corin, and David Hogg had a recurring message for Americans: Vote in the midterm elections. Although the midterms have determined the course of our nation for decades—voting for the members of the Senate and U.S. House of Representatives who ultimately control which legislation is passed—the majority of Americans historically don't show up to the polls, or even have a clue what the midterms elections are.
The gruesome reality of Donald Trump's America should encourage U.S. citizens to participate in these elections not only for themselves, but for their friends, their family members, and their fellow Americans. Every single person who lives in this country deserves not to live in fear everyday of being stripped of their female reproductive rights, being deported, having access to clean water, or getting shot while sitting in a classroom.
With that said, it's more important than ever to educate yourself on how you can make a difference in our country. It begins with voting in this year's midterms. Ahead of November 6, here's everything you need to know about the 2018 midterm elections.
What exactly are the midterms?
The midterms are the general elections held in the middle of the president's term.
When are they?
Elections will take place across the country on Tuesday, November 6, 2018.
Who's up for election?
All 435 seats of the United States House of Representatives are open (the representatives are only allowed to serve two-year terms), and so are 35 of the 100 seats of the United States Senate (the Senate members are only allowed to serve up to six-year terms). This is to ensure the entire office isn't up for election at the same time.
The Senate rotates in cycles during each midterm election, which means you may not even have any senators in your state up for re-election this year. You can find the full list of Democratic and Republican senators who are up for re-election here.

In addition to seats in the House and Senate, 36 of the 50 states (you can find them here) elect their governors in midterm years (Vermont and New Hampshire elect their governors to two-year terms, so they're also up for election during presidential years).
During the midterms, states also hold elections for their legislatures, including mayors, and have special constitutional amendments on the ballot.
Which party currently has control of the House and the Senate?
The Republicans do, which means they have the advantage. The Democrats need to defend 26 seats in the Senate, while Republicans only need to defend nine. The Guardian published great infographics that visually represent what needs to happen for the Democrats to take control of the House and the Senate.
According to the Pew Research Center, for the first time in 25 years a record number of House members, specifically Republicans, are choosing not to run for re-election.
What happens if the Democrats actually win control of the House and the Senate?
This will be the first real chance to block Trump's legislation during his administration, including the repeal and replacement of Obamacare. The Democrats would also have a better chance of blocking future cabinet and supreme court nominations like Brett Kavanaugh who was confirmed to the Supreme Court despite the sexual assault allegations made against him. Dr. Christine Blasey Ford publicly testified in front of the U.S. Senate committee about her allegations against Kavanaugh, but the committee still confirmed him anyways. Dr. Ford remains a hero.
Why are the midterm elections—specifically this election—so important?
"Who we elect determines so much about how we live, and what rights and opportunities we have," Christina Reynolds, VP of communications at EMILY's List, one of the oldest and largest organizations helping elect Democratic women to office, tells MarieClaire.com. "But it's never been more important than it is right now."
"A lot of people are very disappointed in the way Trump is leading the country, what he's done to jeopardize very important rights, and what he's done to take down some very important institutions. In order to have people at the table who stand up for you, your rights, and the things that you believe in, we need people to vote. Historically, people have seen politicians as 'boring,' 'they don't care about me,' 'they aren't people like me'—but this election is proving that wrong."
More women are running for office than ever, and more young people and minorities are planning to vote than ever. In record-breaking numbers, 256 women have won House and Senate primary elections (197 Democrats and 59 Republican candidates). There are also incredible organizations like EMILY's List, IGNITE, Higher Heights for America, Get Her Elected, She Should Run, and Victory Institute helping them run for office. More on that here.
Why are so many women running for office?
"It was the one-two punch of Trump's election. One was watching him win, and two was seeing Hillary lose," says Reynolds. "At EMILY's List, our fear was that people would look at that and say this really qualified woman just lost to this man that's not qualified, I can't do it if she couldn't. Instead they looked at it and said well, that was bad. I'm really worried about what he's going to do, so I'm going to have to go out there and fight."
How do I find out who's up for election in my state?
You can visit your Secretary of State's website, or look directly at your state's party website, which will usually have information about who's running for office in your area. Local newspapers are a great resource as well.
To find out which candidates on the ballot support issues like, say, common-sense gun reform, you can use Everytown's candidate lookup tool and type in the address you used to register to vote. It will immediately show you which candidates in your state believe in gun control so you know who to vote for.
Where should I register to vote?
Rock the Vote is the easiest place to register to vote and find upcoming elections in your area. Encourage your friends and family to vote as well. Reynolds emphasizes that the biggest misconception of the midterm elections is that people think their vote doesn't matter, which is completely untrue.
"In 2016, roughly 80,000 votes determined the course of this country," she recalls. "Despite the fact that nearly 3 million more people voted for Hillary Clinton, thanks to those 80,000 voters we have a very different president."
Find out voter registration deadlines for your state here.
How do I find candidates that align with my values?
Focus on an issue you're particularly interested in, then find specific groups that most align with those values and see which candidates they're supporting.
For example, if your number one concern is reproductive rights, visit EMILY's List, Planned Parenthood, or NARAL. If your main issue is the environment, you can research the League of Conservation Voters or the Sierra Club. (MarieClaire.com also published this article on environmental measures on the ballot you absolutely need to know about.) If you're concerned about gun control, you can keep up with Everytown and Moms Demand Action.
And you can find even more information about finding candidates that are in line with your values in this article.
Are there specific elections I should be paying attention to?
Here are a few key ones that could break major records:
Nevada. It's the only state represented by a Republican senator who's up this cycle that was won by Hillary Clinton in 2016. It's also the state that elected the first-ever Latina to the Senate in 2016. They have the opportunity to hold the country's first majority women state legislature if the Democratic candidates win.
California. The state has the opportunity to flip the House with some of its competitive districts.
Pennsylvania. This is the largest state with an all-male congressional delegation. (Read: Every person they send to Congress right now is a man.) However, several women won their primaries and are running in some very competitive seats.
Georgia. Stacey Abrams (D) is running against Brian Kemp (R) in the Georgia race for governor. If Abrams wins, she'll become America's first black female governor. Kemp was caught on tape saying he's "concerned" about people going out and voting in November. He's currently Georgia's secretary of state and has already purged hundreds of thousands of voters. More on that here.
How can I make a difference in my own community?
Volunteer and connect with your local party apparatus. If there's a campaign you're interested in, reach out to them. Even if you're not campaigning for someone in your own state, you can still help support someone in another state, too. Organizations like Indivisible, Swing Left, Sister District, and The Last Weekend are great places to volunteer. If you can't knock on doors, make phone calls from your couch or write letters to the editor of local publications.
"You'll never feel bad about getting involved. So much is happening in the news, it comes down on us, and most of it is bad," explains Reynolds. "The reality is [volunteering] is a lovely form of therapy to feel like you're out there making a difference. And you are. Come out, make your voice heard, and remember that it matters."
From explainers to essays, cheat sheets to candidate analysis, we're breaking down exactly what you need to know about this year's midterms. Visit Marie Claire's Midterms Guide for more.
RELATED STORIES
Celebrity news, beauty, fashion advice, and fascinating features, delivered straight to your inbox!
Rachel Epstein is a writer, editor, and content strategist based in New York City. Most recently, she was the Managing Editor at Coveteur, where she oversaw the site's day-to-day editorial operations. Previously, she was an editor at Marie Claire, where she wrote and edited culture, politics, and lifestyle stories ranging from op-eds to profiles to ambitious packages. She also launched and managed the site's virtual book club, #ReadWithMC. Offline, she's likely watching a Heat game or finding a new coffee shop.