9 Powerful Quotes from Christine Blasey Ford's Hearing
"I've had to relive this trauma in front of the world."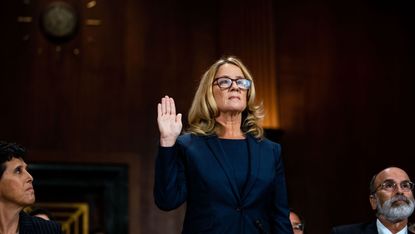 (Image credit: Pool)
Marie Claire Newsletter
Celebrity news, beauty, fashion advice, and fascinating features, delivered straight to your inbox!
Thank you for signing up to Marie Claire. You will receive a verification email shortly.
There was a problem. Please refresh the page and try again.
Dr. Christine Blasey Ford testified in front of the Senate Judiciary Committee on Thursday morning. Within moments of her statement starting, it was clear that this would be historic. When she came forward with allegations of sexual assault against Supreme Court nominee Brett Kavanaugh (which Kavanaugh denies), Dr. Ford started a national conversation about where we are as a country when it comes to believing women.
Whether that actually impacts Brett Kavanaugh's nomination remains unclear—in order to be denied confirmation, two Republican senators would have to vote against him. Three GOP senators on the fence even before Dr. Ford's testimony, and it would be hard not to feel moved by her bravery and strength during her statement—especially in front of a lot of men who, she knows, want to disprove her experience. In fact, sniffles could be heard from the chambers during the most intense parts of her testimony (and plenty of folks too to social media to discuss how emotional the experience of watching her speak made them).
Voice quivering but resolute, Dr. Ford gave a testimony that was detailed, emotional, convincing, and often very hard to hear. These were some of the most striking moments:
"I am here today not because I want to be: I am terrified." —Christine Blasey Ford
This quote came at the beginning of her statement, and explained in a frank way what so many of us assumed: That Dr. Ford had far more reasons not to come forward than to do so, and she did so anyway.
She continued, "I am here because I believe it is my civic duty to tell you what happened to me while Brett Kavanaugh and I were in high school."
"They were laughing."
As she went over the harrowing details of her alleged assault, one detail struck a chord and was brought up again and again: Dr. Ford claims that Kavanaugh and his friend Mike Judge were "laughing" to each other during her assault.
During the first round of questioning, Senator Patrick Leahy (D-VT) asked Dr. Ford what her strongest memory of the assault had been, and she said, "Indelible in the hippocampus is the laughter, the uproarious laughter between the two, and they're having fun at my expense."
"Thousands and thousands of people who have had their lives dramatically altered by sexual violence have reached out to share their experience and have thanked me for coming forward."
Dr. Ford mentioned that she had received support from people in every state in this country, which is hopeful news for anyone with their own stories who fear being open about them.
However, she also detailed the ways in which coming forward had upended her life.
"My greatest fears have been realized."
One of the sticking points for Republicans—and what they seem to be trying to prove in order to discredit Dr. Ford's testimony—is that she came forward late in the process, which they feel looks opportunistic.
Let this be a lesson to them: There were only downsides to her coming forward, and Dr. Ford did it anyway. Those downsides were what kept her from doing so earlier, she said, because she knew that the public scrutiny would be painful for both her and her family. "The reality has been far worse than what I expected," Dr. Ford said. "My family and I have been the target of constant harassment and death threats and I've been called the most vile and hateful names imaginable."
She added that her and her parents' addresses had been posted online, and she and her family had had to move out of their home because of the threats against them.
"I've had to relive this trauma in front of the world."
This is such a deeply personal thing to have to say in front of a political committee, though anyone who is or knows a survivor has known it all along. Remembering the details of trauma can be incredibly painful, even for people just watching it happen. Dr. Ford has had to do so in front of the country and the world, again, knowing full well that many of the people listening don't want to believe her.
"It is not my responsibility to determine whether Mr. Kavanaugh deserves to sit on the Supreme Court. My responsibility is to tell you the truth."
This is an important point that may serve to counteract the opportunistic narrative that Republicans are pushing in order to discredit Dr. Ford. She is highlighting that her goal was not to tank Kavanaugh's confirmation hearing or chances on the Supreme Court. She just wanted to tell the truth, and considered it her civic duty to do so. It's a hard point to argue against.
"The first thing that struck me from your statement this morning was that you are terrified. And I just wanted to let you know I'm very sorry. That's not right." —Rachel Mitchell
The independent prosecutor hired by Republicans to question Ford and Kavanaugh is Rachel Mitchell, a lawyer with years of experience prosecuting sex crimes, who was there to make Republicans look more sympathetic to Dr. Ford than a bunch of white guys who want to get this confirmation process over as soon as possible. Though her goal would ostensibly be to poke holes in Dr. Ford's testimony, she opened her questioning with this apology to Dr. Ford that felt important and right. It's a poignant reminder of how brutally painful this entire process is.
"Bravery is contagious. Indeed, that's a driving force behind the #MeToo movement. And you sharing your story is going to have a lasting, positive impact on so many survivors in our country. We owe you a debt of gratitude for that, Doctor." - Senator Patrick Leahy (D-VT)
A beautiful, relevant quote from the Democratic senator from Vermont.
"One hundred percent."—Christine Blasey Ford
During questioning, Senator Dick Durbin (D-IL), brought up a theory that's been circulating that Dr. Ford may have mistaken her attacker for Brett Kavanaugh, and was actually assaulted by someone else.
Senator Durbin asked, "Dr. Ford, with what degree of certainty do you believe Brett Kavanaugh assaulted you?" To which Christine Blasey Ford replied bluntly, "One hundred percent."
RELATED STORY
Celebrity news, beauty, fashion advice, and fascinating features, delivered straight to your inbox!
Cady Drell is a writer, editor, researcher and pet enthusiast from Brooklyn.