Two Survivors Confronted Jeff Flake in an Elevator With Their Stories of Assault
"You're telling me that my assault doesn't matter."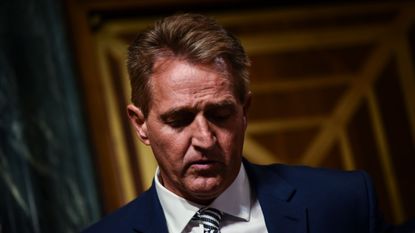 (Image credit: BRENDAN SMIALOWSKI)
The Senate Judiciary Committee convened, as promised, on Friday morning to begin the confirmation voting process for Brett Kavanaugh, one day after the moving testimony by Dr. Christine Blasey Ford. Despite her credibility—and Kavanaugh's highly emotional response to her allegations—the confirmation seemed likely to go through. Still, many Democrats hoped Dr. Ford's testimony would sway at least one of the Republicans to vote against confirmation, especially because Senator Jeff Flake, a Republican from Arizona, earlier expressed concern over the allegations.

However, right before the committee was set to convene at 9:30am EST, Senator Flake released a statement that said he would vote to confirm Kavanaugh, despite Dr. Ford's moving testimony. The announcement—and its eleventh-hour timing—sparked immediate and fierce outrage on social media, but more surprising were the two women who confronted and excoriated Senator Flake in the elevator for five minutes, as he attempted to go to the committee.
RELATED STORY
The women began yelling their stories to Flake, who was answering questions from assembled press as he entered the elevator. "On Monday, I stood in front of your office...and told the story of my sexual assault," said one woman, Ana Maria Archila, co-Executive Director of the Center for Popular Democracy and the Center for Popular Democracy Action, who explained in anguished tones that Flake was setting a bad example for the children in his family.
"I have children!" she yelled, fighting back tears. "I cannot imagine that for the next 50 years they will have to have someone in the Supreme Court who has been accused of violating a young girl. What are you doing, Sir?"
The second woman, Maria Gallagher, then began yelling. "I was sexually assaulted and nobody believed me," she said. "I didn't tell anyone, and you're telling all women that they don't matter, that they should just stay quiet because if they tell you what happened to them, you're going to ignore them. That's what happened to me, and that's what you're telling all women in America." Here's a snippet:
A sexual assault survivor just confronted Jeff Flake (who just announced he's voting for Kavanaugh): "Don't look away from me! Look at me and tell me that it doesn't matter what happened to me, that you will let people like that go into the highest court of the land" pic.twitter.com/Jix2BI090BSeptember 28, 2018
See more
Senator Flake stared at the floor as she continued telling her story, through tears. "Look at me when I'm talking to you," Gallagher shouted, crying. "You're telling me that my assault doesn't matter, that what happened to me doesn't matter. That you're going to let people who do these things into power. That's what you're telling me when you vote for him. Look at me and tell me that it doesn't matter what happened to me."
The women continued telling their stories, asking him to respond to them. Senator Flake looked down, refusing to answer the questions but mumbling, "I have to go to the committee now." A reporter present asked, "Senator, do you care to respond?" He shook his head.
As an aide thanked the women and pointed toward their press materials, Archila yelled back, "Saying thank you is not an answer...This is about the future of our country." Another man in the background shouted, "Why not wait for the investigation? There's no harm."
Finally, Flake said (in response to a reporter), "I need to go to the hearing, I just issued a statement...There have been a lot of questions here." (You can see the full video on CNN, here.)
The entire confrontation was incredibly powerful, heated, and indicative of just how divisive this vote will be. Though it's clear Kavanaugh has the votes in committee, it looks like his confirmation will ultimately come down to the other Senators who expressed concern—like Senators Lisa Murkowski of Alaska and Senator Susan Collins of Maine—determining whether he's fit to serve a lifetime appointment on the highest court in the land, in light of everything we heard yesterday.
The world is watching. Do the right thing, Senators.
RELATED STORY
Celebrity news, beauty, fashion advice, and fascinating features, delivered straight to your inbox!
Cady Drell is a writer, editor, researcher and pet enthusiast from Brooklyn.