What Barbara Boxer and Nicole Boxer Learned From Years on the Campaign Trail
The former senator and her daughter have one big takeaway.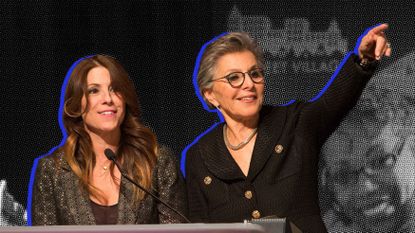 (Image credit: Morgan McMullen)
Marie Claire Newsletter
Celebrity news, beauty, fashion advice, and fascinating features, delivered straight to your inbox!
Thank you for signing up to Marie Claire. You will receive a verification email shortly.
There was a problem. Please refresh the page and try again.
Every Tuesday for the next four weeks, former senator Barbara Boxer and her filmmaker and activist daughter, Nicole Boxer, who host a political podcast together, will break down everything you need to know about the midterms, from the issues at stake to the candidates who deserve our vote. Women have suffered some tough blows recently, but we can fight back. This week, the mother-daughter duo divulge the lessons they've learned from years on the campaign trail.
When I started out in politics, I rarely told my story. Instead, I matter-of-factly presented my views and spoke about pressing civic matters being debated in the public square—issues like the environment, education, and equality. I believed that my personal story was irrelevant to earning votes, or, more importantly, to winning my election. That is, until I met a bright gentleman named David Fisher out on the campaign trail. He said, "You're missing the most compelling reason for people to vote for you, Barbara. Relatability. You need to be relatable."
It was 1992. I was a first-time U.S. Senate candidate. I was outraged at what had happened to Anita Hill, and so were women voters. For the first time in American politics, large numbers of women were running for higher office, fueled by their experience watching the Anita Hill debacle. Women were opening up their checkbooks and signing up to canvass for female candidates. In 1992, relatability—or lack thereof—meant there wasn't one single female on the Senate Judiciary Committee. I wanted to change that.
Before, the importance of relatability hadn't even occurred to me. But I realized I needed to dig even deeper within. Why do I hold the values that define me? What life lessons inform my beliefs on important policy issues? I was determined to become more relatable. What was my story?
David Fisher went on: "Tell me about your parents." I explained that my dad, Ira Levy, had been the youngest of nine children and the only one born in America, in 1908, after his family escaped persecution and bigotry in Europe. My dad was the only person in his family to go to college and law school, doing so at night. My father was a shining example for me that if you worked hard, America was the land of opportunity. "How did that impact you?" Fisher asked.
RELATED STORY
Well, whenever I see prejudice and bigotry, my back goes up. My dad used to take me to see Jackie Robinson play baseball at Ebbetts Field in my hometown of Brooklyn, New York. Dad told me that Jackie was baseball's greatest player but, because of the color of his skin, people yelled cruel obscenities at him. Jackie became my lifelong hero, and when I got to the Senate I displayed his photograph prominently in my D.C. office. Now, that same photograph hangs in my California home.
From the first day I was sworn into office to the last day of my tenure, I fought against prejudice and for opportunity for all Americans. From my dad, I learned that education is everything, and that no one should be denied an education because of their financial standing. And David made me realize that my passion for my work came directly from my personal experience, and that I shouldn't be shy about sharing my life story with voters. It's called authenticity.
My colleague from Washington State, Patty Murray, was elected to the Senate the same year I was. Her story is legendary. Unlike me, she owned her past from the beginning and it became a vital part of her stump speech. As a parent and citizen lobbyist, Patty was unhappy with the local school, so she went to the State Legislature with a group of moms to articulate her complaints. In a meeting with her State Representative, she was told flat-out that she couldn't make a difference because, "You are just a mom in tennis shoes." That was it for Patty. She ran for the United States Senate and she won. She often wore a lapel pin of a pair of sneakers.
Later, Senator Maggie Hassan of New Hampshire ran for the U.S. Senate after serving as governor between 2013 and 2017. During the race, her very personal healthcare story emerged as one of the biggest issues on the campaign trail. Maggie's son, Ben, has cerebral palsy; her family faced many obstacles for his care. It was only thanks to Maggie's continued ability to fight for her son that he got the best treatment. Now, she wanted that same quality of care for all New Hampshire voters who were facing a medical crisis. People flocked to her campaign, and she won a very difficult race against an incumbent.
If you want to run for office or have a friend who wants to run for office, please consider and share this simple point: When you venture out on the campaign trail, be yourself. Tell your story and explain how it shaped your passion. People will vote for you when they know you are for real.
Everybody knows that I'm Barbara Boxer's daughter, but what people may not know is that I struggled to find my own voice. I was fearful that no one really wanted to hear it—that, in fact, most people didn't even see me, they only saw my mom. Out on the campaign trail over these past election cycles, I realized that too many young women share that common belief—that their voices just don't matter.
Then, in the wake of Donald Trump, #MeToo happened. Right before our eyes, we are watching this false narrative melt away. Women everywhere are speaking up, speaking out, and turning a moment into a movement.
My good friend Christine Pelosi and I met as teenagers on a Congressional retreat at the Greenbrier Hotel in West Virginia in the late 1980s. On that trip, we forged a lifelong bond centered around our shared experience as daughters of female members of the House of Representatives. At the time, there were roughly 28 women out of 435 House members. At the Greenbrier, we danced and adventured, we sat in on policy panels, and we found time to connect over teenage girl problems—including our moms parenting us over the phone from 3,000 miles away, and being left with Dad to cook dinner or help with homework. In my case, Mom's parenting often involved my being grounded.
RELATED STORY
When I shared my fears of being accepted for who I really am, and not who I'm related to, Christine piped up: "Oh, that's a last-name friend. Don't even worry about that, dude. In political families we need to seek out first-name friends." In short: People who will see you for your authenticity even if it doesn't fit a perceived narrative. Bells went off. And I totally got it. Because of Christine's advice, I had an awakening that I still need to conjure up within myself from time to time: Not everyone needs to love my story. But I need to have the confidence to tell it.
Just this week, a Congressional candidate from Texas, M.J. Heger, told the story of witnessing her father pushing her mother through a plate glass window when she was a child. M.J. is telling this story to illuminate the need to reauthoirize The Violence Against Women Act, a piece of legislation her opponent opposes. It is this ability to relate a personal narrative—even if it is difficult—that truly shows what's at stake this election cycle.
My life story is still being written, but during this midterm election I'm raising my voice to support women like Heger to not only run for office, but to embrace their stories—and win.
MORE FROM BARBARA & NICOLE BOXER
Celebrity news, beauty, fashion advice, and fascinating features, delivered straight to your inbox!
Until the day she left the United States Senate in January 2017, Barbara Boxer was a forceful advocate for families, children, consumers, the environment, and her state of California. Boxer served 24 years in the Senate, 10 years in the House of Representatives, and 6 years on the Marin County Board of Supervisors. Teaming Up with her daughter Nicole, Boxer now hosts a podcast called "Fight Back with Barbara Boxer." It focuses on current political issues and interviews with people who are in the fight for America, and can be downloaded on iTunes or Podcast One. Nicole Boxer is an Emmy Award–winning documentary filmmaker and political influencer. Boxer believes in the unique power of social impact media advocacy as a tool to create positive change in the world. That belief is the central focus of Boxer's media portfolio, which spans multiple platforms, including TV, film, podcast, and print journalism. Ms. Boxer is an Executive Producer of the Oscar-nominated documentary films THE INVISIBLE WAR and THE HUNTING GROUND, investigations of rape and sexual assault in the military and on college campuses, respectively, which earned her a Peabody Award and two Emmys. Ms. Boxer serves on the Board of Directors for Headcount.org.