50 Influential Women on Why They're Voting in the 2018 Midterm Elections
"I vote because I'm American. It is my birthright. It is my super power."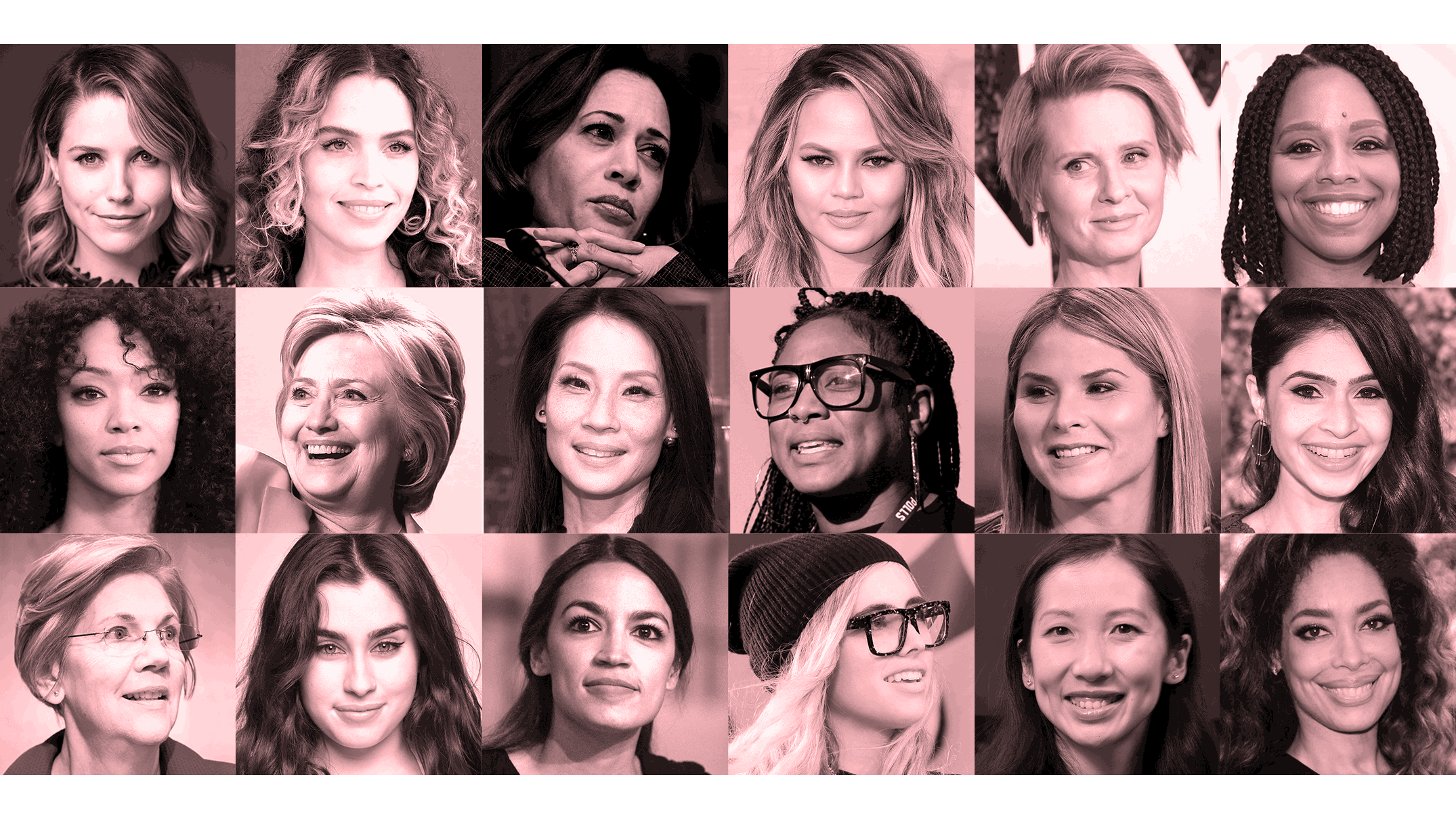 (Image credit: Getty)
A groundbreaking number of women are running for office, minorities and young people are showing up and speaking up. There's a reason for this shift, and it begins and ends with the "why"— the motivation that pushes people to make a change.
Marie Claire asked 5o influential women—celebrities, politicians, business leaders, and activists—to share their personal "why" with us. Their reasons for casting a ballot in the 2018 midterm elections are as diverse and varied as they are: a single-issue, a certain value, a specific person. Read their motivations below, and tweet your own with the hashtag #WhyImVoting before you vote on Tuesday.
Ilyse Hogue, President of NARAL Pro-Choice America
"I'm voting because so much is at stake for women and our ability to be equal partners in society. We need elected officials who are unapologetic about defending women's fundamental rights and are committed to fighting for our futures and our values."
Jaclyn Corin, Parkland Student Activist
"I'm voting to assure that no child has to fall asleep to the sound of roaring gunshots. I'm voting because 100 years ago I wouldn't have been able to."
Arianna Huffington, Founder and CEO of Thrive Global
"I voted (absentee) because I love my country. I'm an immigrant, which means I chose my adopted home country, and I don't take America or its values of diversity and inclusion for granted."
Cleo Wade, Poet and Activist
"I'm voting because to sit it out, to be silent, to not vote means that I am telling our country that I am okay with the way it is, and I am not okay with the way it is. If we want to live in a better, kinder, more just, equal, and equitable world, we all have to participate. We all have to vote."
Cynthia Nixon, Former NY Gubernatorial Candidate and Actress
"I'm voting on November 6 because if we don't use our power, there'll be no one in Washington to stop Trump from using his."
Jenna Bush Hager, 'Today Show' Correspondent and Author
"I'm voting because I tell my daughters that their voices matter. Voting is the best way to make our voices heard and our country a better, more just place for all kids."
Sophia Bush, Actress and Activist
"Being a voter is as much a part of my identity as being a woman, artist, activist, and friend. There is no act I could imagine that is more patriotic or impactful than sending in my ballot when there are 435 house, 35 senate, 36 governor, and thousands of local offices up for election. I am hopeful that we will all rise up for a better future. I am committed to fighting for our democracy."
Elizabeth Warren, U.S. Senator (D-Mass.)
"The fundamental question in this election is who does the government work for? The only way we can make it work for everyone—not only the rich and powerful—is if everybody votes. Voting is how we make sure this country works for the people."
Dr. Leana Wen, President of Planned Parenthood Federation of America
"When voting, I'll think about my son and the world I want for him. It's a world where all people have equal rights including over their own bodies and their own futures, where our society trusts women, and where health care—including birth control, cancer screenings, and safe, legal abortion—is understood to be a fundamental human right."
Anne Fulenwider, Editor-in-Chief of Marie Claire USA
"I'm voting because I've never felt more strongly that the voices of women be heard by our government. We need even MORE women to run for office and ascend to positions of power so we can make REAL change happen!"
Nicole Boxer, Executive Producer of 'The Hunting Ground'
"I'm voting for the future. This election is the beginning of the end—the end of excuses from a Congress who refuses to take action needed to solve our chronic social problems. I'm voting to address the madness of gun violence, of rape culture, of climate change denial, of endless military buildup around the world and here at home on American streets. I'm voting for free speech, and the right to choose what I will do with my own body."
Anne Wojcicki, Co-Founder and CEO of 23andMe
"I was once told, 'you are either part of the problem or part of the solution.' If you don't vote, you are accepting the world the way it is. If you want to make change happen, you need to get out and vote."
Sharon Stone, Actress and Activist
"It's clear that something's wrong right now, and we need to get things right again. I've traveled the globe through a lot of the humanitarian work that I've done...the lack of compassion, understanding, and reality of who we are as a nation doesn't resonate with me as correct, appropriate, and full of integrity. I need to vote because I need people to be in office that think in a more holistic way."
Tory Burch, Fashion Designer
"Voting is an integral part of what it means to be an American. It defines our country's character. Voting is a great privilege, one that we cannot continue to take for granted. Our future depends on it."
Chelsea Clinton, Vice Chair of the Clinton Foundation
"I'm voting because who we elect into public office at every level matters. Whatever issue you care about—whether it's the environment, health, education, safety, civil rights—it's on the ballot. So I hope you'll vote too!"
Eileen Fisher, Fashion Designer
"I'll be voting in the midterm elections because it's so important—now more than ever—to be engaged in the process every step of the way. Voting is such a powerful tool to ensure your voice is heard and a reminder that our choices matter."
"I'm voting because I always vote. You get to live here and have all of these freedoms in this beautiful world, and part of the job is that you vote."
Glynda Carr, Co-Founder & President of Higher Heights
"I'm voting to move this country to higher heights. I'm voting because I know that like-minded people across this country will help to elect leaders and hold those leaders accountable to move our country forward and not roll back the very rights my great-grandmother, grandmother, and mother fought for."
Patrisse Khan-Cullors, Co-Founder of Black Lives Matter
"I'm voting in the midterm elections because L.A. County residents get the opportunity to vote for L.A. County sheriff. Most folks don't realize the sheriff is an elected official. This position impacts millions of people across our county and I want to make sure everyone is informed on how they can change the course of the criminal justice system."
Kirsten Gillibrand, U.S. Senator (D-NY)
"Millions of women and men made a decision after President Trump was elected that they were going to make themselves heard. Now, with the midterm elections, we have the chance to finally rise up and right the wrongs that have been happening in our country. That is why everyone must vote. If you believe that healthcare is a right and not a privilege, or if you care about getting dark money out of our politics, or if you believe that women are still not valued in this country then you must get to the polls and vote!"
Becca McCharen-Tran, Founder and Creative Director of Chromat
"I am voting for my trans and gender non-conforming family, so their identities are recognized, honored, and protected. I am voting because Black Lives Matter. I am voting against the Brock Turners who turn into the Brett Kavanaughs who make the rules for Brock Turners. I am voting for families to be safely kept together, and for people with wombs to decide when they want to start their families. I am voting because I have the privilege of voting when so many people in my community don't."
Barbara Boxer, Former U.S. Senator (D-CA)
"I'm voting because everything I love about America is on the line. If our national government makes education and healthcare available and affordable, then we have a real shot at the dream. If our elected officials work for a strong middle class and not for those at the very top, then opportunity will be there. We also need to elect those who understand the urgent need to protect our air and water as well as our planet. God bless the right to vote. It's a precious right that we should exercise in every election."
Angelica Nwandu, Founder and CEO of The Shade Room
"I choose to vote because once upon a time that was a right I couldn't have access to. My voice and my representation are important to this country."
Gretchen Carlson, Journalist, Empowerment Advocate, and Author of 'Be Fierce'
"I believe the most important civic activity I've done with my two children is taking them with me to the polls every time I go to vote. I want them to understand the power each of us possesses by living in America. When you go to vote you may do so in private, but in exercising your right, you are using your voice to speak loud and clear! Especially during this cultural revolution of the #MeToo movement and women's voices being heard more than ever before, I encourage everyone to stand up, speak up, and be fierce at the ballot box."
"I vote because the whole time my Cuban-born parents poured the entirety of themselves into my being and made their culture mine, they were relentless in reminding me that I am American. They became citizens because there was a place for them, for me, for all who dare to dream and work and sacrifice and contribute. I believe there is much work to be done and much worth fighting for. And so I vote because I'm American. It is my birthright. It is my super power."
Tracy Reese, Fashion Designer
"I'm voting because my voice MUST be heard! It is my right and privilege. I will not sit idly by while others make decisions about my country's future."
Jennifer Hyman, CEO and Co-Founder of Rent the Runway
"I'm voting for women's rights, diversity, the desire to have more immigrants make a home here, for universal healthcare and universal opportunity regardless of where you start in life, for our environment, and mostly for leaders who will exhibit the values of truthfulness, kindness, and empathy."
Erin Loos Cutraro, Founder & CEO of She Should Run
"I'm voting because I believe in the power of diversity of voice and the power of possibility. When strong women leaders step up and put themselves out there to make a difference in their communities I want to be there for them. I believe our country will be better for bringing more women into the political space."
"Regrets suck. VOTE! Diversity in America is what makes us so special. Our government should reflect that so that everyone's voice is represented, celebrated, and protected. When we don't vote, we voluntarily silence both ourselves and our ancestors—simultaneously suffocating our future and their sacrificial shouts of 'justice for all' with the very same pillow upon which they finally laid their heads to rest, dreaming of freedom."
Lily Herman, Founder of Get Her Elected
"I'm voting because everything is on the line. I don't say that hyperbolically. It's my rights, it's my family members rights, it's my friends' rights, it's so many other people's rights. On top of the fact that it is our civic duty, this midterm cycle proves just how important democracy is. The stakes were always high, but we never realized it, and just how high they are today."
Nicolle Wallace, Host of 'Deadline: White House' on MSNBC
"I'm voting because I want my 6-year-old to have more role models in politics and government."
Katie Couric, Journalist and Author
"I'm voting because 1. I got good grades for class participation. 2. I want to be able to complain about things that are happening that I may not like—if you don't vote, you can't complain. 3. I want to leave the world intact for my daughters, and one day for their daughters (and/or sons)!"
Brittany Packnett, Activist, Co-Host of 'Pod Save The People'
"I vote because I will never volunteer for my own disenfranchisement. I refuse to be silent in my life or my community, so I refuse to be silent at the voting booth, too."
Valerie Jarrett, Senior Advisor of Barack Obama Presidential Center
"I voted early in the 2018 midterm elections because voting empowers me to have my voice represented in our democracy. This is the most important election of my lifetime. It's not enough to sit angry on the sidelines. If we want to make lasting change then the best way to do that is by voting."
Payal Kadakia, Co-Founder and Executive Chairman of ClassPass
"Democracy is not some abstract notion. It is an incredible privilege to be cherished, nourished, and protected. It is also a team effort; we only win if we all participate. So on Tuesday, go and vote—and get your friends to do the same. Let's hold elected officials accountable. Their words and actions impact our lives, sometimes in profound and deeply personal ways. It's time our actions and our votes impact theirs."
Stephanie Schriock, President of EMILY's List
"I'm voting because we have to stand up to Donald Trump and this Republican party that has forgotten its way. I'm voting for America and American women, and I'm going to vote straight down the ticket for Democrats—particularly Democratic women."
"I'm voting because I'm privileged, and my voice matters. Although it seems like a scary time where we don't have a say—which to an extent is true, because of voter suppression—it's imperative that we show up and go to the polls. The people that I see every day helping each other and growing together in the culturally diverse landscape of this country is absolutely not reflected in our government. We need to elect officials who reflect our values and who we are as Americans."
Annise Parker, President & CEO of Victory Fund
"I'm voting in the midterms because I want to send a strong message to Donald Trump that he's not representative of American values or ideals, and he has turned the Republican party into the party of Trump. The Trump party is not good for America, and I want to take my country back."
Shannon Watts, Founder of Moms Demand Action
"I'm voting for the candidates who have received the Moms Demand Action Gun Sense Candidate distinction. And for the first time, I'll be filling out my ballot beside my son, Sam, who turned 18 in September. As Sam prepares to leave home and attend college (in a state that doesn't allow guns on campuses), my top priority is to support candidates who will make gun violence prevention a priority so that ALL of our kids safer."
Sonequa Martin-Green, Actress
"I'm voting because in this battle for tomorrow, every move counts. We have to meet the opponent of division with the only weapon that never fails—love—and in this moment in time, my love is my voice."
Anne Moses, Founder & President of IGNITE
"I'm voting because I think it's time women own their fair share of political power. With the historic number of female candidates on the ballot at the local, state, and federal level I want to make sure that we elect more women to office."
Diane von Furstenberg, Fashion Designer
"Left, right, or somewhere in-between, there has never been a more important time to vote. Know your power. Don't forget November 6th."
From explainers to essays, cheat sheets to candidate analysis, we're breaking down exactly what you need to know about this year's midterms. Visit Marie Claire's Midterms Guide for more.
More on the Midterms
Rachel Epstein is a writer, editor, and content strategist based in New York City. Most recently, she was the Managing Editor at Coveteur, where she oversaw the site's day-to-day editorial operations. Previously, she was an editor at Marie Claire, where she wrote and edited culture, politics, and lifestyle stories ranging from op-eds to profiles to ambitious packages. She also launched and managed the site's virtual book club, #ReadWithMC. Offline, she's likely watching a Heat game or finding a new coffee shop.