6 Political Candidate Organizations Helping Women Run for Office
Win or lose, it's about showing up—and each group plays a unique role in the process.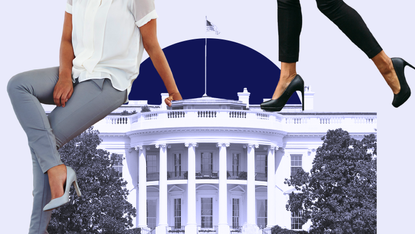 (Image credit: Design by Morgan McMullen)
Throughout her childhood, Glynda Carr, co-founder of Higher Heights for America, received a gift for every major milestone in her life. But the one she'll never forget is her mother driving her to City Hall on her 18th birthday and registering her to vote. Now, she and fellow co-founder Kimberly Peeler-Allen are committed to building an organization of over 75,000 women across the country who support and invest in black women running for office—so they can finally see themselves represented in the elected officials they're voting for.
"After the 2010 election cycle, Kimberly and I started to sketch out what a political organization would look like that was designed and led by black women," recalls Carr. "The conversation pivoted to how we see ourselves as black women in democracy." Carr and Peeler-Allen then spent two years researching and talking to leaders in the space. "We've made gains over the last couple of election cycles, but we're still underrepresented and underserved," Carr says. "Black women know how to do more with less, but we shouldn't have to."
By now, you've heard it 10 times over: a record number of women are running for office—most are winning, some are losing. It's the organizations led by women like Carr and Peeler-Allen that have become the backbone of the historic amount of women politically advancing at the local, state, and federal levels, working day in and day out to make sure they have the resources and tools they need to succeed. For some women, like EMILY's List President Stephanie Schriock, it's their day job. For others, like Lily Herman of Get Her Elected, it's a nightly routine of rounding up volunteers after a 14-hour workday.
With less than two weeks until the American people decide which direction our country will move in, hundreds of volunteers under the helm of these organizations' leaders are dedicating every spare moment not only to make sure these women have a seat at the table, but that they get to sit in it starting November 6.
Here are six candidate organizations, both partisan and nonpartisan, and the powerhouse leaders behind them helping women take back America.
What They Do: EMILY's List elects pro-choice Democratic women to office. Stephanie Schriock is the second-ever president, following Ellen Malcolm who started the nationally-recognized organization in 1985 and served as president for 25 years.
How They Do It: Through tools and resources like online and in-person trainings and webinars, EMILY's List guides candidates through their campaign from start to finish. It typically endorses candidates running for secretary of state, attorney general, and federal offices, including the U.S. House, U.S. Senate, governor, and mayor.
How I Can Join: You can sign up to help a candidate win or register yourself in the system if you're interested in running.
Image 1 of 1
Stephanie Schriock, President of EMILY's List
What They Do: Higher Heights is a national membership-based organization dedicated to electing black women to office. Think of it like a politically-charged sorority where women support each other throughout their candidacies and invest in long-term leadership.
How They Do It: It curates a place for black women and their allies to be informed, engaged, and take action through its PAC, webinars, and salons hosted throughout the country. Higher Heights also conducts an annual research report to track black women's political participation as elected officials and voters.
How I Can Join: Become a member and participate in events across the country here.
Image 1 of 1
Glynda Carr, Co-Founder of Higher Heights for America
What They Do: While most political candidate organizations focus on women who are currently running for office, IGNITE is one of the largest non-partisan organizations that connects and provides resources for the next generation of leaders in middle school, high school, and college to fuel their political ambition and prepare them to run in the future.
How They Do It: IGNITE hosts women-led campus chapters in colleges and grad schools across the country. The organization provides chapter tool kits and curriculums to engage fellow students year-round and connect them with elected leaders in their community. It also has a highly competitive fellow program in 15 cities across the U.S. that helps chapters with activities like voter registration, policy education, and organizing college councils.
How I Can Join: If your campus doesn't already have a chapter, you can start one here.
Image 1 of 1
Anne Moses, IGNITE Founder and President
What They Do: In December 2016, Lily Herman founded Get Her Elected, an organization composed of over 3,400 volunteers who donate their skills—from marketing to editing to speechwriting—to progressive women candidates running for office.
How They Do It: The organization sends emails to volunteers listing various skill requests from candidates at the local, state, and federal levels. After someone volunteers, it sends their information to the candidates and they let them know who they want to work with. From there, the candidates and volunteers work directly together to complete the tasks. There's no limit on the number of requests candidates can make, or the number of times people have to volunteer to stay in the network.
How I Can Join: Sign up to become a volunteer or a candidate here.
Image 1 of 1
Lily Herman, Founder of Get Her Elected
What They Do: The Victory Institute is the not-for-profit arm of the Victory Fund, which works together to provide unique training tools and resources to elect LGBTQ candidates to office. This year alone, there are more than 200 LGBT candidates running for office across the country.
How They Do It: If a candidate is already engaged in a campaign, the Victory Fund takes over the endorsing process and helps fund them. Once a candidate is elected, they can go back to the Institute side to participate in leadership development programs throughout the country and network with each other to continue to advance equality.
How I Can Join: Sign up on the email list and learn more about career opportunities here.
What They Do: She Should Run is a nonpartisan organization that inspires women to run for office. Its current goal is to get 250,000 women to run for office by 2030.

How They Do It: The organization wants to build a benchmark of future elected office holders by providing a free starting place for women to explore running for office. Through its Ask a Woman to Run tool and She Should Run incubator, women from all backgrounds can enroll in courses on leadership, networking, and communication skills to build their individual paths to candidacy.
How I Can Join: If you or someone you know is interested in running for office, join the She Should Run community here.
Image 1 of 1
Erin Loos Cutraro, Founder & CEO of She Should Run
From explainers to essays, cheat sheets to candidate analysis, we're breaking down exactly what you need to know about this year's midterms. Visit Marie Claire's Midterms Guide for more.
RELATED STORIES
Rachel Epstein is a writer, editor, and content strategist based in New York City. Most recently, she was the Managing Editor at Coveteur, where she oversaw the site's day-to-day editorial operations. Previously, she was an editor at Marie Claire, where she wrote and edited culture, politics, and lifestyle stories ranging from op-eds to profiles to ambitious packages. She also launched and managed the site's virtual book club, #ReadWithMC. Offline, she's likely watching a Heat game or finding a new coffee shop.