Why Ilhan Omar's Victory Speech Starting With an Islamic Greeting Is So Important
She's one of the first two Muslim women in Congress—ever.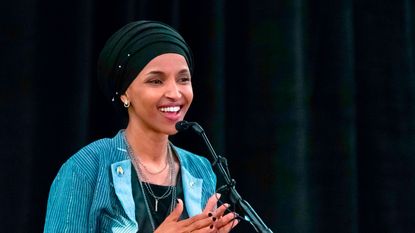 (Image credit: KEREM YUCEL)
Marie Claire Newsletter
Celebrity news, beauty, fashion advice, and fascinating features, delivered straight to your inbox!
Thank you for signing up to Marie Claire. You will receive a verification email shortly.
There was a problem. Please refresh the page and try again.
It seemed like the most natural, authentic and righteous thing for Ilhan Omar, one of the two first-ever Muslim women elected to Congress, to start off her victory speech with "As-salaam aleikum", the Islamic phrase Muslims worldwide use to greet each other (as well as non-Muslims).
Omar, a former Somali refugee and a proud hijab-wearing first-generation Muslim immigrant, had just won in Minnesota's 5th Congressional District. She greeted her supporters in the most genuine way she knew how: with God's blessings.
A Facebook thread started by a friend who grew up in Muslim-majority Bangladesh, which is also my parent's homeland, showed that perhaps not all Muslims are in favor of Omar's blatant Muslim-ness. That friend felt it was inappropriate for Omar to start her victory speech with the Islamic greeting, inserting religion in a political space.
It makes sense why she feels this way. Bangladesh, founded as a secular state, is facing a battle between secularism and Islamization, between culture and religion. In 2015, Bangladeshi atheist blogger, 22-year-old Shammi Haque fled to Germany, having received death threats when she wrote about the rising power of Islamic extremists and the negative impact these groups have on women's rights in the country. Several other bloggers were arrested and killed during that time. Criticism against Islam continues to be condemned in Bangladesh, and last year the Ministry of Information created a program to monitor the media and bloggers which it blamed for encouraging religious conflict.
Muslims all over the world are fighting a deep, layered battle, and women are at the front lines. There are many stories like Haque's—women who are fighting for gender equality, in Muslim-majority countries. In Saudi Arabia, women's rights activist Samar Badawi and Nassima al-Sadah are two of over a dozen activists arrested by the Saudi authorities in their crackdown against the women's rights movement. The same year that Saudi Arabia made headlines for finally granting women the right to drive.
But the plight of Muslim women in the West—in Europe, Australia and the U.S.—is just as miserable and dangerous, especially for women who are visibly Muslim in a hijab, headscarf, burqa or other types of Islamic dress. Of those whose appearance is identifiably Muslim, nearly two-thirds (64 percent) say they have experienced discrimination. Results from a recent survey showed that Muslim American women reported routinely bracing themselves for insults, avoiding certain social situations or places, monitoring their physical appearance, and censoring what they say or how they say it. Tell Mama, an organization that monitors Islamophobic attacks in the U.K, says 60 percent of such attacks are directed at women on the street.
Here's the thing about the lofty ideals of the American dream: It promises the freedom to practice whatever and however we choose—atheism, Islam, or anything else. It is our choice. This is why most of us live here, this is why 3.45 million Muslims live here, despite knowing the inherent dangers of being Muslim in Trump's America.
In the U.S., women like Omar and Tlaib are fighting for the right for Muslim women to exist and take up space in politics, which is why Omar's decision to use the Islamic greeting is so revolutionary. In her emotionally charged victory speech, Omar told her supporters, "I stand here before you tonight, as your congresswoman-elect with many firsts behind my name. The first woman of color to represent our state in Congress. The first woman to wear a hijab. The first refugee ever elected to Congress. And one of the first Muslim women elected to Congress."
As a Muslim-American journalist, I am invested in the rights of women like my mother, aunts and friends who are devout and observant Muslim American women. As a secular, non-practicing Muslim-American woman who frequently travels to Bangladesh to report and visit, it's hard for me to come to terms with the way Islam is used as a misogynistic tool there. When I reveal to people I'm Muslim, which most people don't gather from my name or the fact that I don't wear hijab or dress modestly, they always ask me about the pressures of growing up in a Muslim family. Does my family enforce rules on me? Do they expect me to be a certain way?
Yes, I have faced that pressure. Truth be told, I might have denounced my Muslim identity altogether if it weren't for the fact that in America, being Muslim, and a Muslim woman at that, is political. The hatred my birth country has for the faith my parents so vehemently cling to and have grown increasingly attached to—in a way that I honestly don't think they would have, had they been living in Bangladesh and not immigrants in America—makes me probe further into the religion, the softer sides, the mandatory charity, the community aspects, the stalled history of women's rights.
Women are suffering the most in the Muslim diaspora, and yet we are still doing the heavy lifting of fighting Islamophobia in the West and sexism within our homelands and immigrants communities. We are reimagining what it means to be Muslim—more tolerant, more kind, more fair.
Plus, the thought of Mike Pence swearing Ilhan Omar and Rashida Tlaib in on the Quran is pure poetic justice. The Muslim ban stopped Somalis from entering the county—and here is a Somalian-American, former refugee, hijab-clad woman being sworn in on Islam's holy book.
If you feel sad today, just imagine Mike Pence swearing 2 women into Congress with the Qur'anNovember 7, 2018
See more
In an interview with the New York Times, Michigan Congress-elect Rashida Tlaib said, "Today I was being thankful, embracing how incredibly blessed I am to grow up here, to have this tremendous opportunity. Sometimes I say, 'Thank her,' because my Allah is She."
Part of this interview took place in Tlaib's community mosque—a symbolic point for Muslim women fighting sexism inside and outside the faith. In so many Muslim communities around the world, there is no women's entrance, no space for women in the mosque. And Islam isn't to blame. Muslim men and the patriarchy are. But that is exactly what Muslim women all over the world are working on to change. And Tlaib and Omar are leading the way.
From explainers to essays, cheat sheets to candidate analysis, we're breaking down exactly what you need to know about this year's midterms. Visit Marie Claire's Midterms Guide for more.
RELATED STORIES
Celebrity news, beauty, fashion advice, and fascinating features, delivered straight to your inbox!
Jennifer Chowdhury is an independent journalist based in New York City and Bangladesh. She covers the South Asian and Muslim diaspora with a specific focus on gender rights. She is passionate about covering stories on women of color around the world whose voices are stifled by patriarchal attitudes, systematic racism and socioeconomic burdens.