How Women Can Strike Fear into the Patriarchy: Lessons from a 1960s Radicalist
Bernardine Dohrn, the most wanted woman in the world, on the power of protest.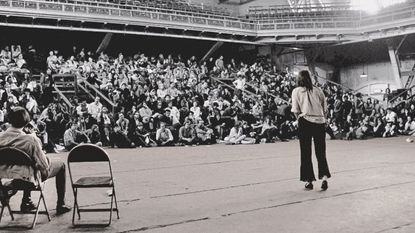 (Image credit: Archives)
Bernarndine Dohrn used to be a fugitive. After multiple arrests, she went into hiding and was on the lam for 11 years, even making it on to the FBI's Most Wanted List—one of the first women to appear there. All because she protested the U.S. government.
She's delighted that young women today are doing the same, she tells MarieClaire.com about the women's strike planned for March 8 and the women's march back in January. "I'm in awe of the young people who are showing up," Dohrn says. "Trump is a dangerous, dangerous, dangerous neo-fascist," she says. "Having somebody in office who said all of these hateful things about women, for example, or about Muslims, or about disabled people—the list goes on and on—is really frightening."
As a 20-something in the 1960s, Dohrn felt she was witnessing a frightening government abusing its power. She became a member of Students for a Democratic Society and later a leader of the Weather Underground. The radical left-wing organization bombed government buildings, incited violence, and organized "Days of Rage" in October 1969 encouraging protesters to smash windows and assault police officers.
On May 21, 1970, the group declared war on the United States; Dohrn was the one to read their statement to the press. "We've been trying to show how it is possible to overcome the frustration and impotence that comes from trying to reform this system," she said. "Tens of thousands have learned that protest and marches don't do it. Revolutionary violence is the only way." By the time she surrendered in 1980, most of the charges against her and her cohorts had been dropped due to the FBI's illegal methods of their pursuit.
The mother of the resistance, as she has come to be known, avoids comparisons between the protests of 1969 and today. "You live in your historical moment," she says. "One of the challenges that each person has is to name their historical moment so they can figure out where they fit, and therefore which issues or concerns have to be on their agenda." Still, she admits: "Young people today, by and large, they're more respectful than we were."
Modern protests thus far, while massive, have been remarkably peaceful—though it's imperative to consider the intersectional implications there, as Black Lives Matter rallies are rarely met with the same polite distance from the police—which begs the question: Does Dohrn still stand by her notorious assertion that "violence is the only way" to bring about change?
"Yes and no," she chuckles. "I think that you don't want to ever say 'we will only always use this same tactic we're using today.'" She cites examples throughout history of people who were willing to take up arms, from Nelson Mandela to Reconstruction to the Civil War to the American Revolution. "I think we have a myth about the good movements and the bad movements, and that's naive… I think violence is a tactic, and a tactic of last resort."
READ NEXT
Dohrn calls the women's strike planned for tomorrow "a savvy response to demagogic misogyny and racism." An expert at attention-getting, Dohrn is confident that striking is a smart move for frustrated, angry women. "Women going on strike illuminates the expansive—but often invisible—work of women in the paid labor force, in the family, in the community, the arts, and in the public square. Women hold up half the sky!"
The treatment of women as less-than is not unique to the Trump administration, but many females woke up on the morning of November 9, 2016—as Dohrn did herself—to the realization that maybe they'd been taking too much for granted. That sentiment isn't unique to America. Dohrn, who, after emerging from hiding in the '80s, went on to become a law professor and human rights advocate, has taught in the Netherlands for years and observed an unnerving tide coming across the Atlantic.
"I watched the growth of fascism and fascist movements in Europe. Geert Wilders, the leader of that movement in the Netherlands, was a TV talk show host also," she says, alluding to the parallel with our president's own past.
"He's close to being elected now in a country that thinks of itself as peaceful and nonviolent and very able to resolve conflict," she says. "Watching this happen there has alerted me to the fact that countries that are self-righteous about their democracy have to look again."
Despite it all, Dohrn is remarkably optimistic. "I was so depressed before the women's march and I'm so not right now," she says. "People came out creative, inventive, joyful, standing up for those who are the most demonized in American life. It's beautiful to see, and it should make all of us feel expansive and creative and hopeful to be a part of it."
Dohrn's legacy is complicated—some remember a revolutionary, some a terrorist—but certainly the protest movements of the '60s and '70s have been deemed successful: the passage of the Civil Rights Act and Voting Rights Act, the end to the draft and the Vietnam War.
Will today's fighters be able to look back and say the same? Will they protect Roe v. Wade, affect equal pay, move transgender rights forward, stop the wall? Dohrn says there's only one way to find out. "Protests are the only thing that changes the world," she says. "A woman's place is in the resistance!"
Follow Marie Claire on Facebook for the latest news, fascinating reads, livestream video, and more.