Everything You Need to Know About the Women's Strike on March 8
A "day without a woman" is coming.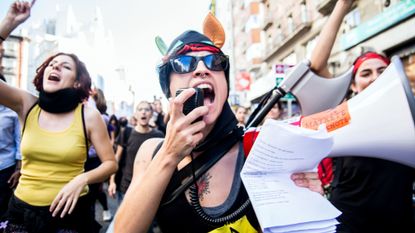 (Image credit: Getty Images)
Marie Claire Newsletter
Celebrity news, beauty, fashion advice, and fascinating features, delivered straight to your inbox!
Thank you for signing up to Marie Claire. You will receive a verification email shortly.
There was a problem. Please refresh the page and try again.
This year, March 8 marks not only International Women's Day, but also "A Day Without a Woman," a protest organized by the same brains behind the Women's March on Washington, and is in coordination with women across 30 different countries.
The purpose of the strike is to highlight "the enormous value that women of all backgrounds add to our socio-economic system—all while receiving lower wages and experiencing greater inequities, vulnerability to discrimination, sexual harassment, and job insecurity."
We believe gender justice is racial justice is economic justice#DayWithoutAWoman #IStrikeForhttps://t.co/uXcLTzIshM pic.twitter.com/aaktsinxAwMarch 8, 2017
See more
What People Are Saying About It
The Women's Strike earned praise from women as a way to continue the momentum of the Women's March on Washington—but also criticism from people who highlight the fact that striking is an act of privilege, and one that not every woman can afford.
The Backstory
Organizers say the strike was inspired by the "Bodega strike" in New York City, when Yemeni-owned bodegas shuttered their stores in response to Trump's immigration ban, and by A Day Without Immigrants. They also applaud the success of the #GrabYourWallet movement, which persuaded Nordstrom to stop selling Ivanka Trump clothing and accessories, among other accomplishments.
For many women of color, and for non cisgender women, the Women's March on Washington was problematically exclusive. Chissy Nkemere writes in an essay for Bustle,
"While I and many other women of color marched while concealing our heavy hearts, emotionally exhausted from constantly justifying black life, those around me marched excitedly, with a certain pep in their steps that I couldn't quite mimic."
A Day Without a Woman, on the other hand, aims to fight for "gender justice" for all women, "regardless of a woman's race, ethnicity, religion, immigration status, sexual identity, gender expression, economic status, age or disability."
But of course, the strike is not without its flaws and controversies. Many women cannot afford to take the day off, or don't have the privilege of choosing when they work. Other skeptics think that the strike lacks a unified vision, and simply takes on way too many issues at once. Moreover, some women take issue with the focus on reproductive rights, specifically abortion. To state the obvious, not all feminists are pro-choice. (Read more about pro-life millennial women here.)
How to Participate
Take the day off, from paid or unpaid labor
Avoid shopping or spending money, except at small, women- and minority-owned businesses
Wear red in solidarity
Learn More
Check out the strike's website here.
Follow Marie Claire on Facebook for the latest celeb news, beauty tips, fascinating reads, livestream video, and more.
Celebrity news, beauty, fashion advice, and fascinating features, delivered straight to your inbox!
As Cosmopolitan's deputy editor, Rosa Heyman oversees a team of whip-smart editors and hilarious writers who bring you some of the best investigations on the internet, from dissecting the latest Kardashian drama to uncovering the link between white supremacy and misogyny. She currently manages the news and social teams and develops the strategy for how the brand best distributes content. You can usually find Rosa glued to her phone workshopping a cheeky caption for Cosmo's Instagram account.