Angelina Jolie Is Fighting the Social Stigma Faced by Survivors of Sexual Violence
The Preventing Sexual Violence in Conflict Initiative is dedicated to providing justice and support for victims.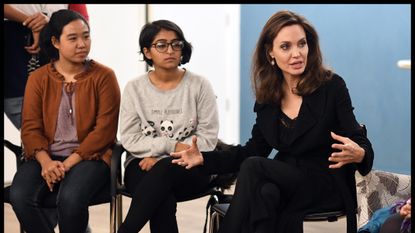 (Image credit: Andrew Parsons / i-Images for PSVI)
Angelina Jolie is doubling down in her fight against the stigma of rape. Launched in 2012 by Jolie and then UK Foreign Secretary William Hague, Preventing Sexual Violence in Conflict is a global initiative focused not just on stopping assaults, but also the social stigma faced by survivors of sexual violence, and providing justice for victims.
"Sexual violence in conflict is still a taboo subject," Jolie tells Marie Claire in an exclusive interview of why this stigma exists. "Female and male survivors, and children born of this rape, are often treated as if they are the ones who have done something wrong. They are rejected and stigmatized, while their attackers go unpunished. That's what has to change, and breaking the taboo is part of that."
Leading the global effort is the United Kingdom, and since the launch of PSVI, the UK has provided thousands of survivors with medical, social, and legal support, assisted organizations in local communities supporting survivors, and trained over 17,000 military and police officers on how to prevent and respond to sexual violence, and created guidelines to help strengthen the collection of evidence and documentation to bring perpetrators to justice. In addition to finding ways to make it easier for survivors to report crimes in cases where they cannot go to their local authorities, Jolie is also fighting to address shortfalls in funding commitments from Governments for protection, psychosocial support, and other programs to support survivors, as well as reparations to help survivors rebuild their lives. She is also calling for establishing an international, investigative body that can take action in determining if a crime of sexual violence has taken place, collect evidence, and enable rapid and effective prosecution.
This is just the beginning.
"Our partners in this effort are victims speaking out, local NGOs and governments from around the world as well as militaries," Jolie says. "We have to solve this comprehensively. We need to go to the heart of where there are abuses and make changes, and press for new practices and accountability. To take one example, 37 countries still exempt perpetrators of rape from prosecution if they are either married to their victims, or agree to marry them afterwards. Over 60 countries don't include male survivors within the scope of their sexual violence legislation. So we have to change laws as well as attitudes. And we have to find ways to have successful prosecutions, so that it is no longer a crime for which there is impunity."
As part of this effort, PSVI, held a film festival in London in November. Fighting Stigma Through Film aimed to specifically address the social aspect of the cause, the discrimination that survivors of war zone rape face, Jolie explains.
"I do think film has the power to make us live inside another person's experience in a way that is unique and different," she says. "But it is also a really important way of opening up a conversation, and saying that yes, these things happen or happened in our country and we need to address them. Too often after a war, sexual violence is the subject no one wants to talk about, that gets swept under the carpet. And if no one talks about it, there is no justice and no healing and no closure."
And the conversation can't just be just with other women, Jolie stresses. To make change happen, this needs to be a topic both men and women are informed about. "I don't just speak to my daughters. I speak to them with their brothers," she explains. "That is maybe the first most important distinction. This is not just a problem for women, and the solution is working with women and men. And girls and boys. Not only are men and boys also victims of these crimes, but those who are perpetrating these crimes need to have other men remind them what it really is to be a man. A man with a healthy relationship to women. And all societies need to be clear about not tolerating this behavior."
You can learn more about this issue and the initiative here.
For more celebrity news, beauty and fashion advice, savvy political commentary, and fascinating features, sign up for the Marie Claire newsletter.
Sally is the Editor in Chief of Marie Claire where she oversees coverage of all the things the Marie Claire reader wants to know about, including politics, beauty, fashion, and celebs. Holmes has been with Marie Claire for five years, overseeing all content for the brand's website and social platforms. She joined Marie Claire from ELLE.com, where she worked for four years, first as Senior Editor running all news content and finally as Executive Editor. Before that, Sally was at NYMag.com's the Cut and graduated with an English major from Boston College.