The Internet Has *Feelings* About Mike Pence's Aversion to Being Alone with Women (Other Than His Wife)
You want Mike Pence jokes? Here are your Mike Pence jokes.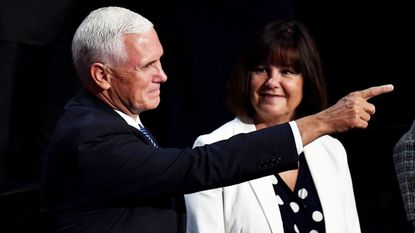 (Image credit: Archives)
If you can say one thing about the nascent Trump administration, it's certainly not boring. Nope, every day brings some fun new surprise, like threatening (opens in new tab) to take away affordable healthcare or insulting (opens in new tab) world leaders, or claiming (opens in new tab) espionage. Thankfully, some of the news is wackier, like this week's Washington Post profile (opens in new tab) of Karen Pence, which notes that her husband Vice President Mike Pence isn't allowed to be alone with other women.
The Vice President and his wife have decided as a married couple that out of respect, he won't dine alone with a woman, and that he will never consume alcohol around women. Well, to each his own, right? Different strokes for different folks? Not exactly, says Twitter. Here are a few of the funniest takes.
If Mike Pence's wife leaves his side, even for just a second, his penis might fly out like a Nerf dart & embed itself in the nearest vagina.March 30, 2017
See more
When you saw only one set of footprints,It was then that Mike Pence had run away from a single lady.March 30, 2017
See more
.@mike_pence Woman in elevator was eating chips. Did I just have private lunch with her?? I burned my penis on office kettle to be safe⛪️🇺🇸March 30, 2017
See more
Yes, Mike Pence's daughters spend a week a month in a red tent in his yard. If that shocks you, you need to spend some time in Real America.March 30, 2017
See more
And now, a poem!
Mike Pence, an adult who is grown,Cannot sit with women alone.However, he canStand by an old manWhose fondness for groping is known.March 29, 2017
See more
If this all seems just a little bit mean-spirited, a few more jokesters stepped in to point out why the Pence family is fair game.
I would like to reiterate that Mike Pence is 100% the Mother's Food Must Be Hot guyMarch 30, 2017
See more
Follow Marie Claire on F (opens in new tab)acebook (opens in new tab) for the latest celeb news, beauty tips, fascinating reads, livestream video, and more.