The Biggest Gun Violence Myths Debunked
In her new book, Fight Like a Mother, Moms Demand Action Founder Shannon Watts sets the record straight.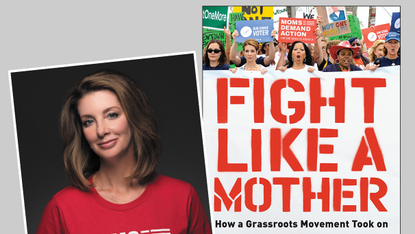 (Image credit: Design by Morgan McMullen)
Marie Claire Newsletter
Celebrity news, beauty, fashion advice, and fascinating features, delivered straight to your inbox!
Thank you for signing up to Marie Claire. You will receive a verification email shortly.
There was a problem. Please refresh the page and try again.
After the Sandy Hook Elementary School shooting in 2012 that killed six staff members and 20 children, Shannon Watts, like many people in America, was horrified. She thought about the shootings that had occurred previously (Columbine, Aurora, Virginia Tech) and decided she wanted to make a change. With zero knowledge of state or federal gun laws or what the NRA was capable of, her first instinct was to start a conversation with other mothers who were feeling as devastated as she was. She created a Facebook page, then-titled "One Million Moms for Gun Control" (later Moms Demand Action for Gun Sense in America).
Now, with six million supporters and hundreds of thousands of active volunteers, Moms Demand Action has made it their mission to fight back against the NRA and work with the Everytown for Gun Safety network to eliminate gun violence. Watts shares her and the organization's journey in her debut book, Fight Like a Mother: How a Grassroots Movement Took on the Gun Lobby and Why Women Will Change the World (out today), including the biggest myths about gun violence—including "criminals will always find a way to get their hands on a gun" and "organizations like Moms Demand Action just want to take your guns away"—which have crippled America into thinking we can't make a change.
Read an exclusive excerpt from Watts' book, below.
One important way we can help change America's deadly gun culture is by pulling back the curtain on the common misperceptions about guns, gun violence, and gun safety laws in this country. What follows are the most pervasive myths swirling around in people's minds and on their social media feeds, as well as the numbers that dispel the myths. May these help you start having conversations with friends, family members, neighbors, and legislators on both sides of the issue.
MYTH: More Guns Mean Less Crime
FACT: There are no two ways about it: The United States is experiencing a gun violence crisis, and it is happening despite the fact that 393 million guns are in circulation among American civilians. If more guns and fewer gun laws made us safer, we would be the safest country in the world. But we aren't—not by a long shot! (Pardon the pun.) According to a 2016 study published in The American Journal of Medicine, our gun homicide rate is 25.2 times higher than that in other high-income countries; for 15- to 24-four-year-olds, that rate is 49 times higher. We're not just killing each other with guns more than in other countries; we're also killing ourselves: Our gun-related suicide rate is eight times higher than that in other high-income countries.
MYTH: Organizations like Moms Demand Action Just Want to Take Your Guns Away
FACT: Moms Demand Action is anti–gun violence, not anti-gun. Many of our members own guns. We don't want to eradicate the Second Amendment. What we want are legally mandated responsibilities to go along with the right of gun ownership, and we want commonsense gun laws that keep guns out of the hands of people who have a demonstrable risk of being dangerous.
This myth and the fear behind it is a tactic used by the NRA leadership to try to boil the issue down into black-or-white terms; according to them, either everyone gets a gun with no restrictions whatsoever or nobody does. Given that choice, many people will choose gun ownership. But this is a false choice. And it isn't a choice that even people who are members of the NRA want: in 2012, Frank Luntz, a conservative Republican pollster, polled NRA members and found that more than 74 percent of them support requiring criminal background checks for anyone purchasing a gun, and 87 percent believe that the Second Amendment needs to be balanced by measures to keep guns out of the hands of criminals.
MYTH: You Already Have to Get a Background Check; What More Do You Need?
Fact: The federal law requiring a criminal background check before a gun sale can be completed covers only licensed sales. So if you buy a gun at Walmart, yes, you do have to get a background check in every state; but millions of guns are sold every year without a background check through unlicensed sales, through online sales, and at gun shows. You can buy a gun at a garage sale, online, or at a gun show from an unlicensed gun seller with no background check in 31 states.
As of this writing, 20 states have laws on their books to close the loopholes in the federal laws requiring a background check. Much more work needs to be done to ensure that more gun sales follow the background check process.
MYTH: Criminals Will Always Find a Way to Get Their Hands on a Gun
Fact: Background checks stop gun sales to criminals every single day. In fact, between 1998 (when the system was implemented by the FBI) and 2016, background check laws blocked more than three million gun sales to people who could not legally own guns. You can also see evidence of how well background checks work to save lives by looking at two states in particular: Connecticut and Missouri. In 1995, Connecticut passed a law that required gun buyers to get permits—a process that required a background check. The passage of that law is associated with a 15 percent decrease in suicides and a whopping 40 percent decline in gun homicides—and these results are cumulative over the first 10 years of the law's existence.
On the other hand, Missouri repealed its background check requirement for handgun purchases in 2007 (a law that had been in place since 1921). Researchers at Johns Hopkins University analyzed death certificate data between 2007 and 2010 and found that the state had seen a 25 percent increase in gun homicides. They also analyzed crime-reporting data from the police through 2012 and saw a 16 percent rise in the murder rate. To make matters worse, the state saw a 200 percent increase in the percentage of guns that had an unusually short time between retail sale and recovery by police—an indicator of gun trafficking that implies that significantly more guns were sold to more people who otherwise would have been prohibited from buying a gun via a licensed sale.
For these reasons, supporting state and federal gun laws that close background check loopholes is our number one priority.
MYTH: Gun Violence Isn't a Gun Issue, It's a Mental Health Issue
Fact: The whole world struggles with mental health issues. According to the World Health Organization, the Americas have only 21 percent of worldwide cases of anxiety and 15 percent of incidences of depression, but the United States alone has a gun murder rate that is twenty times higher than that in other developed countries. Blaming mental illness for gun violence is the same as blaming movies, video games, or the culture at large—it's a tactic meant solely to distract from the real issue, which is easy access to guns, even for people with a history of criminal activity, and weak gun laws. In fact, people with mental illnesses are much more likely to be victims of violent crime than perpetrators.
However, many mass shooters have a history of mental illness—in fact, 42 percent of mass shooters "exhibited warning signs before the shooting indicating that they posed a danger to themselves or others." This makes it all the more important that we pass red flag laws. Some of these laws, such as the one passed in Delaware in 2018, also allow mental health professionals to report people who are exhibiting dangerous behavior and procure a court order to have their guns removed temporarily.
MYTH: Arming Teachers Will Make Kids Safer
Fact: The push to arm teachers isn't, at its root, about keeping kids safer. It's about selling more guns. Since Donald Trump was elected president, gun sales have plummeted because there's no boogeyman in the White House to make people afraid that their guns will be taken away from them. Known as the "Trump Slump," this downturn in gun sales is hurting gun manufacturers: American Outdoor Brands, the manufacturer of Smith & Wesson guns, announced a 32 percent decline in sales for the third quarter of 2017, and giant gun maker Remington filed bankruptcy in February 2018, saying that it had between $100 million and $500 million in debts.

There are 3.6 million teachers in the United States. Arming even a fraction of them would go a long way toward replenishing the coffers of gun manufacturers and, in turn, the NRA.
The other market being targeted in this attempt to "harden" schools is kids. If every kid gets used to seeing guns in school, they'll be that much more likely to want to own a gun as an adult. Worse yet, the plan that Secretary of Education Betsy DeVos is considering as I write this book would use funds earmarked for the Student Support and Academic Enrichment program in the country's poorest schools to buy firearms and provide firearm training. Frankly, it's hard not to see this push as an attempt to further defund and destabilize public education.
On top of all this, schools could never be armed enough to prevent deadly school shootings. Remember, armed guards were present at the schools in Santa Fe, Texas; Parkland, Florida; and Columbine, Colorado; and at Virginia Tech—and they weren't able to stop the murder of innocent kids and others. And these were trained security professionals. How would teachers, who are trained to educate, be able to keep their cool in such a stressful situation and take out a shooter without injuring—or worse, killing—someone who isn't their intended target? Don't forget, even New York City police hit their intended targets less than 34 percent of the time.

Excerpted from FIGHT LIKE A MOTHER by Shannon Watts. Reprinted with permission of HarperOne, an imprint of HarperCollins Publishers. Copyright 2019.
For more stories like this, including celebrity news, beauty and fashion advice, savvy political commentary, and fascinating features, sign up for the Marie Claire newsletter.
RELATED STORIES
Celebrity news, beauty, fashion advice, and fascinating features, delivered straight to your inbox!
Rachel Epstein is a writer, editor, and content strategist based in New York City. Most recently, she was the Managing Editor at Coveteur, where she oversaw the site's day-to-day editorial operations. Previously, she was an editor at Marie Claire, where she wrote and edited culture, politics, and lifestyle stories ranging from op-eds to profiles to ambitious packages. She also launched and managed the site's virtual book club, #ReadWithMC. Offline, she's likely watching a Heat game or finding a new coffee shop.