Marianne Williamson Quotes You've Probably Used Without Realizing It
"Our deepest fear is not that we are inadequate." Sound familiar?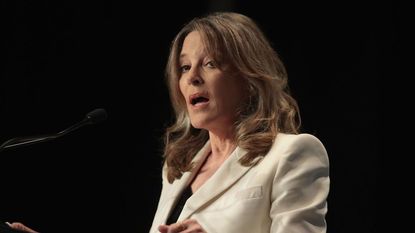 (Image credit: Getty Images)
Presidential hopeful Marianne Williamson had a less-than-perfect first presidential debate. In late June, she took the stage with 19 other democratic candidates, hoping to defend her qualifications and ability to lead a country. While frontrunners like Kamala Harris and Elizabeth Warren were praised for their poignant responses and detailed plans for economic change. Others, like Marianne Williamson, Corey Booker, and Beto O'Rourke were reduced to memes.
When the candidate was asked about her first order of business, her response was a tad unusual. "My first call is to the prime minister of New Zealand [Jacinda Ardern], who said her goal was to make New Zealand the place where it's the best place in the world for a child to grow up," Williamson said. "And I will tell her, 'Girlfriend, you are so on.' Because the United States of America is going to be the best place in the world for a child to grow up."
But her debate performance doesn't mean that Williamson hasn't dropped some words of wisdom in the past. The author, activist and spiritual advisor hhas written 12 books, including a New York Times bestseller A Return to Love. Chances are you've quoted Williamson in a college paper, seen her words posted on Pinterest board, or heard them in a movie.
The Most Famous One
"Our deepest fear is not that we are inadequate. Our deepest fear is that we are powerful beyond measure. It is our light, not our darkness, that most frightens us. We ask ourselves, 'Who am I to be brilliant, gorgeous, talented, fabulous?' Actually, who are you not to be? "
This is by far Williamson's most popular quote. Often times, it's misattributed to Nelson Mandela, but was actually in Williamson's first book, A Return to Love. The entire quote is much longer in her book, but this is the portion that is usually referenced. It's also been featured in several movies, including Coach Carter and Akeelah and the Bee.
Her Other Memorable Quotes
"Each of us has a unique part to play in the healing of the world."
"Love is what we are born with. Fear is what we learn. The spiritual journey is the unlearning of fear and prejudices and the acceptance of love back in our hearts. Love is the essential reality and our purpose on earth. To be consciously aware of it, to experience love in ourselves and others, is the meaning of life. Meaning does not lie in things. Meaning lies in us."
"Until we have seen someone's darkness, we don't really know who they are. Until we have forgiven someone's darkness, we don't really know what love is."
"There is nothing enlightened about shrinking so that other people won't feel insecure around you. We are all meant to shine, as children do."
See, these quotes by Williamson are gems. You can thank me later for the Instagram caption.
For more stories like this, including celebrity news, beauty and fashion advice, savvy political commentary, and fascinating features, sign up for the Marie Claire newsletter.
RELATED STORY
Celebrity news, beauty, fashion advice, and fascinating features, delivered straight to your inbox!
Alexis Jones is an assistant editor at Women's Health where she writes across several verticals on WomensHealthmag.com, including life, health, sex and love, relationships and fitness, while also contributing to the print magazine. She has a master's degree in journalism from Syracuse University, lives in Brooklyn, and proudly detests avocados.